Play

Play Next

Add to queue
Play

Play Next

Add to queue

120 plays

Play

Play Next

Add to queue

152 plays

Play

Play Next

Add to queue

179 plays

Play

Play Next

Add to queue

13 plays

Play

Play Next

Add to queue

470 plays
Genre: Folk / Indie / Other

Location BROOKLYN, Un

Profile Views: 53211

Last Login: 4/17/2011

Member Since 3/1/2005

Website www.elasticnonoband.com

Record Label Weemayk Music

Type of Label Indie

Bio

"The NYC antifolk scene's own Frank Zappa and the Mothers of Invention." - ..THE DELI...."Elastic No-No Band is like the corn ice cream at Sundaes & Cones. It sounds like it shouldn't work, but after you have the sample spoonful, you find yourself ordering a whole cone." - ..JEZEBEL MUSIC......Elastic No-No Band is the musical outlet for Brooklyn-based, Ohio-born filmmaker and singer-songwriter ..Justin Remer... At various times, the band has had anywhere from 1 to 5 permanent members, and their most recent album featured a dozen guest collaborators.....Elastic No-No Band plays songs about cheese fries and Klaus Kinski and manboobs. They play songs about love and sex and pain and stuff. Sometimes they take themselves seriously, but usually they don't.....The band has released 2 proper studio albums -- the well-received concept album ....My 3 Addictions.... and the overstuffed double-CD ....Fustercluck!!!.... -- plus a handful of home-recorded albums and EPs. You should check them out.........Our new double-CD ....Fustercluck!!!.... is now available from us for $15 including shipping via Paypal. ............Also available as ..a download on iTunes...............* * *....As seen on ..The Onion..'s AV Club website..! "Klaus Kinski" T-shirts!....................(click thumbnails for larger picture)......Buy one at ..Olive Juice Music.......Available in all adult sizes, Small to 2XL... ......* * *......Our previously released albums and EPs are available via ..our website.., ..Olive Juice Music.., ..CD Baby..,....iTunes (for downloads).., and ..Amazon (for downloads).. ....

Members

Justin Remer, Herb Scher, Preston Spurlock, Doug Johnson, John Mulcahy, and...

Influences

[alphabetically] Johnny Cash, Leonard Cohen, Elvis Costello, Robyn Hitchcock, Nick Lowe, The Moldy Peaches, Willie Nelson, Randy Newman, Jonathan Richman, Pete Seeger, Shel Silverstein, Hank Williams, and your mom.

Sounds Like
No recent updates in this category.
Why not...
04:04 | 30 plays | Jan 25 2010
Bio:
"The NYC antifolk scene's own Frank Zappa and the Mothers of Invention." -
THE DELI
"Elastic No-No Band is like the corn ice cream at Sundaes & Cones. It sounds like it shouldn't work, but after you have the sample spoonful, you find yourself ordering a whole cone." -
JEZEBEL MUSIC
Elastic No-No Band is the musical outlet for Brooklyn-based, Ohio-born filmmaker and singer-songwriter
Justin Remer
. At various times, the band has had anywhere from 1 to 5 permanent members, and their most recent album featured a dozen guest collaborators.
Elastic No-No Band plays songs about cheese fries and Klaus Kinski and manboobs. They play songs about love and sex and pain and stuff. Sometimes they take themselves seriously, but usually they don't.
The band has released 2 proper studio albums -- the well-received concept album
My 3 Addictions
and the overstuffed double-CD
Fustercluck!!!
-- plus a handful of home-recorded albums and EPs. You should check them out.
Our new double-CD Fustercluck!!! is now available from us for $15 including shipping via Paypal. ........
..Also available as a download on iTunes.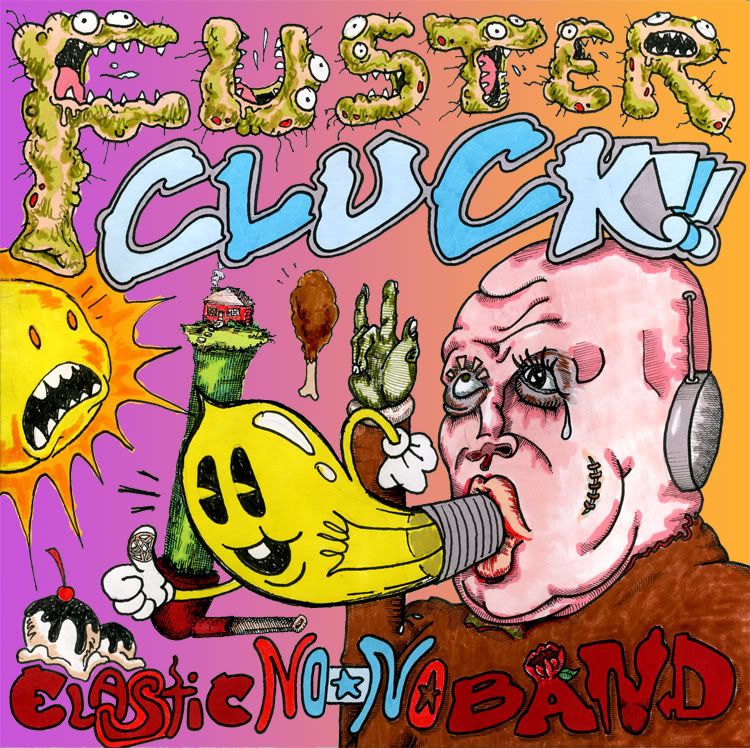 * * *
As seen on The Onion's AV Club website
! "Klaus Kinski" T-shirts!..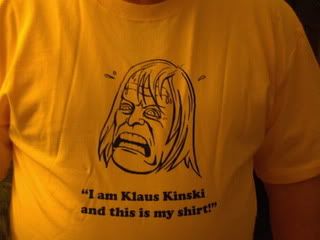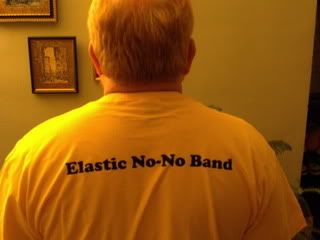 (click thumbnails for larger picture)
Buy one at
Olive Juice Music
.
Available in all adult sizes, Small to 2XL.
Member Since:
March 01, 2005
Members:
Justin Remer, Herb Scher, Preston Spurlock, Doug Johnson, John Mulcahy, and...
Influences:
[alphabetically] Johnny Cash, Leonard Cohen, Elvis Costello, Robyn Hitchcock, Nick Lowe, The Moldy Peaches, Willie Nelson, Randy Newman, Jonathan Richman, Pete Seeger, Shel Silverstein, Hank Williams, and your mom.
Sounds Like:
Record Label:
Weemayk Music