Play

Play Next

Add to queue
Genre: Classical / Happy Hardcore / Punk

Location BROOKLYN, New York, US

Profile Views: 1747351

Last Login: 7/26/2010

Member Since 8/30/2006

Website myspace.com/slingshotdakota, deepelm.com

Record Label me, deep elm

Type of Label Indie

Bio

I am Carly! I write all of my music off the top of my head but I couldn't transcribe it if I tried. I am classically trained but I bet you could kick my ass at sight reading. Let's be friends! .... I wrote "Everyday" specifically for Noah Kalina's amazing youtube video, which if you haven't seen already, you can watch here: .. .. .. .. .. .. .. .... A big thanks to Noah for giving me this amazing opportunity to share my music with you all! Here is another commercial project I worked on: .. .. .. .. .. .. .. .... For any inquiries regarding the licensing of any of my songs, or composing a new one for your project, please contact Deep Elm (deepelm.com) at licensing@deepelm.com or call 704-502-6599. For fan mail or anything non-business related, and to share your love of bagels, please e-mail me at carly.comando@yahoo.com Thanks!! .... Download "every day" or the entire album of "One Take" at any one of these fine retailers... ..Itunes.. .. ..EMusic.. .. ..Deepelm.com.. .. .. .. .................... .. .. ......Carly Comando - "One Take".... Yay! It's done!!! Here it is... finally, my new cd- "One Take." This record contains 14 songs (including Everyday)! All covers are hand screen printed by Tom at BirdApt... each one is a work of art! This cd costs $12... US orders will include $3 for shipping and handling ($15 total), and all overseas orders will include $5 for shipping and handling ($17 total)! ..Thank you!!!! .... ..Click here to buy the cd!.. .... .. .. .. ............ .. .. ......Everyday- Sheet music....Yay! Now you, too, can play the wonderful notes of Everyday! Get to it! $7 gets you 7 pages of sheet music in PDF format! You can play it as soon as you download it without having to wait for the mailman :) Also available, the sheet music for "Bear" for $4!.. ..Click here to buy the sheet music!.... .. *I am sending all of the sheet music PDF's personally, so please be patient! It's not an automatic download. Thanks for understanding! I promise you'll get it!

Members

me!

Influences

<3 .. .. .. .. .. ..

Sounds Like

sleepytime
No recent updates in this category.
Why not...
00:52 | 6322 plays | Nov 13 2007
Bio:
I am Carly! I write all of my music off the top of my head but I couldn't transcribe it if I tried. I am classically trained but I bet you could kick my ass at sight reading. Let's be friends!
I wrote "Everyday" specifically for Noah Kalina's amazing youtube video, which if you haven't seen already, you can watch here:
A big thanks to Noah for giving me this amazing opportunity to share my music with you all! Here is another commercial project I worked on:
For any inquiries regarding the licensing of any of my songs, or composing a new one for your project, please contact Deep Elm (
deepelm.com
) at licensing@deepelm.com or call 704-502-6599. For fan mail or anything non-business related, and to share your love of bagels, please e-mail me at carly.comando@yahoo.com Thanks!!
Download "every day" or the entire album of "One Take" at any one of these fine retailers.
Itunes
EMusic
Deepelm.com
..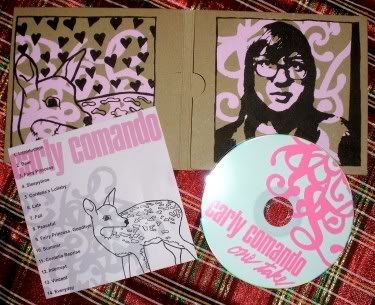 ..
Carly Comando - "One Take"
Yay! It's done!!! Here it is... finally, my new cd- "One Take." This record contains 14 songs (including Everyday)! All covers are hand screen printed by Tom at BirdApt... each one is a work of art! This cd costs $12... US orders will include $3 for shipping and handling ($15 total), and all overseas orders will include $5 for shipping and handling ($17 total)!
Thank you!!!!
Click here to buy the cd!
Everyday- Sheet music
Yay! Now you, too, can play the wonderful notes of Everyday! Get to it! $7 gets you 7 pages of sheet music in PDF format! You can play it as soon as you download it without having to wait for the mailman :) Also available, the sheet music for "Bear" for $4! Click here to buy the sheet music!
*I am sending all of the sheet music PDF's personally, so please be patient! It's not an automatic download. Thanks for understanding! I promise you'll get it!
Member Since:
August 30, 2006
Members:
me!
Influences:
<3 .. .. ..
.. ..
Sounds Like:
sleepytime
Record Label:
me, deep elm
Carly Comando - NEW CD OUT NOW!!! has 8514 friends.