Play

Play Next

Add to queue
Play

Play Next

Add to queue

353 plays

Play

Play Next

Add to queue

146 plays

Play

Play Next

Add to queue

102 plays

Play

Play Next

Add to queue

991 plays

Play

Play Next

Add to queue

2,156 plays
Genre: Acoustic / Alternative

Location Belfast, Northern Ireland, UK

Profile Views: 34970

Last Login: 8/26/2012

Member Since 10/25/2006

Website deepinthedreaming.co.uk

Record Label Unsigned

Type of Label Unsigned

Bio

.. .... .. .. .... Hello - The best way to get in touch with Ursula is to email ursulaburns (at) gmail dot com - we check into that much more often!! Ursula Burns, Belfast born singer songwriter grew up in a musical family and promptly ran away to join the circus in a vain attempt to escape the fate which awaited her - living as a musician in Northern Ireland. .. .. After many years and a few thousand miles walking with a horse drawn Theatre Company, ''Horse and Bamboo'', she decided to come back home and face the music by writing songs. Her first release SINISTER NIPS, and album, ACCORDING TO URSULA BURNS were written on the harp. Her experience as a stage actress was undoubtedly an advantage in presenting and performing her repertoire. Ursulas live performance shows extraordinary confidence and her originality and exuberance caught the imagination of viewers and media alike. .. .. From the Albert Hall to the back bars in Belfast (and a few tube stations along the way), from the fire escape of burning buildings and even the police station in the Red Light district of Amsterdam. Finally Ursula moved to a haunted farmhouse in Ballyweird, Portaferry, to write her second album. .. .. SPELL is written and performed on the piano. Ursula's writing and style defy categorisation. Instrumentally her work is in the folk idiom yet her lyricism falls more readily into a surreal and imaginative vein, musical and tuneful with dark undertones, an incredible eclectic mix of styles held together by a distinctive vocal... The album shows the development of an artist who is etching deeper into her music. The transition between her first album and this body of work shows a constantly evolving and versatile talent, which will make her CD a necessary addition to anyone's collection... .. ROLLERCOASTER CASTAWAY - Ursula Burns has never been your orthodox singer. She is a conjurer of ethereal mood and other worldly mysticism that has yes a nod towards Donegal's Enya but with more in common with Tom Waits in her unpredictable phrasing and use of instruments. From the lynchpin of Burns' meandering piano flourishes producer Keiran Kennedy has added fascinating musical ideas and a guest appearance by Hothouse Flowers' Liam O'Maonlai on the opening Keep It In Your Heart. If you are up for the challenge and long for the envelope to be pushed then look no further. Drifting By, the vocally inventive Melting With The Sun and Nowhere To Go are particularly fulfilling... .. .... .. .. .. .. .. .. .. .. ........ ........ ....

Members

Ursula has worked with many Irish and International artists, from Jackson Browne, Beth Orton, Billy Bragg, Duke Special, Laim O Maonlai, Keiran Kennedy, the Blue Nile, Eimer Quinn and many more, she has performed everywhere from burning fire escapes to the Royal Albert Hall... .. .. Mind you, you'd probably have to buy her a drink to find out the fire escape story... .. .. - - - - - - - - - - -

Influences

Ursula Burns has invented her own wild style of harp playing and Spell is a mini masterpiece, pitch perfect, it deserves our fullest attention. .. - -The Irish Times.. .. .. Ursula Burns' third outing is one of the few albums since Astral Weeks to mess with notions of temporal, spatial and cosmic displacement. It is constructed from rolling piano figures that threaten to vanish off cliff-tops, fragmented drum taps, harp arpeggios, soprano sax and vocals so in-your-ear they could be your conscience – or your fairy godmother – calling.. - -Hotpress.. .. .. Ursula writes undeniably great songs, when you combine this with the fact that she plays the harp in a 'new school' style, the potential is mighty - - ..Stuart Bailey.. .. .. Ursula Burns comes across as one of those original artists who defies musical barriers. She is completely unlike anybody else, especially other female singer/songwriters...- -Irish News.. .. .. With a sound that is both traditional and contemporary, Burns' music defies classification, comparisons do not do her justice. She is her own unique music stylist...- -David Schultz.. .. .. Daughter of folk/classical harpist Marie O'Neill, Ursula Burns is a one-off - a hybrid concoction of delicate harp-playing married to the off-the-wall lyrics of a Tori Amos and the sweet voice of a Karan Casey. There really is no one quite like Ursula and her album is probably the most innovative to have emerged from the North in the last ten years...- -Irish Music review.. .. .. Not many people have a fiddle-playing grandfather in a band called The Senile Delinquents. Not many people have a harp-playing mother who independently pressed up and released 1,000 vinyl copies of an album that set Yeats poetry to music. And not many people can say they ran off to join a circus at the age of 14 and mean it, Ursula Burns did just that… ..- -Ivenus.com.. .. .. Perhaps the most daunting gig of the night was Madame George, that whirling homage to a figure that plays dominoes in drag. It was Ursula Burns who had accepted the mission and she sat with her harp and realised that child-like vision. Perfect - Review of Ohyeahbelfast Astral week's event..- -Stuart Bailey..

Sounds Like
No recent updates in this category.
Why not...
Bio:
..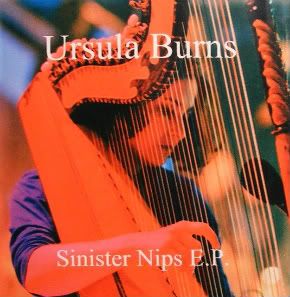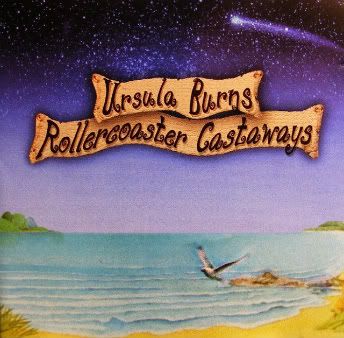 Hello - The best way to get in touch with Ursula is to email ursulaburns (at) gmail dot com - we check into that much more often!! Ursula Burns, Belfast born singer songwriter grew up in a musical family and promptly ran away to join the circus in a vain attempt to escape the fate which awaited her - living as a musician in Northern Ireland.

After many years and a few thousand miles walking with a horse drawn Theatre Company, ''Horse and Bamboo'', she decided to come back home and face the music by writing songs. Her first release SINISTER NIPS, and album, ACCORDING TO URSULA BURNS were written on the harp. Her experience as a stage actress was undoubtedly an advantage in presenting and performing her repertoire. Ursulas live performance shows extraordinary confidence and her originality and exuberance caught the imagination of viewers and media alike.

From the Albert Hall to the back bars in Belfast (and a few tube stations along the way), from the fire escape of burning buildings and even the police station in the Red Light district of Amsterdam. Finally Ursula moved to a haunted farmhouse in Ballyweird, Portaferry, to write her second album.

SPELL is written and performed on the piano. Ursula's writing and style defy categorisation. Instrumentally her work is in the folk idiom yet her lyricism falls more readily into a surreal and imaginative vein, musical and tuneful with dark undertones, an incredible eclectic mix of styles held together by a distinctive vocal... The album shows the development of an artist who is etching deeper into her music. The transition between her first album and this body of work shows a constantly evolving and versatile talent, which will make her CD a necessary addition to anyone's collection.

ROLLERCOASTER CASTAWAY - Ursula Burns has never been your orthodox singer. She is a conjurer of ethereal mood and other worldly mysticism that has yes a nod towards Donegal's Enya but with more in common with Tom Waits in her unpredictable phrasing and use of instruments. From the lynchpin of Burns' meandering piano flourishes producer Keiran Kennedy has added fascinating musical ideas and a guest appearance by Hothouse Flowers' Liam O'Maonlai on the opening Keep It In Your Heart. If you are up for the challenge and long for the envelope to be pushed then look no further. Drifting By, the vocally inventive Melting With The Sun and Nowhere To Go are particularly fulfilling.


Member Since:
October 25, 2006
Members:
Ursula has worked with many Irish and International artists, from Jackson Browne, Beth Orton, Billy Bragg, Duke Special, Laim O Maonlai, Keiran Kennedy, the Blue Nile, Eimer Quinn and many more, she has performed everywhere from burning fire escapes to the Royal Albert Hall...

Mind you, you'd probably have to buy her a drink to find out the fire escape story...

- - - - - - - - - - -
Influences:
Ursula Burns has invented her own wild style of harp playing and Spell is a mini masterpiece, pitch perfect, it deserves our fullest attention.
- -The Irish Times
Ursula Burns' third outing is one of the few albums since Astral Weeks to mess with notions of temporal, spatial and cosmic displacement. It is constructed from rolling piano figures that threaten to vanish off cliff-tops, fragmented drum taps, harp arpeggios, soprano sax and vocals so in-your-ear they could be your conscience – or your fairy godmother – calling
- -Hotpress
Ursula writes undeniably great songs, when you combine this with the fact that she plays the harp in a 'new school' style, the potential is mighty - -
Stuart Bailey
Ursula Burns comes across as one of those original artists who defies musical barriers. She is completely unlike anybody else, especially other female singer/songwriters.
- -Irish News
With a sound that is both traditional and contemporary, Burns' music defies classification, comparisons do not do her justice. She is her own unique music stylist.
- -David Schultz
Daughter of folk/classical harpist Marie O'Neill, Ursula Burns is a one-off - a hybrid concoction of delicate harp-playing married to the off-the-wall lyrics of a Tori Amos and the sweet voice of a Karan Casey. There really is no one quite like Ursula and her album is probably the most innovative to have emerged from the North in the last ten years.
- -Irish Music review
Not many people have a fiddle-playing grandfather in a band called The Senile Delinquents. Not many people have a harp-playing mother who independently pressed up and released 1,000 vinyl copies of an album that set Yeats poetry to music. And not many people can say they ran off to join a circus at the age of 14 and mean it, Ursula Burns did just that…
- -Ivenus.com
Perhaps the most daunting gig of the night was Madame George, that whirling homage to a figure that plays dominoes in drag. It was Ursula Burns who had accepted the mission and she sat with her harp and realised that child-like vision. Perfect - Review of Ohyeahbelfast Astral week's event
- -Stuart Bailey
Record Label:
Unsigned