No recent updates in this category.
Why not...
Julian hasn't earned any badges yet... have you?
General

Art, Cooking, Music (broad definition, but there's definitely somethings not included in my defintion - actually ditto for art), Sport.

Actually if you are going to define what's in and out - I'm not into inane product orientated dross or pretentious wankers. (eg Beastie Boys, Ben Harper)

You scored as Democrat


| | | |
| --- | --- | --- |
| Green | | 100% |
| Democrat | | 100% |
| Anarchism | | 83% |
| Communism | | 67% |
| Socialist | | 42% |
| Republican | | 0% |
| Nazi | | 0% |
| Fascism | | 0% |

What Political Party Do Your Beliefs Put You In?created with QuizFarm.com

Movies

Baraka

,

Hercules Returns

,

Proof

,

Himalaya

,

City Lights

,

Say it aint so!

,

Blazing Saddles

,

Calamity Jane

,

Princess Bride

,

Life of Brian

,

Project A

,

Bull Durham

,

Meet the Flodders

,

Clerks

,

Meet the Feebles

,

Les Miserables

,

My Fair Lady

,

Dr Strangelove

,

Stripes

,

Life is Beautiful

,

Heartbreakers

,

One Night at the Opera

,

Rocky Horror Picture Show

,

Orgazmo

,

Roman Holiday

,

Blues Brothers

,

Good Will Hunting


Television

Drawn Together

,

CNNNN

,

The Chaser Decides

,

The Goodies

,

Aaaargh It's the Mr Hell Show

,

Wallace & Grommit

,

Flowery Twats

,

Frasier

,

Iron Chef

,

Dead Ringers

,

Life Support

,

The Dave Allen Show

,

Global Village

,

The Noble Conflict

,

The Blue Planet

,

Buffy

,

Dangermouse

,

Cutting Edge

,

The life of Birds

,

The Awful Truth

,

WRC

,

The Simpsons

,

Red Dwarf (the early series)

Books

Catch 22
Tarka the Otter
Homeland - Sojourn - Exile
Magician
Gone with The Wind
The White Mountains
White Fang
20,000 Leagues under the Sea

Authors - Douglas Adams, Terry Pratchett, Rob Grant, Scott Adams, Nino Culotta, Usciny & Udzero, James Herriott, Jules Verne.

Heroes

Its sad when you live in a world and forget who your heroes used to be:

Allan Border
Joe Roff
Paul Robeson
Arthur Miller
Wolfgang Amadeus Mozart
Leonardo da Vinci
Bill Watterson
Edward Weary Dunlop
Jackie Chan
Rokusaburo Michiba
Henry Rollins
George Carlin
Sir Isaac Newton

More to come I hope!
About me:
http://maggyandjulian.blogspot.com/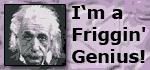 I am 14% Idiot.

I am not annoying at all. In fact most people come to me for advice. Of course they annoy the hell out of me. But what can I do? I am smarter than most people.
I am 32% Geek.

You probably work in computers, or a history deptartment at a college. You never really fit in with the "normal" crowd. But you have friends, and this is a good thing.
I am 8% White Trash.

I, my friend, have class. I am so not white trash. . I am more than likely Democrat, and my place is neat, and there is a good chance I may never drink wine from a box.
I am 67% Asshole/Bitch.

I am abrasive, some people really hate me, but there may be a group of other tight knit assholes and bitches that I can hang out with and get me. Everybody else? Fuck 'em.
I am 74% Promiscuous.

I like sex and have a healthy sex life. I get just enough and know how to use my sexuality. Some people might have a problem, but that is their problem not mine. They just need to get more.
I am 58% Evil Genius.

Evil courses through my blood. Lies and deceit motivate my evil deeds. Crushing the weaklings and idiots that do nothing but interfere in my doings.
(Damn it was hard not to lie on this one)
I don't really spend that much time thinking about myself. (I'm pretty sure that's a good thing!)
I also tend to need a starting point for my creativity. (Blank sheets suck!)
Anyway, this is obviously not definitive.... (And frankly if I wanted to know more about someone I wouldn't be asking these particular questions.)
---
WHAT ARE YOU AFRAID OF: Making mistakes.
YOUR PERFECT PARTNER: Someone who makes me look forward to sharing every day and growing old with.
DO YOU LIKE YOURSELF?: Yeh, a bit out of necessity, but starting to meet standards.
HAVE YOU EVER HATED ANY PERSON IN YOUR FAMILY? Yes, but it was along time ago and I was a dick.
..FAVORITE.. ...
PHILOSOPHY: (OK I added this one!)
Every day is the perfect opportunity to do something wonderful.
(I need to work at it)
..QUOTE.. ...
"Ignorance is not not knowing something - It is thinking you know everything!."
- Me.
"Be the change you want to see in the world."
- Mahatma Ghandi.
"If you play a becoming a genius, a genius you will become."
- Salvador Dali.
"Only two things are infinite - the universe and human stupidity! And I am not so sure about the universe"
- Albert Einstein.
"She gets too hungry for dinner at eight."
- The Lady is a Tramp.
"It's Australian as Mel Gibson, Holden cars and Vegemite."
- Slamming Sam Kekovitch. --- (Three archetypal ubiquitous Australian icons - One was born in NZ; the other two are American owned.)
"Computer games don't affect kids; I mean, if Pac-Man affected us as kids, we'd all be running around in darkened rooms, munching magic pills and listening to repetitive electronic music."
- Kristian Wilson, Nintendo, Inc, 1989 (not entirely certain this one's legit!)
"The meek shall meekly sit round waiting to inherit what is left of the Earth."
- Me again.
"The power of accurate observation is commonly called cynicism by those that do not have it."
- George Bernard Shaw.
"Windows 95: A 32 bit patch for a 16 bit shell for an 8 bit operating system for a 4 bit microprocessor, written by a 2 bit company that can't stand 1 bit of competition."
ACTRESS: Cameron Diaz, Susan Sarandon, Kate Blanchett.
ACTOR: Jeremy Irons, Morgan Freeman, Harry Shearer, Kevin Spacey, Gabriel Bryne.
BANDS AND SINGERS: currently Little Birdy, Hot Sauce, Fabienne Del Sol, Dresden Dolls, Kat Empire.
PLACE TO VISIT: Kinda fond of my bed.
JEWELLERY: Garnets.
COLOUR: chocolate
NUMBER: 1
FLOWER: Some kind of orchid I guess...
THING TO DO WHEN BORED: Feel sorry for myself. The trick is not getting bored in the first place.
BRAND OF SHOES: Not enough X chromosomes - sorry. Maybe Brookes running shoes.
CAR: Mine!
DINNER: Too many options.
VEGETABLE: Snow peas, Green capsicum. CHILLIES!!! Onions.
FAST FOOD: Grilled fish & chips.
MEAT: Beef
CANDY: dark chocolate truffles
BEVERAGE: SA Shiraz
WHERE DO YOU SEE YOURSELF 10 YEARS DOWN THE ROAD: Living in a cave in Afghanistan - OK shouldn't joke about that. Working from home. Happy. (Hopefully the last two don't match the first)
..HAVE YOU EVER.. ...
LOVED SOMEBODY SO MUCH IT MADE YOU CRY? yeah
SMOKED?: yes
DONE DRUGS?: who me?
BROKEN THE LAW?: oh who bloody hasn't! (I don't want to meet them - even a two year old has acted offensively in public)
RAN AWAY FROM HOME?: Only mentally, and that's more wandering really.
BROKEN A BONE?: Of course.
CHEATED ON TEST?: yeah, even did a uni exam for someone else in a subject I didn't take, never knew and did 3hrs study for. Passed too! COBOL & FORTRAN. deader than latin - no }:c Although it could be argued that they were the one cheating and I didn't exist.
Gave some of my artwork to a guy to augment his portfolio so he could get into art school - never saw them again. :-(
PLAYED STRIP POKER?: yeah
PLAYED TRUTH OR DARE?: yes
FLASHED SOMEONE: hell yeah - no complaints either.
FLASHED SOMEONE YOU DIDN'T KNOW?: Not as such - knocked on someone's door naked once. (Not into showing off!)
RODE IN A POLICE CAR?: no actually. Surprised?
BEEN ON A PLANE?: live in three! Of course - who cares. Don't judge people who haven't. Ever been on a bus? Ever been kicked off a plane - now there's a question! (no by the way)
COME CLOSE TO DYING?: several times.
CHEATED ON YOUR SIGNIFICANT OTHER? Define significant. Cheated on myself - far more important.
BEEN IN A SAUNA?: No I've always got out.
BEEN IN A HOT TUB?: See Sauna.
SWAM IN THE OCEAN?: I guess that officially makes me a rebel. Even had a jellyfish fight.
WHATS MY WORST HABIT? rationalising laziness.
..WHAT DO YOU THINK ABOUT.. ...
ABORTION: Never had to. Ignorance is bliss.
COUNTRY MUSIC?: ..IT ROCKS !!!.. - Keep's the fuckers at home getting pissed instead of cruising round in their utes. Wouldn't listen to it myself.
CLASSICAL?: Mozart is transcendental!!!
SOAP OPERAS?: That's an oxymoron!
THE PERSON THAT SENT THIS TO YOU?: Not too shabby.
AMUSEMENT PARKS?: Absolutely inspirational!! - They prove that more than "small things amuse small minds".
WORST SONG U EVER HEARD?: Forgotten thank God. "
God Save the Queen
" comes to mind as one I'd happily never hear again. Speed Racer! Anything that commercial radio plays five times a day too often.
WORST TAPE/C.D IN YOUR COLLECTION?: Some
K-Tel
"..Soul.." box set - Oh did they lie! It's even worse than the tape I paid 20c for because I thought it was a David Bowie tape and didn't check the contents matched the cover, and it was something indecipherable (possibly educational?) in Mandarin from Hong Kong. Worst actual performer was
"Bob Marley and the Whalers live
(stoned off their tits)
at Wembley Stadium"
GOOD STUDENT? Hell no. Lazy undisciplined shit.
GOOD DRIVER? Better than most. (scary)
GOOD ACTOR/ACTRESS? N/A - Guess that means no.
SHY? increasingly rarely.
..HAVE YOU EVER HAD.. ...
BLOODY NOSE? Of course
SURGERY? Of course. (Hey it's me!)
SOMEONE BESIDES YOUR FAMILY SAY THEY LOVE YOU? Of course. Some of them even meant it! :-o
SOMEONE PUNCH YOU? Of course.
DO YOU ENJOY PARKS? Prefer nature or other idiot free zones.
LIKE PICNICS? Hate the chocolate bar. Love being out of doors with good company and/or food.
COLLECT ANYTHING? memories, junk, scars - the usual.
DO YOU LIKE TO SING? dunno, never tried really.
LIKE TO SHOP? Rampant consumerism and mindless materialism depresses the hell out of me. Inferior products and fads are driving the world into an early grave.
- "
If barbie is so popular, how come you have to buy all her friends.
"
LIKE TO PARTY? Not if it involves me leaving my brain at the door!!!
GET IN TROUBLE A LOT? Not for lack of trying.
IF YOU WERE STUCK ON AN ISLAND, WHICH PEOPLE WOULD YOU WANT WITH YOU? John Howard, Phillip Ruddock, Tony Abbott, Amanda Vanstone, Fred Nile and every other sanctimonious c*nt that deserves to be stuck on a desert island for the good of the world. (My sacrifice!) Hmmmm, actually - what sacrfice - pls send ammo!
IF YOU WERE IN A FIRE WHAT WOULD U TAKE FROM YOUR ROOM? Whatever was on fire.
IF YOU RECIEVED A SMALL PART IN A MOVIE, WOULD YOU ACCEPT IT? Can't see why not. I don't believe having your picture taken steals your soul or prevents a journey to the afterlife - although it would explain a lot about the behaviour of celebrities.
Who I'd like to meet:
Expectations narrow options and/or lead to disappointment.
Surprise me!
---
..
This profile was edited with
Thomas' Myspace Editor V3
Status:

Married

Here for:

Friends

Hometown:

Brisbane

Orientation:

Straight

Height:

5' 10"

Religion:

Atheist

Zodiac Sign:

Aquarius

Smoke / Drink:

No / Yes