About me:
"SHOWBUSINESS: THE ROAD TO BROADWAY"
AVAILABLE ON DVD OCT0BER 16TH!!!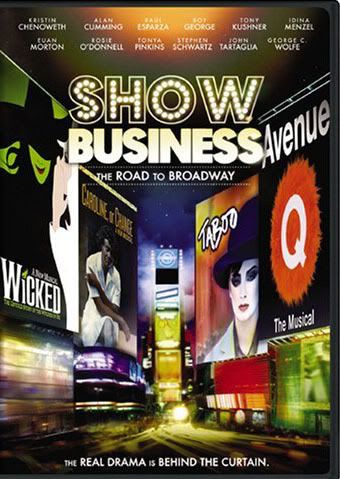 ..


Click here to visit the film's official site!


Check out this exclusive clip from behind the scenes of
"Wicked" with Idina Menzel!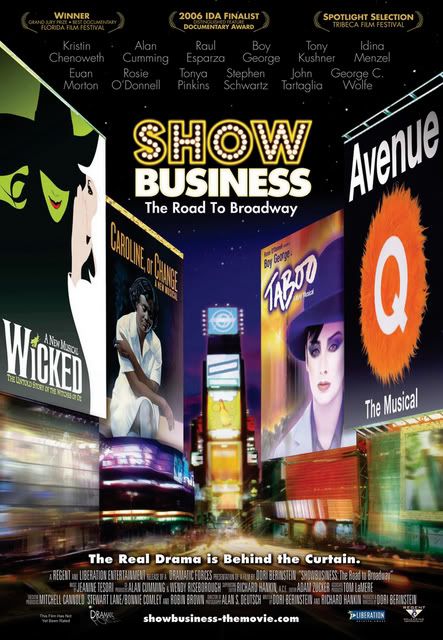 Over the course of one Broadway musical season (2003-2004), "ShowBusiness" follows the four high-profile productions that would eventually become Tony nominees for Best Musical: a big-noise musical named "Wicked," the Rosie O'Donnell/Boy George collaboration, "Taboo," the much-anticipated Tony Kushner musical, "Caroline, or Change," and an irreverent puppet show named "Avenue Q."
From casting to staging, from previews to red-carpeted opening nights, from the announcement of Tony nominations to the suspense-filled Tony Awards, "ShowBusiness" provides a never-before-seen look at the inner workings of Broadway musicals. Allowed unprecedented backstage access, director Dori Berenstein casts a camera's eye on rehearsals, backstage highs and lows, and the mysterious and wondrous creative process.
Featuring a star-studded array of Broadway icons as well as ambitious new faces, "ShowBusiness" proves that 2003-2004 was truly a 'Season to Remember.'
Click here for the official site of the Tony Awards!
Who I'd like to meet:
Current Release Schedule:
09/28/07 - Cleveland, OH Cleveland Museum of Art
08/31/07 - Fort Lauderdale, FL Sunrise Gateway
08/10/07 - Kansas City, MO Screenland Theatre
08/10/07 - Denver, CO Starz Film Center
08/04/07 - Hudson, NY Time&Space Ltd
08/01/07 - Springfield, MO Moxie Cinema
07/29/07 - Tulsa, OK Circle Cinema
07/27/07 - Wilmington, DE Theatre N at Nemours
07/27/07 - Gettysburg, PA Majestic Theater
07/13/07 - St. Louis, MO Landmark Tivoli
06/29/07 - Washington DC, E Street Cinema
06/29/07 - Seattle, WA Varsity Theatre
06/24/07 - Ellsworth, ME The Grand Theatre
06/22/07 - San Diego, CA Landmark Hillcrest
06/22/07 - Atlanta, GA Midtown Art Center
06/22/07 - Minneapolis, MN Landmark Edina Cinema
06/15/07 - Madison, WI Orpheum Theater
06/08/07 - Berkeley, CA Landmark Shattuck Cinemas
06/08/07 - Encino, CA Laemmle's Town Center 5
06/08/07 - Newport Beach, Lido Theater
06/08/07 - Pasadena, Laemmle's Playhouse 7
06/08/07 - San Francisco Opera Plaza
06/08/07 - Chicago Music Box Theatre
06/08/07 - Boston, MA Kendall Square Cinema
06/08/07 - Rochester, NY The Little Theatre
06/06/07 - New York, Pioneer Theater
06/01/07 - West Los Angeles, Westside Pavilion
05/11/07 - NYC, Landmark Sunshine Cinema
For more information on the theatrical release schedule, click here!
Status:

Single

Zodiac Sign:

Sagittarius