No recent updates in this category.
Why not...
envy hasn't earned any badges yet... have you?
General

Fridays are Salsa Nights at envy! Come early to join our begginers group salsa lessons every friday night @ 10pm.

Weekends are hot at envy! This lounge turns to club every Saturday night! We play the best house and hip-hop all night, only at downtowns hottest spot.

Dinner and Deserts *our menu is progressive and changes weekly.

Lunch served Tuesday-Friday 11am-2pm
Play

Play Next

Add to queue

Play

Play Next

Add to queue
About me: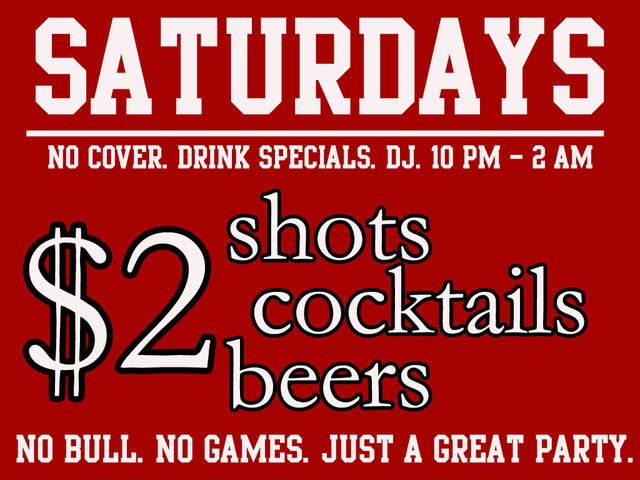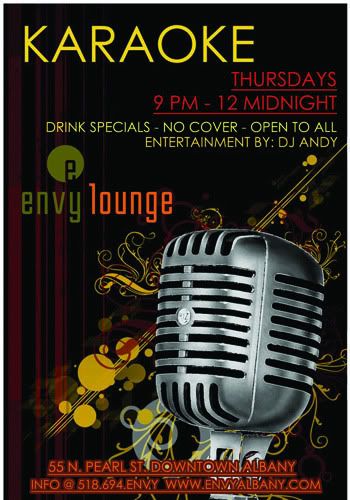 envy lounge located downtown albany across from the pearl restaurant. envys pallet is diverse, bringing to the table a fusion of fine dining with a lounge atmosphere, and a host of events to satisfy your nightlife appetite. open tuesday through saturday. we welcome all to join us for lunch, dinner, and late-night entertainment. Thursdays are Pearl St. LIVE- a full-block party featuring live bands and a beer garden every Thursday form 7pm-12 Midnight, Fridays are Salsa Night, and Saturdays are Drinks and Dancing. -crazy drink specials and the hottest djs.
..
This profile was edited with
myspacelayoutgenerator.org Editor
.. Envy Lounge, opened in October of 2006 has quickly become a mainstay in Albany's ever growing downtown community. Envy Lounge, located at 55-57 N. Pearl St., is open Tuesday thru Saturday. Lunch is served T-F 11a.m. till 2p.m. Dinner is served T-S 4p.m. till 10p.m. Bar is open all day till close and till 4a.m. on Friday and Saturday, hosting to a wide variety of entertainment and events.
Just a taste....Times Unions recent review--> Envy will leave your taste buds wanting for nothing By RUTH FANTASIA, Food editor First published: Sunday, February 18, 2007 As restaurant names go, Envy Lounge is one of the dumbest. At 7 p.m. on a weeknight, there are few things loungelike about this place, located alongside the bars and clubs on Albany's North Pearl Street. There are high-backed booths with fat cushions along one wall that provide a substantial amount of privacy and some brightly lit signs over the bar in the very back of the long dining room. But there's no piano player and no red Naugahyde upholstery. While Envy does turn into more of a nightclub later in the evening, what's best and most important about the place, open since October, are the astonishing dishes chef James Demers puts out of his open kitchen. This is comfort food twisted around like grandmother's apron strings. There's potpie, made with hand-shucked Malpeque oysters ($10). You want Buffalo wings? Uh, no, but you can get Buffalo legs -- frog's legs ($8). Or how about a nice, warm baked brie? This one comes with duck confit ($12). And those are just starters. The weeknight we visited, the place appeared nearly empty. Spotless white tablecloths lay on tables surrounded by black chairs. One young man sat at the counter in the open kitchen where you can eat, chat and watch the staff work. We started with the brie, baked in a puff pastry crust with a layer of apricot sauce and toasted almonds. Smooth and rich with a hint of sweetness, the cheese was a good complement to the mild saltiness of the equally rich, savory duck leg. The house salad ($8), an item bereft of description on the menu, changes frequently. On this evening, it was a 4-inch-high pile of fresh young greens intermingled with toasted nuts and goat cheese. The mound was topped with quail stuffed with a mushroom mousse and sprinkled with fresh pomegranate seeds. Somehow ....house salad'' didn't quite do this dish justice. Like other top restaurants in Albany, Envy isn't inexpensive. Even the short ribs, among the less pricey cuts of beef, will cost you $27. But while Demers has apparently chosen to compete with Yono's, 677 Prime and McGuire's for the affluent diner, he's also savvy enough to offer some dishes in both entree and appetizer sizes and cheese plates at three price levels. It's a strategy that invites dropping in for a few small plates. The ....main plates,'' as the entrees are called, include a Thai-marinated bison hanger steak ($30), basil-encrusted salmon with scallop-filled penne and white truffle salsify beurre blanc ($29), and a duet of tournedos (7 ounces of beef tenderloin), chorizo, jumbo lump crab hollandaise and lobster butter ($36). The pan-seared scallops ($32 entree, $14 starter), were plump and sweet with their ends seared to a delectable caramel. Each of the five large scallops was topped with tiny cubes of sweet potato mixed with black truffle slivers and accented by white truffle oil and lavender honey. It was a heady dish with a mild sweetness that was as satisfying as it was beautiful. The basil whipped potatoes served alongside were wasabi-paste green, a color so unlike potatoes that, like a brain teaser, it had us questioning if they were potatoes at all. While odd to look at, they were flavorful and comforting. The most expensive entree is a 16-ounce dry-aged prime New York strip steak ($45) served with blue cheese whipped potatoes, cracked black pepper, lobster butter and horseradish aioli. The steak came already sliced, encircling the potatoes. It was perfectly rare, as requested, and topped with the meat from two small lobster claws. Unfortunately, the pungent horseradish aioli overpowered everything on the plate. The meat lost all its character, and the blue cheese potatoes didn't seem to have any blue cheese flavor. Our waiter was a pleasant young man, well-versed in the menu and wine list. His only failing was that, in his eagerness to serve, he became obtrusive, appearing by our side frequently to offer his assistance. Given the emptiness of the place, he may have been bored, or lonely, or both. At his suggestion, we tried the chocolate souffle with espresso whipped cream ($8.50) for dessert. It arrived in a small ramekin, hot out of oven on an artfully decorated plate. It was a light yet decadent end to the meal. Dinner for two with two glasses of wine, a cocktail and coffee, plus tax and tip, came to $171.10. Definitely not the type of bill, or food, you'd find in a lounge. We just hope this place can remain a fine-dining destination and not devolve into a nightclub where the food is an afterthought -- if it's thought of at all.
Who I'd like to meet:
Status:

Single

Here for:

Friends

Hometown:

Albany

Orientation:

Straight

Zodiac Sign:

Libra