Play

Play Next

Add to queue
Label
: Troubleman Unlimited
Play

Play Next

Add to queue

5,758 plays

Play

Play Next

Add to queue

2,223 plays
Genre: Indie / Punk / Shoegaze

Location GLEN ROCK, Un

Profile Views: 1484139

Last Login: 9/18/2012

Member Since 5/30/2005

Website www.titusandronicus.net

Record Label XL Recordings / Merok

Type of Label Indie

Bio

......A More Perfect Union...... .. .. .. .. .. ......Titus Andronicus.. | ..MySpace Music Videos.... .... Titus Andronicus is a rock and roll band from Glen Rock. There are four people in the band. Titus Andronicus take their name from a minor Shakespearean tragedy, not, as many people believe, from some sort of killer robot from the future. Titus Andronicus formed in the spring of 2005. Titus Andronicus' debut long player, "The Airing of Grievances" was released in April of 2008 by Troubleman Unlimited, and re-released by XL Recordings in January 2009. XL will release Titus Andronicus' sophomore long player, "The Monitor," in March 2010. ....Titus Andronicus have shared stages with such noted, world-famous luminaries as Yo La Tengo, Ted Leo and the Pharmacists, No Age, The Hold Steady, Fucked Up, Times New Viking, and Los Campesinos. Titus Andronicus practice at Ian's house. ....Titus Andronicus sometimes disagree on what is the right thing to do. Titus Andronicus like to scream and carry on at excessive volume. Titus Andronicus like songs which are fast more than songs which are slow. Titus Andronicus think slow songs are okay sometimes. Titus Andronicus never sing about love, only hate. Titus Andronicus have no hope for the future. Titus Andronicus believe only in nothingness. Everyone in Titus Andronicus was born to die. Titus Andronicus crave your approval but will settle for your utter disdain. ....Above all else, Titus Andronicus want to sleep on your floor. .... .. .. .. .. .. .. ......Site & Sound: Titus Andronicus.. from ..VanLou Media.. on ..Vimeo..... .... "Titus Andronicus' The Airing Of Grievances brooks no bullshit. The disc is the sound of lusty youth ripping a gaping hole in the fabric of reality: Throughout The Airing's nine sawed-off anthems, the Jersey collective comes off like a clunky, blood-knuckled Arcade Fire that just doesn't have time for all that respectable crap. Because, you know, the world is falling apart around their heads, and they only have this one shot at eating, fighting, and fucking the entire universe." - The Onion AV Club .... "None of these highfalutin' shout-outs will grab your ear as powerfully as the demonic E Street Band arrangements, rife with constant builds and breakneck rhythms... they've studied their philosophy and found that life actually is pointless, so why not go down swinging?" - Pitchforkmedia .... "What separates The Airing of Grievances from run-of-the-mill emo nihilism -- or any other album we've heard in years -- is the intellectual and musical chops to support the depression... exactly what indie rock has been lacking for over a decade." -Prefixmag .... .. .. .. .. .. .. .. .. .. "This fivesome of suburban punks are proud nerds. But they know when to kick ass... and the sizzling, storage-locker production makes it all sound like a cage match. Which it is — between a band and a damaged world." - Rolling Stone .... "It's a cliche, but Titus Andronicus has got to be one of the hardest working bands around." - Brooklynvegan .... "Not since the Replacements raised a pint glass in the name of punk has a gang of hood rats so rousingly resurrected the legend of the American bar band." - Entertainment Weekly .... "An album that at first seems impenetrable, but it exhibits such raw, open-wounded delivery that what might initially buffet is the exact reason for coming back for more. Each play of Grievances is like that triumphant, sweaty bar show, right there in your room. " - Popmatters .... "Stickles' lyrics ruminate on the countless ways the world, well, sucks much of the time, but not while you're immersed in these nine raging-with-life songs." - Spin .... "Titus are a comunal band. Because they discuss depression and discuss existential crises in their songs they are misappropriated as antisocial. This is social music, it is shared miseries. Singing about nihilism is the antithesis of nihilism." - Rock NYC Live and Recorded.... "These are songs to learn and sing as loudly, messily and drunkenly as possible." - The Guardian .... .. .. .. .. .. .. .. .. .. .. ..FURTHER READING:.. .... BLOG:.. http://www.titusandronicustheband.blogspot.com.... FAN SITE: .. http://www.titusandronic.us.... WIKIPEDIA: .. http://en.wikipedia.org/wiki/Titus_Andronicus_(band).... LAST.FM: .. http://www.last.fm/music/Titus+Andronicus.... FLICKR: .. http://www.flickr.com/photos/titusandronicustheband.... YOUTUBE: .. http://www.youtube.com/user/TitusandronicusNJ.... .. ..TITUS TV episode 4: SUPER MAXIMUM OVERDRIVE.. .. .. .. .. .. .. .. .... "Want to get up close and personal with Titus before you head to the show? Watch this recent episode of what they dub Titus TV. The band makes these episodes while they're on the road and besides being an honest look at what it's like to be a touring band, they are also quite funny!" - The blog of the Whitney Museum.... ..CONTACT:.. .... BAND: ..Titusandronicustheband@gmail.com.... PRESS: ..sonyakolowrat@beggars.com.. .. UK PRESS: ..KeongWoo@familyltd.co.uk.... US BOOKING: ..john@groundcontroltouring.com.. .. INTERNATIONAL BOOKING: edthompson@theagencygroup.com .. ....Join the mailing list: .... .. ............ .. .... ..QUESTION:.."titus andronicus is really awful. when will they go away?" - anonymous BrooklynVegan comment.. ..ANSWER:.. Never!.. .. ...... .. ....

Members

.. Ian Graetzer - bass guitar.. ........ ..Amy Klein.. - guitar, violin .. ...... .. Eric Harm - drums, vocals .. ...... ..David Robbins - keyboard , guitar .. ........ Patrick Stickles - vocals, ..guitar, harmonica.. ...... .. .. .. ..

Influences

Television Personalities, Minor Threat, Galaxie 500, Neutral Milk Hotel, The Modern Lovers, Nirvana, Weezer, Big Country .. ...... ..

Sounds Like

Archers of Meat Loaf
No recent updates in this category.
Why not...
Bio:

A More Perfect Union

Titus Andronicus | MySpace Music Videos
Titus Andronicus is a rock and roll band from Glen Rock. There are four people in the band. Titus Andronicus take their name from a minor Shakespearean tragedy, not, as many people believe, from some sort of killer robot from the future. Titus Andronicus formed in the spring of 2005. Titus Andronicus' debut long player, "The Airing of Grievances" was released in April of 2008 by Troubleman Unlimited, and re-released by XL Recordings in January 2009. XL will release Titus Andronicus' sophomore long player, "The Monitor," in March 2010.
Titus Andronicus have shared stages with such noted, world-famous luminaries as Yo La Tengo, Ted Leo and the Pharmacists, No Age, The Hold Steady, Fucked Up, Times New Viking, and Los Campesinos. Titus Andronicus practice at Ian's house.
Titus Andronicus sometimes disagree on what is the right thing to do. Titus Andronicus like to scream and carry on at excessive volume. Titus Andronicus like songs which are fast more than songs which are slow. Titus Andronicus think slow songs are okay sometimes. Titus Andronicus never sing about love, only hate. Titus Andronicus have no hope for the future. Titus Andronicus believe only in nothingness. Everyone in Titus Andronicus was born to die. Titus Andronicus crave your approval but will settle for your utter disdain.
Above all else, Titus Andronicus want to sleep on your floor.
Site & Sound: Titus Andronicus from VanLou Media on Vimeo.
"Titus Andronicus' The Airing Of Grievances brooks no bullshit. The disc is the sound of lusty youth ripping a gaping hole in the fabric of reality: Throughout The Airing's nine sawed-off anthems, the Jersey collective comes off like a clunky, blood-knuckled Arcade Fire that just doesn't have time for all that respectable crap. Because, you know, the world is falling apart around their heads, and they only have this one shot at eating, fighting, and fucking the entire universe." - The Onion AV Club
"None of these highfalutin' shout-outs will grab your ear as powerfully as the demonic E Street Band arrangements, rife with constant builds and breakneck rhythms... they've studied their philosophy and found that life actually is pointless, so why not go down swinging?" - Pitchforkmedia
"What separates The Airing of Grievances from run-of-the-mill emo nihilism -- or any other album we've heard in years -- is the intellectual and musical chops to support the depression... exactly what indie rock has been lacking for over a decade." -Prefixmag
"This fivesome of suburban punks are proud nerds. But they know when to kick ass... and the sizzling, storage-locker production makes it all sound like a cage match. Which it is — between a band and a damaged world." - Rolling Stone
"It's a cliche, but Titus Andronicus has got to be one of the hardest working bands around." - Brooklynvegan
"Not since the Replacements raised a pint glass in the name of punk has a gang of hood rats so rousingly resurrected the legend of the American bar band." - Entertainment Weekly
"An album that at first seems impenetrable, but it exhibits such raw, open-wounded delivery that what might initially buffet is the exact reason for coming back for more. Each play of Grievances is like that triumphant, sweaty bar show, right there in your room. " - Popmatters
"Stickles' lyrics ruminate on the countless ways the world, well, sucks much of the time, but not while you're immersed in these nine raging-with-life songs." - Spin
"Titus are a comunal band. Because they discuss depression and discuss existential crises in their songs they are misappropriated as antisocial. This is social music, it is shared miseries. Singing about nihilism is the antithesis of nihilism." - Rock NYC Live and Recorded
"These are songs to learn and sing as loudly, messily and drunkenly as possible." - The Guardian
FURTHER READING:
BLOG:
http://www.titusandronicustheband.blogspot.com
FAN SITE:
http://www.titusandronic.us
WIKIPEDIA:
http://en.wikipedia.org/wiki/Titus_Andronicus_(band)
LAST.FM
:
http://www.last.fm/music/Titus+Andronicus
FLICKR:
http://www.flickr.com/photos/titusandronicustheband
YOUTUBE:
http://www.youtube.com/user/TitusandronicusNJ
TITUS TV episode 4: SUPER MAXIMUM OVERDRIVE
"Want to get up close and personal with Titus before you head to the show? Watch this recent episode of what they dub Titus TV. The band makes these episodes while they're on the road and besides being an honest look at what it's like to be a touring band, they are also quite funny!" - The blog of the Whitney Museum
CONTACT:
BAND:
Titusandronicustheband@gmail.com
PRESS:
sonyakolowrat@beggars.com
UK PRESS:
KeongWoo@familyltd.co.uk
US BOOKING:
john@groundcontroltouring.com
INTERNATIONAL BOOKING:
angus.baskerville@13artists.com
..
Join the mailing list:
.. .. .... .. ..
QUESTION:
"titus andronicus is really awful. when will they go away?" - anonymous BrooklynVegan comment
ANSWER:
Never!
Member Since:
May 30, 2005
Members:
Ian Graetzer - bass guitar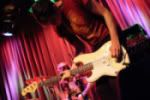 Amy Klein - guitar, violin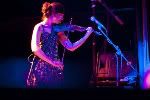 Eric Harm - drums, vocals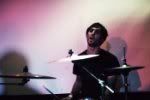 David Robbins - keyboard , guitar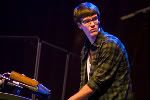 Patrick Stickles - vocals,
guitar, harmonica


..
Influences:
Television Personalities, Minor Threat, Galaxie 500, Neutral Milk Hotel, The Modern Lovers, Nirvana, Weezer, Big Country
Sounds Like:
Archers of Meat Loaf
Record Label:
XL Recordings / Merok