No recent updates in this category.
Why not...
Jim Thompson hasn't earned any badges yet... have you?
Movies

Television

Books

Heroes
About me:
..

Click here for
Myspace glitter graphics and Myspace layouts
James Myers Thompson (Born September 27, 1906, Anadarko, Oklahoma Territory - Died April 7, 1977, Los Angeles, California) was an American writer of novels, short stories and screenplays, largely in the hardboiled style of crime fiction. Thompson was best-known for more than thirty novels, the majority of which were original paperback publications by pulp fiction houses, in the late-1940s and mid-1950s. Despite some positive notice, by writer-critic Anthony Boucher in the New York Times, he was little-recognized in his lifetime. Only after death did his literary stature grow, when, in the late 1980s, several novels were re-published in the Black Lizard series of re-discovered crime fiction. Thompson's writing culminated in a few of his best-regarded works: The Killer Inside Me, Savage Night, A Hell of a Woman and Pop. 1280. In these works, Thompson turned the derided pulp genre into literature and art, featuring unreliable narrators, odd structure, and surrealism. ˜˜˜˜˜˜˜˜˜˜˜˜˜˜˜˜˜˜˜˜˜˜˜˜˜˜˜˜˜˜˜˜˜˜˜˜˜˜˜˜˜˜˜˜˜˜˜˜˜˜˜˜˜˜ Thompson admirered Fyodor Dostoevsky and was nicknamed "Dimestore Dostoevsky" by writer Geoffrey O'Brien. Film director Stephen Frears, who directed an adaptation of Thompson's The Grifters as 1990's The Grifters, also identified elements of Greek tragedy in his themes. Thompson's father was a county sheriff in Oklahoma. He ran for state congress, but was defeated in the election, and shortly thereafter, left the sheriff's office under a cloud due to embezzlement rumors. (The theme of a once-prominent family overtaken by ill-fortune would feature in some of Thompson's works.) The Thompson family moved to Texas. Jim Thompson began writing early: A few short pieces were published in his mid-teens. He was intelligent and well-read, but had little interest in or inclination towards formal education. In Fort Worth, Texas, Thompson worked as a bellboy at the Hotel Texas during prohibition. One biographical profile reports that "Thompson quickly adapted to the needs of the hotel's guests, busily catering to tastes ranging from questionable morality to directly and undeniably illegal." Bootleg liquor was ubiquitous, and Thompson's brief trips to procure heroin and marijuana for hotel patrons were not uncommon.[1] He was soon earning up to $300 weekly, far more than his official $15 monthly wage. For about two years Thompson worked long and often wild nights as a bellboy while attending school in the day. He was smoking and drinking heavily, and at nineteen he suffered a nervous breakdown. In 1926, Thompson began working as an oil field laborer. With his father he began an independent oil drilling operation that was ultimately unsuccessful. Thompson returned to Fort Worth, intending to attend school, and to write professionally. 1929 saw the publication of Thompson's autobiographical "Oil Field Vignettes" under the pen name "James Dillon." He attended the University of Nebraska beginning in the same year, as part of a program for gifted students with "untraditional educational backgrounds". By 1931, however, he had dropped out of school. Thompson married in 1931; the couple eloped due in part to his girlfriend Alberta's family disapproving of Thompson. Their first child was born in 1932. For several years Thompson occasionally wrote short stories for various true crime magazines. Generally, he would rewrite actual murder cases culled from newspapers, but in a first person voice. In this era, he wrote other pieces for various newspapers and magazines, usually as a freelancer, but occasionally as a full-time staff writer. In the early 1930s, Thompson was the head of the Oklahoma Federal Writers Project, one of several New Deal programs intended to aid Americans during the Great Depression (Louis L'Amour worked under Thompson's direction in this project). Thompson joined the Communist Party in 1935 but had left the group by 1938. ˜˜˜˜˜˜˜˜˜˜˜˜˜˜˜˜˜˜˜˜˜˜˜˜˜˜˜˜˜˜˜˜˜˜˜˜˜˜˜˜˜˜˜˜˜˜˜˜˜˜˜˜˜˜ Thompson's stories are about grifters, losers, and psychopaths, some at the fringe of society, some in its heart. Their nihilistic world-view being best-served by first-person narratives revealing a frighteningly deep understanding of the warped mind. There are no good guys in Thompson's literature, most everyone is abusive, opportunistic, or simply biding time until able to be so. Despite some positive critical notice, Thompson's novels essentially were lost in the crowd, among dozens of peer writers who also were churning out crime novels; only after his best writer's years did Thompson achieve a measure of fame. Yet, that neglect might stem from their style: the crime novels are fast-moving and compelling, but sometimes are sloppy and uneven. Thompson wrote quickly (many novels written in a month), using his newspaper experience: concise, evocative prose with little revision or editing. ˜˜˜˜˜˜˜˜˜˜˜˜˜˜˜˜˜˜˜˜˜˜˜˜˜˜˜˜˜˜˜˜˜˜˜˜˜˜˜˜˜˜˜˜˜˜˜˜˜˜˜˜˜˜ In 1955, Thompson moved to Hollywood, California, where Stanley Kubrick commissioned from him the screenplay adaptation of Lionel White's novel Clean Break to be filmed as The Killing, Kubrick's first studio-financed movie. Although Thompson wrote most of the script, Kubrick credited himself as screenplay writer, cheating Thompson with only the vague "additional dialogue" writer credit. Despite such chicanery, they perversely collaborated again, in Paths of Glory (mostly written by Thompson, again with little public credit); though they parted, they again, perversely, collaborated in the criminal story titled Lunatic at Large, a production that never materialized despite Thompson's having completed and submitted the commissioned screen treatment. Though pleased with the work, Kubrick was side-tracked by Spartacus; when Kubrick returned to Lunatic at Large, the sole copy of Thompson's manuscript was lost. Kubrick was quoted, by family and friends, as regretting the lost opportunity. Yet, in 1999, after Kubrick's death, son-in-law Phillip Hobbs found the manuscript among the dead director's documents; as of 2006, said project is in the pre-production stage, fifty years after being written by Jim Thompson. ˜˜˜˜˜˜˜˜˜˜˜˜˜˜˜˜˜˜˜˜˜˜˜˜˜˜˜˜˜˜˜˜˜˜˜˜˜˜˜˜˜˜˜˜˜˜˜˜˜˜˜˜˜˜ Thompson died after a series of strokes at age 71, aggravated by his long-term alcoholism. He refused to eat for some time prior to his death, and this self-inflicted starvation contributed greatly to his demise. At the time of his death none of his novels were in print in his home country. ˜˜˜˜˜˜˜˜˜˜˜˜˜˜˜˜˜˜˜˜˜˜˜˜˜˜˜˜˜˜˜˜˜˜˜˜˜˜˜˜˜˜˜˜˜˜˜˜˜˜˜˜˜˜ Film Adaptations As noted above, two of Thompson's books were adapted as Hollywood motion pictures during his lifetime, but in the end, neither was true to Thompson's spirit. French director Bertrand Tavernier adapted Pop. 1280 for his 1981 film, Coup de Torchon, changing the setting from the American South to a French colony in West Africa of the 1930s. A Hell of a Woman was also adapted in French as Série noire (1979). A decade later (1989-1990), Hollywood resumed its interest in Thompson's writing. Three novels were adapted during that period: The Kill-Off; After Dark, My Sweet; and, notably, The Grifters, which garnered four Academy Award nominations. The Getaway was remade in 1994 with Alec Baldwin and Kim Basinger in the lead roles, but the film retained the happy ending of the earlier film. In 1996, A Swell-Looking Babe was released as Hit Me, and 1997 saw the release of This World, Then the Fireworks from Thompson's short story of that name. Aside from shift in setting, Coup de Torchon was remarkably faithful to the plot and the spirit of the novel, and remains arguably the most authentic adaptation of any of Thompson's work. A close runner-up might be The Grifters, though Westlake's script arguably blunts the impact of the climax with a brief but very significant change in a character's motivation. Américain né à Anadarko dans l'Oklahoma. Son père part chercher fortune dans le pétrole, sa mère insitutrice rejoint ses parents dans le Nébraska où le grand-père de Jim lui fait découvrir les classiques grecs, Freud, Marx, Swift, Cervantes...Il exerce toutes sortes de boulots tout en écrivant des articles pour diverses revues et journaux. Comme il l'écrit dans sa bio, il cumulait "dépression nerveuse, tuberculose pulmonaire et delirium tremens". Alternant études universitaire, écriture, petits boulots et cures de désintoxication, il finit par se marier et aura trois enfants. Il repart sur les champs de pétrole où son père ruiné trime toujours. Il s'installe avec sa famille à San Diego où il écrit son premier roman Ici et maintenant. Il apprend la mort de son père en maison de retraite. Alors qu'il avait promis à son père de venir le chercher lorsqu'il aurait un peu d'argent, il encaisse ce nouvel échec comme une malédiction...son père n'a pas cru en lui...Ce traumatisme est récurrent dans l'oeuvre de Thompson. En 1955, il écrit avec Kubrick l'adaptation de En mangeant de l'herbe de Lionel White, c'est Ultime razzia. Cinéma, télévision, puis se consacre entièrement à l'écriture.Jim Thompson entraîne le lecteur dans une descente aux enfers, décrivant un monde odieux, infâme et abject où il s'implique à chaque page, nous livrant par petite touches des bouffées d'air pur et de lumineuses éclaircies. Il disparaît dans l'indifférence. Ce n'est que récemment qu'il sera réhabilité aux Etats-Unis grâce à l'intérêt que la France lui porte depuis les années 70.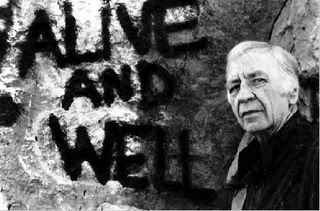 Who I'd like to meet:
Now and On Earth (1942) Heed the Thunder (1946) Nothing More Than Murder (1949) The Killer Inside Me (1952) Cropper's Cabin (1952) Recoil (1953) The Alcoholics (1953) Savage Night (1953) Bad Boy (1953) The Criminal (1953) The Golden Gizmo (1954) Roughneck (1954) Swell-Looking Babe (1954) A Hell of a Woman (1954) The Nothing Man (1954) After Dark, My Sweet (1955) The Kill-Off (1957) Wild Town (1957) The Getaway (1959) The Transgressors (1961) The Grifters (1963) Pop. 1280 (1964) Texas By the Tail (1965) South of Heaven (1967) Child of Rage (1972) King Blood (1973) The Rip-Off (1985) Fireworks: The Lost Writings of Jim Thompson (1989)
Status:

Single

Orientation:

Straight

Zodiac Sign:

Libra

Smoke / Drink:

Yes / Yes