Play

Play Next

Add to queue
Genre: Electro / Hip Hop / Rap

Location NEW YORK, New York, US

Profile Views: 565931

Last Login: 4/16/2010

Member Since 6/30/2007

Website imeem.com/theretrokidz

Record Label BroBot

Type of Label Major

Bio

.. .. .. .. .. .. .. .. ...... .. .... ABOUT THE RETRO KIDZ.. .... .. ..Hearkening back to the days when "Fresh Prince Of Bel Air" was on the tube, "House Party" was on the big screen and Hammer ruled the radio, the RETRO KIDZ are in the building -- and trust us, you won't miss them. Draped in the freshest late 80's and early 90's gear and emanating feel-good vibes of yesteryear that today's blinged-out hip-hop seems to have shed, the colorful crew comprised of high school friends Sur Fresh Alot, First Lady, Lucky a.k.a Gumby, Kool Kid, Joeski, Ill Will, J.Smooth and SkyTell are the latest signees to the new game-changing and genre-bending lifestyle label, BROBOT, started by Aahmek Richards, producer Bryce Wilson and DJ/producer Junior Sanchez. The Kidz's story picked up steam months ago when one of dance music's most successful producers, Armand Van Helden ("The Funk Phenomena," "My My My", etc.) told Aahmek he was "looking for rappers with high-top fades" to star in the video TriggerHappy was producing for his latest hit, "I Want Your Soul" -- a bright and fun video directed by New York sweetheart Vashtie. The story line follows a young guy who buys an old boom box on the street, and when he hits play, it transports him back in time to the early 90s. "And then the Retro Kidz pop up," Van Helden says. "I've had people tell me when they see the I Want Your Soul video, 'Where did you get the old school footage?' Friends at the shoot had huge smiles and were like, 'Wow, when you see them, when they're right next to you, it just brings you back.'" The relationship didn't stop there -- Van Helden offered to produce the group's debut single, "New Era", an unapologetic, break-heavy 90's dance reinvention that is now currently available on iTunes. The track has garnered much love on NYC radio -- starting when legendary DJ Funkmaster Flex dropped 8 bombs (akin to a rewind) on HOT 97, resulting in much media love for the Retros from outlets like Vibe, XXL, URB, Warp, IQ, AllHipHop.com, Hip- Hop Weekly, Yo! MTV Raps, and BET. The boys and their lovely First Lady were even invited guests and performers at Diddy's Miami pad last March. In fact, the Retro Kidz have become quite the party starters in New York, known to roll up on a soiree and spur ear-to-ear smiles from everyone who sees them, and, according to Kool Kid, lots of double-takes. "Sometimes triple-takes," he laughs from the Brobot studios in New York. "Sometimes people yell, 'Big Daddy Kane! Kid N' Play!', and we love that we bring you that far back. Ultimately though, we are a movement. It doesn't have to be 80s. It doesn't have to be 90s. We just want people to have fun again, be stylish, and express themselves.".. .. .. .. .. .. .. .. .. .. .. .. .. .. .. .. ........ .......... ..

Members

...... ...... .... .. .. .. "New Era" Music Video .. .. .... .. .. .. .... .. .. .. PEPSI DJ SHOW .. .. .... .. .. .. .... ....Skillz.."So Far So Good/Sick" .... .... .. .. .. .. .. .. THE RETRO KIDZ AT KORRUPT 5.. THANKS TO THE NEW POP CREW.. .... .. .. .. .. ...... ..ARMAND VAN HELDEN MUSIC VIDEO WE WERE IN.. PRODUCED BY VASHTIE.. .. .. .. .. .. .. .. .. .. QUICK INTERVIEW WITH FIRST LADY AND ILL WILL IN THE STUDIO .. .. .. .. .. .. .. .. .. .. .. RETRO KIDZ AT ILLEGAL TENDER MOVIE PREMIERE ON THE RED CARPET .. .. .... .. .. .. .. .. .. ..SAIGON FT.SWISS BEATS "COME ON BABY" MUSIC VID WITH THE RETRO KIDZ.... .... .. .. .. .... ..GROUP PREFORMANCE ON W. 3RD AND BROADWAY.. .. .. .. .. .. .. .. .. .. HARLEM DAY , RETRO KIDZ ON STAGE WITH ROB BASE, DOUGIE FRESH AND LIL MAMA .... .... .. .. .. .... .. ...... .. ..(RKZ) CLICK HERE.. .. ..........

Influences

.. THE RETRO KIDZ PRESS...... .. -NEW YORK TIMES .. -WALL STREET JOURNAL .. -SOURCE MAGAZINE .. -XXL MAGAZINE .. -HIP HOP WEEKLY .. -GIANT MAGAZINE .. -VIBE MAGAZINE .. -RAP UP MAGAZINE .. -YO MTV RAPS RELEASE .. -FIRST MAGAZINE .. -CONNECTED MAGAZINE .. -COMPLEX MAGAZINE .. -IQ MAGAZINE( GERMANY,LONDON) .. -MUTE MAGAZINE

Sounds Like
No recent updates in this category.
Why not...
00:00 | 6530 plays | Sep 6 2008
Bio: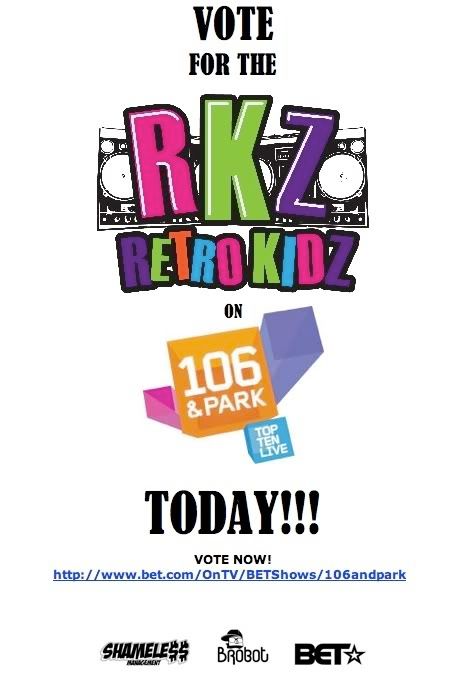 ..
ABOUT THE RETRO KIDZ
Hearkening back to the days when "Fresh Prince Of Bel Air" was on the tube, "House Party" was on the big screen and Hammer ruled the radio, the RETRO KIDZ are in the building -- and trust us, you won't miss them. Draped in the freshest late 80's and early 90's gear and emanating feel-good vibes of yesteryear that today's blinged-out hip-hop seems to have shed, the colorful crew comprised of high school friends Sur Fresh Alot, First Lady, Lucky a.k.a Gumby, Kool Kid, Joeski, Ill Will, J.Smooth and SkyTell are the latest signees to the new game-changing and genre-bending lifestyle label, BROBOT, started by Aahmek Richards, producer Bryce Wilson and DJ/producer Junior Sanchez. The Kidz's story picked up steam months ago when one of dance music's most successful producers, Armand Van Helden ("The Funk Phenomena," "My My My", etc.) told Aahmek he was "looking for rappers with high-top fades" to star in the video TriggerHappy was producing for his latest hit, "I Want Your Soul" -- a bright and fun video directed by New York sweetheart Vashtie. The story line follows a young guy who buys an old boom box on the street, and when he hits play, it transports him back in time to the early 90s. "And then the Retro Kidz pop up," Van Helden says. "I've had people tell me when they see the I Want Your Soul video, 'Where did you get the old school footage?' Friends at the shoot had huge smiles and were like, 'Wow, when you see them, when they're right next to you, it just brings you back.'" The relationship didn't stop there -- Van Helden offered to produce the group's debut single, "New Era", an unapologetic, break-heavy 90's dance reinvention that is now currently available on iTunes. The track has garnered much love on NYC radio -- starting when legendary DJ Funkmaster Flex dropped 8 bombs (akin to a rewind) on HOT 97, resulting in much media love for the Retros from outlets like Vibe, XXL, URB, Warp, IQ, AllHipHop.com, Hip- Hop Weekly, Yo! MTV Raps, and BET. The boys and their lovely First Lady were even invited guests and performers at Diddy's Miami pad last March. In fact, the Retro Kidz have become quite the party starters in New York, known to roll up on a soiree and spur ear-to-ear smiles from everyone who sees them, and, according to Kool Kid, lots of double-takes. "Sometimes triple-takes," he laughs from the Brobot studios in New York. "Sometimes people yell, 'Big Daddy Kane! Kid N' Play!', and we love that we bring you that far back. Ultimately though, we are a movement. It doesn't have to be 80s. It doesn't have to be 90s. We just want people to have fun again, be stylish, and express themselves."
Member Since:
June 30, 2007
Members: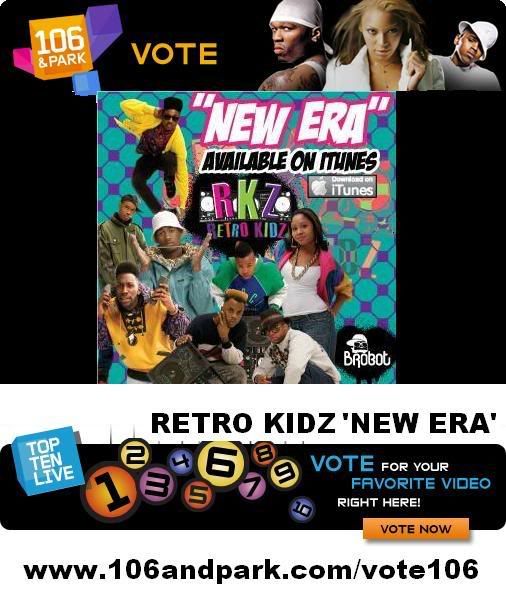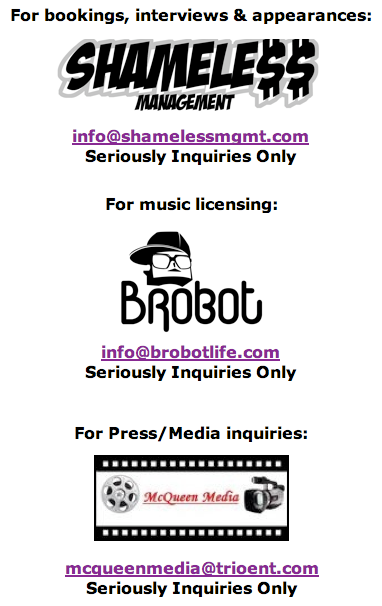 "New Era" Music Video
..
PEPSI DJ SHOW
Skillz.."So Far So Good/Sick"
THE RETRO KIDZ AT KORRUPT 5
THANKS TO THE NEW POP CREW
..
ARMAND VAN HELDEN MUSIC VIDEO WE WERE IN
PRODUCED BY VASHTIE
QUICK INTERVIEW WITH FIRST LADY AND ILL WILL IN THE STUDIO
RETRO KIDZ AT ILLEGAL TENDER MOVIE PREMIERE ON THE RED CARPET
SAIGON FT.SWISS BEATS "COME ON BABY" MUSIC VID WITH THE RETRO KIDZ
GROUP PREFORMANCE ON W. 3RD AND BROADWAY
HARLEM DAY , RETRO KIDZ ON STAGE WITH ROB BASE, DOUGIE FRESH AND LIL MAMA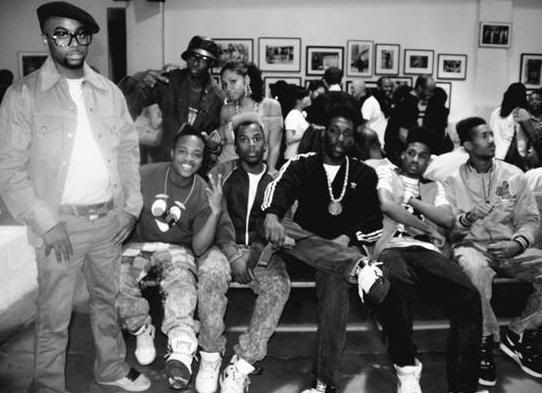 Influences:
THE RETRO KIDZ PRESS......
-NEW YORK TIMES
-WALL STREET JOURNAL
-SOURCE MAGAZINE
-XXL MAGAZINE
-HIP HOP WEEKLY
-GIANT MAGAZINE
-VIBE MAGAZINE
-RAP UP MAGAZINE
-YO MTV RAPS RELEASE
-FIRST MAGAZINE
-CONNECTED MAGAZINE
-COMPLEX MAGAZINE
-IQ MAGAZINE( GERMANY,LONDON)
-MUTE MAGAZINE
Record Label:
BroBot
The Retro Kidz TWITTER.COM/THERETROKIDZ has 11086 friends.