No recent updates in this category.
Why not...
Chris Newman hasn't earned any badges yet... have you?
General

Number one in our new TDFZ VISION online music video series showcasing and featuring amazing music sent in from around the globe is currently now online for your enjoyment. If you are a band or musician with original music video footage do please feel free to submit your creations for consideration. We are also currently excepting submissions of original video and computer animation work and photography for inclusion in these projects. All contributors will be duly accredited in the productions if included.Visit our music and video submissions pages at the main TD Fans Zone site for full details

TDFZ site

---

Music

Naturally...TANGERINE DREAM!..AND ANY NEW EM MUSIC THAT ROCKS MY BOAT!!Don't forget if you've some great music that you've created and would like the chance of it being aired live by us from the TDFZ radio station why not submit it today and have the chance to be heard by the whole global network! check out our

Radio Page

for full details at :

---

Movies

Heroes

Edgar Froese and members of this great collaboration past & present. And my dear father William Newman who sadly passed away two years ago. my best friend and the one who gave me my inspiration and love of music and love of life.
TANGERINE DREAM FANS ZONE has 8489 friends.
Play

Play Next

Add to queue
About me:
..
CLICK THIS LINK TO LISTEN OR DOWNLOAD THE TDFZ RADIO SHOWS:
TDFZ RADIO SHOW PODCAST SITE
Lyrics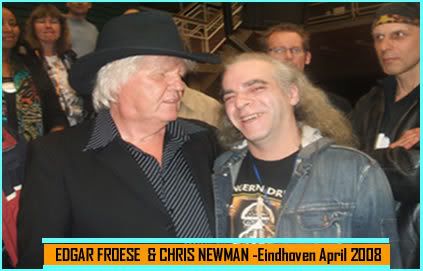 LISTEN NOW, GO TO:
TDFZ RADIO SHOW
NOW IN IT'S THIRD GLORIOUS YEAR OF BROADCASTING WE ARE DELIGHTED TO SAY THAT THE TDFZ RADIO SHOW WEEKLY PODCAST, FEATURING AMAZING NEW MUSICAL TALENT FROM AROUND THE GLOBE (ALL IN ONE WAY OR ANOTHER INFLUENCED BY TD THEMSELVES) GOES FROM STRENGTH TO STRENGTH.LISTEN IN EACH AND EVERY SATURDAY, AND IF YOU'RE A MUSICIAN OR BAND YOURSELF, WHAT ARE YOU WAITING FOR? SUBMIT YOUR MUSIC TODAY AND GET HEARD GLOBALLY.THE SHOWS ARE AVAILABLE EACH AND EVERY SATURDAY FROM MID-DAY (GB-BST)..SO COME JOIN THIS SONIC EXPERIENCE!! FOR FULL DETAILS OF OUR NEW PODSITE AND HOW TO SUBMIT YOUR OWN MUSIC PLAYED BY US GO TO OUR
RADIO STATION PAGE
---
TDFZ VISION PREVIEW
January 2008..We are delighted to announce that our brand new and exciting video project platforming the musical and creative talents of friends and fans all in one way or another influenced by Tangerine Dream has just been launched and we are currently taking all video submissions from bands and artists with performance/promotional footage in addition to video, animation, and computer graphics material to incorporate in this exciting new project. Please email us for further details. For updated details please visit
our main site
---
Hi I'm Chris Newman,a warm welcome to you all.
The TD Fans Zone was originally established to unite all friends, fans, musicians and kindred spirits of legendary synth pioneers Tangerine Dream. A focal point and home, giving updated news on the band,organising fan meets around the world, special charity events assisted by the band itself.You'll also find some amazing TD concert as well as fan meet photograps in our special updated and interactive galleries page on the main site. Since its very humble beginnings the TDFZ and radio show has gone on from strength to strength with listernership currently at an all time high and growing every day.
As a former record producer and musician myself, and seeing the lack of resources and outlets available to Electronic Music and TD influenced & EM musicians in general I launched TDFZ RADIO giving a new and exclusive platform to new music and innovative talent around the globe that would otherwise get overlooked.
Since it's inception the TDFZ Radio show has to date broadcast and showcased the sonic creations of hundreds of artists work on its regular Saturday Show Friends Specials,with new material being submitted around the clock production of the shows is now 24/7.
Due to the radio's ongoing success a second major project to assist exposing and spot-lighting new artists amazing sounds and talent is now under way from the main website this project is
TDFZ-VISION.As
a complementary & regular featuture to the Radio show TDFZ VISION we are currently now accepting Video submissions of artists music promo's and works which will be compiled and then be viewable from a dedicated media player and page from our main site.
IN MARCH 2008 "SOUND FUTURES DIRECT" WAS CREATED IN OUR ONGOING QUEST TO SHOWCASE, PROMOTE AND RAISE THE PROFILES OF SOME OF THE INCREDIBLE MUSICAL TALENT FROM AROUND THE GLOBE PRODUCING ORIGINAL WORK FROM A WHOLE SPECTRUM OF MUSICAL GENRES.
IN SEPTEMBER FROM THE MAIN SOUND FUTURES DIRECT SITE WILL BE THE SPECIAL SFD CYBER WAREHOUSE, WHERE ARTISTS WILL BE ABLE TO OFFER THEIR MUSIC TO EVERYONE VIA DOWNLOAD. IN ADDITION TO THIS BRAND NEW FEATURE WE ARE ALSO DELIGHTED TO ANNOUNCE THAT SHORTLY A SECONDARY WEEKLY RADIO PROGRAMME CALLED"SPOTLIGHT" RADIO ALSO LAUNCHES FROM THE MAIN SFD SITE SHOWCASING YET MORE OF OUR MUSICAL FRIENDS CREATIONS FROM AROUND THE WORLD.
CLICK HERE TO ENTER THE SFD UNIVERSE:
SOUND FUTURES DIRECT WEBSITE
These are very exciting times in the TD and music universe for us and I hope that as many friends, fans and musicians will continue participating in what has become an incredible experience. For further information, full updates and for all music and video submissions and details please visit the TD FANS ZONE regularly
Remember, the dream doesn't remain the same...it just gets better and better
Who I'd like to meet:
The Tangerine Dream Fans Zone was set up to unite all fans from the four corners of the globe of this incredible band still going stong after 40 years in the business. Fans old and new are all welcome and our very special TD Fan-meets held around the world are a great way of meeting some like-minded and friendly people from all walks of life.Last July 21st just gone we had an amazing Fan meet and TD memorabilia raffle in Cardiff, Wales, followed by in October in Frankfurt Germany coinciding with the bands special concert there in
September.We
even have a possible one in Japan everyones looking forward to attending next year when the band are due to perform works there from their new Atomic Seasons CD works.Another one is also planned to take place in County Donegal, Ireland in June next year, so do check the main site out and join in the music & fun today
TD Fans Zone
Status:

In a Relationship

Here for:

Networking, Friends

Zodiac Sign:

Cancer