No recent updates in this category.
Why not...
Imperfect Vessel hasn't earned any badges yet... have you?
General

This is thanks to Marika:

"Our deepest fear is not that we are inadequate. Our deepest fear is that we are powerful beyond measure. It is our light, not our darkness, that most frightens us. We ask ourselves, 'Who am I to be brilliant, gorgeous, talented and fabulous?' Actually, who are you not to be? You are a child of God. Your playing small does not serve the world. There is nothing enlightened about shrinking so that other people won't feel insecure around you. We are born to manifest the glory within us. It is not just in some of us. It is in everyone. And as we let our light shine, we unconsciously give other people permission to do the same. As we are liberated from our own fear, our presence liberates others."

-Nelson Mandela, 1994 Nobel Peace Prize inaugural speech.

Music

The QUALITY from any genre and those who have none:

Ratatat

,

Immortal Technique

,

Andrew Bird

,

Brian Eno

,

Stevie Wonder

,

Dead Prez

,

Air

,

Radiohead

,

Flaming Lips

,

Regina Specter

,

Wilco

,

Sufjan Stevens

,

Can

,

Aphex Twin

,

Dizzy

,

Neko Case

,

They Might Be Giants

,

Acidbath

,

Beck

,

Nick Drake

,

Bjork

,

Charlie Parker

,

Fionna Apple

,

Paul Simon (+ or - Art Garfunkel

,

but especially +)

,

John McLaughlin/Mahavishnu

,

Jon Brion

,

Pink Floyd (older stuff + Animals)

,

Stan Getz

,

Miles

,

K&D

,

Iron and Wine

,

Philip Glass

,

Os Mutantes

,

Good ol' 1970's Jazz

,

Beatles

,

Dr. John

,

Niel Young

,

Pavement

,

Gong

,

Scofield

,

King Krimson

,

Ween

,

etc. It seems the common themes are outstanding vocals

,

outstanding composition and outstanding studio work.

This is pretty cool

, though the selection is not the best.

Heroes

Ken 'sexy pants' delia
About me:
Born in the small town of Bollocks, North Dakota, I quickly rose to great power through cunning, charm, guns, murder and blackmail. I was chairman of the Teamsters at age three. Some say that I sold out the Union, but those people are stupid, the market is the mover, I only steered the boat through the treacherous waters of an unbridled capitalist economy. Moving on from organized labor, and with the help of my newly aquired Mofia connections, I ran for governer of California, beating Jerry Brown in a landslide. At age seven, just before the next gubernatorial election, I suspended the constitution of the state of California and appointed myself Lord Grand(e) Imperator of California, Suceeded from the U.S., Annexed Western Arizona, Nevada, and the Baja penninsula, established a religion dedicated to the ritualistic praise of my Beatific Personage, imprisoned all persons within my Many Lands who willingly call themselves 'Bob.,' and cured AIDS and cancer, forever. Things are pretty hectic when you're a God-Imperator, so for the past seventeen years I've been taking it pretty easy. I sold California (and The Many Lands) to China (they turned the whole place into a theme park called Happy Enjoyment Paradise), and now I mostly hang out and stuff. Maybe someday I'll go back to being an evil pharaonic dictator, but for now I just want to have fun, and maybe travel a little! Oh, and PS. I spend the majority of my day sitting around wondering how (and even IF) I can ever be half as cool as Ken Delia. That guy is my lord and hero, and pretty much the sweetest being to ever exist.
....
..
Left:
Me at age six just before inventing liposuction. I still have scars.
Above:
The dramatic conclusion of my succession speech at age seven. Armies moved into Reno late that night. Notice the success of my liposuction procedure.
Who I'd like to meet:
kens mom one on one,just her and i alone finally, that would be so cool! and also any one elses mom , im not exclusive. bring it.!!!!Anyone who allows themself to become something more than a bag of organic matter operating on conditioned neurological impuses: Humans! Folks who don't own cars (by choice), People who aren't afraid to give a shit, Any stranger with the courage to not remain a stranger, Anyone who has ever lived without A/C for more than a few days, Especially the ones who thought it really wasn't really that bad, Naturists, People who study philosophy, world religions, histoy, and sociology, Naturalists, Wilderness survivalists, People who like more than one kind of music, People who get past the bullshit fast and and show me who they really are, Your mom, (Seriously, I bet she's seen some interesting things), Inquizative types, People who are good with puns, People who love words, Writers and Poets who are helplessly obsessed with words, Card players, Trivia fanatics, Those who speak with passion, Those lacking the filter between brain and mouth, Musicians, People who are obsessed with understanding the world around them, Political and social radicals of all types, Anyone interested in pink unicorns, Girls who talk to thier pets as though they were people, Anybody who takes the time to write down thier thoughts, Especially those who aren't afraid to share them with others, People who wear interesting underwear, People who don't wear underwear, Buckminster Fuller, Andrew Bird, Fidel Castro, Noam Chomsky, Mr. T, Errol Morris, Allen Ginsberg, John Stewart, Nitzche, Thich Nhat Han, etc...
Oh, I almost forgot about this guy: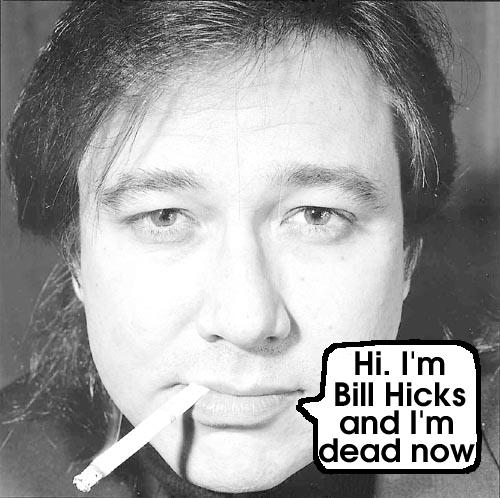 "The world is like a ride at an amusement park. And when you choose to go on it, you think it's real because that's how powerful our minds are. And the ride goes up and down and round and round. It has thrills and chills and it's very brightly coloured and it's very loud and it's fun, for a while. Some people have been on the ride for a long time, and they begin to question: Is this real, or is this just a ride? And other people have remembered, and they come back to us, they say, 'Hey – don't worry, don't be afraid ever, because this is just a ride ...' And we ... kill those people. Ha ha, 'Shut him up. We have a lot invested in this ride. Shut him up. Look at my furrows of worry. Look at my big bank account and my family. This just has to be real.' It's just a ride. But we always kill those good guys who try and tell us that, you ever notice that? And let the demons run amok. But it doesn't matter, because – it's just a ride. And we can change it anytime we want. It's only a choice. No effort, no work, no job, no savings and money. A choice, right now, between fear and love. The eyes of fear want you to put bigger locks on your doors, buy guns, close yourself off. The eyes of love instead see all of us as one. Here's what we can do to change the world, right now, to a better ride. Take all that money we spend on weapons and defenses each year and instead spend it feeding and clothing and educating the poor of the world, which it would pay for many times over, not one human being excluded, and we could explore space, together, both inner and outer, forever, in peace. " ----BILL HICKS
Status:

Swinger

Here for:

Friends

Hometown:

Knoxville, TN

Orientation:

Straight

Body type:

1' 6" / Body builder

Ethnicity:

Other

Religion:

Other

Zodiac Sign:

Taurus

Children:

Someday

Drink:

No

Education:

Some college

Occupation:

Human

Income:

$250,000 and Higher
SAE Institute Of Technology

Nashville,Tennessee

Graduated:

2004

Student status:

Alumni

Degree:

Other

2003 to 2004

Knoxville Catholic High School

Knoxville,Tennessee

Graduated:

1999

Student status:

Alumni

Degree:

High School Diploma

Clubs:

Don't believe a word of it!!!

1996 to 1999