Play

Play Next

Add to queue
Play

Play Next

Add to queue

21,892 plays

Play

Play Next

Add to queue

11,556 plays

Play

Play Next

Add to queue

8,894 plays

Play

Play Next

Add to queue

45,033 plays

Play

Play Next

Add to queue

44,418 plays
Genre: Funk / Rock / Soul

Location COLUMBIA, South Carolina, Un

Profile Views: 338156

Last Login: 4/28/2013

Member Since 9/14/2005

Website www.villanovaband.net

Record Label Universal Republic

Type of Label Major

Bio

Villanova produces a universal sound with a demographic that surpasses age, gender, and race. The live show is an electrifying mix of musical virtuosity and playing passionately written original songs. Brian Conner, lead singer/songwriter and guitarist for Villanova has perfected a unique style of soulful rock. Conner's' guitar skill is a passionate combination of technical jazz-fusion and Jimi Hendrix inspired licks which beautifully blend with the tight-pocket powerhouse of bass player Bobby Dredd and drummer Jeremy Finesse Roberson. Dredd's Victor Wooten/Larry Graham-esque prominent string slap style is proof that he is a graduate of the old school of funk. Roberson (drummer and backing vocals) has an exquisite ability to maintain precision and timing while he adapts his style to any genre of music. His unique smooth style has earned him, numerous accolades and led him to be known by musical peers and fans alike as none other than "Mr. Finesse". Walking musical encyclopedia DJ Able One brings samples, cuts, beats, and keys to the quartet to complete the colorful canvas. He's a mad scientist that will blow you away with his turntable trickery and masterful music manipulation. Before joining the soulful rock of Villanova, Able produced and recorded many local and regional hip hop artists. With a tight and precise rhythm section, sincere soulful vocals, and the collaboration of scratches and samples, Villanova creates an unusual blend of danceable jams, hard driving rock songs, and soulfully written ballads. Villanova has heavy emphasis on melody, singing, and lyrics. The songs are radio friendly and meant to be rocked live. Villanova strives to produce music that touches people's hearts and captures a respectable fan base of music lovers.

Members

Influences

"In modern rock radio, there's often a battle between bands with 'style' and those with 'substance.' Villanova is a band with plenty of both, and a bonfide hit for us at WARQ. Incredible vocals. Huge hooks. And killer phones. What more could you ask for?" – Cataldo (WARQ and The Free Times).... "When I first moved to Columbia just over 2 years ago, I wandered into a local live music venue and stumbled upon Villanova. At that point, I knew they were a force to be reckoned with. Once the CD was released, I knew they were unstoppable. "Memory" has been 1 on the phones for weeks. Don't waste the opportunity to give your listeners something special. Villanova + Airplay = Phones." – Matt Lee (WARQ) .... "Villanova has a sound that is poised to catapult the band to the next level of music business success. Soulful and hard hitting at the same time with top caliber musicianship. Whenever Villanova hits the stage a full out party is sure to erupt." – Dave Britt (All-In Entertainment, Headliners Mainstage) .... "These guys love what they do and it shows in their style of music and performing. The band is very approachable which is rare in the entertainment field. I'm proud to support the band and its music." – Lucas McFadden Reporter: "Live with Lucas" WIS TV 10 (NBC) .... "Villanova has that type of sound you just can't put your finger on. There's rock, some blues, a little hip hop, reggae… it's like a musical salad with rock dressing!" - Blando (WXNR-FM 99.5 The X) .... "Given Villanova's well-deserved reputation for funk jams like the CD's title track, the most noteworthy tune here may be, "Memory," as good as pop song as anything on the radio these days. It shows their growing musical maturity and a willingness to try something new, two qualities that bode well for the band's future." – K. Oliver (The FreeTimes) .... "Villanova is hometown and international and a testament to all that is good and exciting with music. These guys are great human beings besides being great music talent. You can't get better than this" – Vicki Whitehead (Musicians & Songwriters Guild of SC) .... A Villanova show is always one big party. When "Make Noise" was pre-released, The Independent Alternative wasted no time in spinning the title track "Make Noise" on its Unsigned show as soon as we got it. "Memory" soon followed in regular rotation and has been a consistent listener fav. With the release of "Make Noise", I think Villanova has blown the door on its upwardly mobile career, not only wide-open but completely off the hinges! – Kris Esgar (WXRY) .... "Blended styles" is terminology that crowds bio boxes on MySpace pages and Web sites. Reading what has been blended is an tedious exercise, as one will seldom find a band that does what it says it can do. Villanova, the rock, funk and hip-hop quartet, is one that accurately describes itself. A closer inspection of the group's dynamics, though, suggests the description could go much deeper. Brian Conner's spiraling, tremulous guitar work and his Southern funk-inspired vocals, are immediately engaging. Bobby Dredd's chunky, bass-guitar-as-lead lines are frenetic and addictive. Jeremy Finesse Roberson's hyper-static drumming is what drives Villanova, but it's also what makes the band's music nudge toward prettiness. It's counterbalanced by DJ Able One's scratches which give the band a street-level grit. Villanova is many things. Above all, it's a solid and determined band that does what it says. – Otis Taylor (The State) .... "Villanova brings a very high energy show to the table along with a good following to every gig they play. Not only do they generate good business for the venue but they are always a pleasure to work with and carry themselves in a professional manner." Rob Lamble .... "Villanova is in demand. Villanova and Manifest have the perfect marriage between a local band and a local Indie record store which makes for good consignment" – Phoenix Prewitt (Manifest) .... "Their fans are always ready for a show interspersed with tricks and flash, like Roberson's drumming blindfolded or Conner playing his guitar behind his head. They want to be sure to give fans a high energy show and something other than an exact replica of their CD." – Kristin Day (Mixer Magazine, Greenville, NC) .... "I think they're going to be the next band that makes it out of Columbia . They by far are the best selling local band that has CD's for sale at Manifest. We've watched them grow and now we always sell out." – Michael Smith (Manifest).... South Carolina Contact and Booking:..Ashleigh Pair Conner..803-238-5509....villanovaband@sc.rr.com....

Sounds Like
No recent updates in this category.
Why not...
Bio:
Villanova produces a universal sound with a demographic that surpasses age, gender, and race. The live show is an electrifying mix of musical virtuosity and playing passionately written original songs. Brian Conner, lead singer/songwriter and guitarist for Villanova has perfected a unique style of soulful rock. Conner's' guitar skill is a passionate combination of technical jazz-fusion and Jimi Hendrix inspired licks which beautifully blend with the tight-pocket powerhouse of bass player Bobby Dredd and drummer Jeremy Finesse Roberson. Dredd's Victor Wooten/Larry Graham-esque prominent string slap style is proof that he is a graduate of the old school of funk. Roberson (drummer and backing vocals) has an exquisite ability to maintain precision and timing while he adapts his style to any genre of music. His unique smooth style has earned him, numerous accolades and led him to be known by musical peers and fans alike as none other than "Mr. Finesse". Walking musical encyclopedia DJ Able One brings samples, cuts, beats, and keys to the quartet to complete the colorful canvas. He's a mad scientist that will blow you away with his turntable trickery and masterful music manipulation. Before joining the soulful rock of Villanova, Able produced and recorded many local and regional hip hop artists. With a tight and precise rhythm section, sincere soulful vocals, and the collaboration of scratches and samples, Villanova creates an unusual blend of danceable jams, hard driving rock songs, and soulfully written ballads. Villanova has heavy emphasis on melody, singing, and lyrics. The songs are radio friendly and meant to be rocked live. Villanova strives to produce music that touches people's hearts and captures a respectable fan base of music lovers. ..
Member Since:
September 14, 2005
Members:
! remove member since ! ! close off general sub table so we can re-create !
......
! re-open table, assigning a class !
| | |
| --- | --- |
| | .. |
| | .. ! END BLOCK to remove member since ! |
Influences:


..






"In modern rock radio, there's often a battle between bands with 'style' and those with 'substance.' Villanova is a band with plenty of both, and a bonfide hit for us at WARQ. Incredible vocals. Huge hooks. And killer phones. What more could you ask for?" – Cataldo (WARQ and The Free Times)

"When I first moved to Columbia just over 2 years ago, I wandered into a local live music venue and stumbled upon Villanova. At that point, I knew they were a force to be reckoned with. Once the CD was released, I knew they were unstoppable. "Memory" has been 1 on the phones for weeks. Don't waste the opportunity to give your listeners something special. Villanova + Airplay = Phones." – Matt Lee (WARQ)

"Villanova has a sound that is poised to catapult the band to the next level of music business success. Soulful and hard hitting at the same time with top caliber musicianship. Whenever Villanova hits the stage a full out party is sure to erupt." – Dave Britt (All-In Entertainment, Headliners Mainstage)

"These guys love what they do and it shows in their style of music and performing. The band is very approachable which is rare in the entertainment field. I'm proud to support the band and its music." – Lucas McFadden Reporter: "Live with Lucas" WIS TV 10 (NBC)

"Villanova has that type of sound you just can't put your finger on. There's rock, some blues, a little hip hop, reggae… it's like a musical salad with rock dressing!" - Blando (WXNR-FM 99.5 The X)

"Given Villanova's well-deserved reputation for funk jams like the CD's title track, the most noteworthy tune here may be, "Memory," as good as pop song as anything on the radio these days. It shows their growing musical maturity and a willingness to try something new, two qualities that bode well for the band's future." – K. Oliver (The FreeTimes)

"Villanova is hometown and international and a testament to all that is good and exciting with music. These guys are great human beings besides being great music talent. You can't get better than this" – Vicki Whitehead (Musicians & Songwriters Guild of SC)

A Villanova show is always one big party. When "Make Noise" was pre-released, The Independent Alternative wasted no time in spinning the title track "Make Noise" on its Unsigned show as soon as we got it. "Memory" soon followed in regular rotation and has been a consistent listener fav. With the release of "Make Noise", I think Villanova has blown the door on its upwardly mobile career, not only wide-open but completely off the hinges! – Kris Esgar (WXRY)

"Blended styles" is terminology that crowds bio boxes on MySpace pages and Web sites. Reading what has been blended is an tedious exercise, as one will seldom find a band that does what it says it can do. Villanova, the rock, funk and hip-hop quartet, is one that accurately describes itself. A closer inspection of the group's dynamics, though, suggests the description could go much deeper. Brian Conner's spiraling, tremulous guitar work and his Southern funk-inspired vocals, are immediately engaging. Bobby Dredd's chunky, bass-guitar-as-lead lines are frenetic and addictive. Jeremy Finesse Roberson's hyper-static drumming is what drives Villanova, but it's also what makes the band's music nudge toward prettiness. It's counterbalanced by DJ Able One's scratches which give the band a street-level grit. Villanova is many things. Above all, it's a solid and determined band that does what it says. – Otis Taylor (The State)

"Villanova brings a very high energy show to the table along with a good following to every gig they play. Not only do they generate good business for the venue but they are always a pleasure to work with and carry themselves in a professional manner." Rob Lamble

"Villanova is in demand. Villanova and Manifest have the perfect marriage between a local band and a local Indie record store which makes for good consignment" – Phoenix Prewitt (Manifest)

"Their fans are always ready for a show interspersed with tricks and flash, like Roberson's drumming blindfolded or Conner playing his guitar behind his head. They want to be sure to give fans a high energy show and something other than an exact replica of their CD." – Kristin Day (Mixer Magazine, Greenville, NC)

"I think they're going to be the next band that makes it out of Columbia . They by far are the best selling local band that has CD's for sale at Manifest. We've watched them grow and now we always sell out." – Michael Smith (Manifest)

..


South Carolina Contact and Booking:
Ashleigh Pair Conner
803-238-5509
villanovaband@sc.rr.com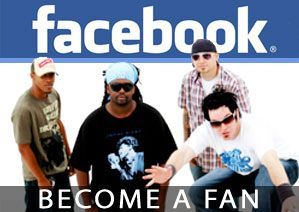 ..
Record Label:
..
Villanova has 7677 friends.