No recent updates in this category.
Why not...
APish ANgel hasn't earned any badges yet... have you?
General

Painting, painting girls,Illustrating,stencil cutting,Burritos,communicating,re-inventing,Robots,sneakers,Bristol,T-shirt designing,futurism,clobber,comics,swimming under water,burritos,pizza,jewelry,Kangol hats,MUSIC,Cheech Wizzard,spray paint,nozzles,heavy metal magazine,kung-Fu,Leff beer,wood lice, Frank Frazetta,Mobeius,bikes,American trucks,space suits,ESP,UFO's,Burritos,Scramble,graffiti art,pranks,skanks,Curry,ice cream,Rockem Sockem Robots,Tokyo, NYC,macaroons, my lady & my kids

Music

King Tubby

,

Beastie Boys

,

Notorious B.I.G

,

The Specials

,

Dillinger

,

Brian Eno

,

Blondie

,

Madness

,

Mad Villain

,

Massive Attack

,

Manasseh

,

Prodigy

,

Rammellzee

,

Horace Andy

,

Africa Islaam

,

Nirvana

,

Eric B & Rakim

,

Edie Brickell

,

The cold Crush Brothers

,

Double Trouble

,

Nice & Smooth

,

Augustus Pablo

,

Coxone Sound

Movies

Television

Books

Weave World, The Wasp factory,Subway Art

Heroes

Dolores gourmet burrito bar
Play

Play Next

Add to queue
About me:
http://www.facebook.com/n1ckwalker
/MDFodHRwOi8vczg2LnBob3RvYnVja2V0LmNvbS9hbGJ1bXMvazEwOS9hcGlzaGFuZ2VsLz9hY3Rpb249dmlldyZjdXJyZW50PWxlY29yYW5jYW4tMS5qcGc=" target="_blank">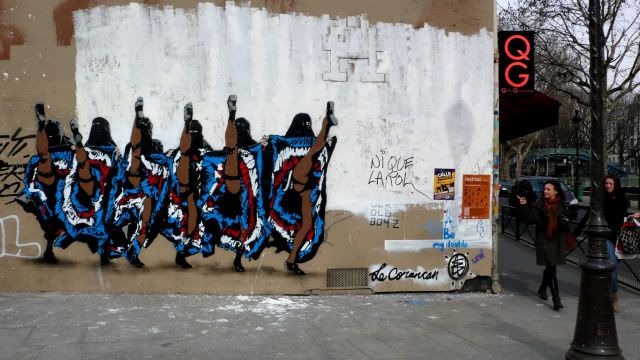 .. ..width="425" height="350">......> .. .. .... ....
Make your own custom scroller sign at Blipsy.com!
I got fuzzy hair, hate rude people and love burritos. I'm into creating stuff - always have been but I got into the graffitit game back in 82 when there was only a handful of heads doing it in bristol at the time. In 1992 I began to combine stencils with my freehand work which allowed me to juxtapose almost photographic imagery with the rawness which evolved from conventional graffiti styles. Stencils introduce an impact element to my work. The appeal of stencils is that they allow me to take an image from anywhere - dissect any part of life - and recreate it on any surface. I try to add an element of humor or irony to some paintings to add a little light relief to the walls. Painting is a form of escapism for me and if my work allows the spectator. to do the same thing, then I've achieved more than I set out to do. Check more of my work on these sites>
http://web.mac.com/nickwalkerz
&
www.apishangel.com
.......... Profile: Nick Walker emerged from the infamous and ground-breaking Bristol art and graffiti scene of the early 1980s. At that time, Nick was creating urban art at 4am in order to coincide with the shift changes of the Bristol police. As a forerunner of the British graffiti phenomenon Nick's work became a blueprint for hundreds of burgeoning artists for years to come. His work has constantly evolved and always remains innovative, modern and thought-provoking earning him the notoriety of one of the city most wanted artists. It was after the continuous destruction of his illegal work that Nick transcended his urban surroundings and changed his angle of attack to one focused on the establishment and art world. His distinctive style adapted effortlessly from the walls of Bristol to canvases on gallery walls. His work still draws on the energy and imagery of graffiti but he succeeds in combining the freedom the spray can brings with very controlled and intricate stencilling the results are highly sophisticated and incredibly desirable. Fortunately, Nick's trademark subversion has not been diluted in the transition from street to gallery and the focus for his last major Bristol exhibition Sex Cells was the infiltration of acceptable pornography in advertising. This provocative body of work further aroused people's interest in Nick Walker as a rising artist. His work has been embraced by the mass media including the record, advertising and film industries. With commissions as prestigious as the major motion pictures Judge Dredd and Stanley Kubrick's Eyes wide shut.
Who I'd like to meet:
The Good,the bad & the ugly href="
http://www.msplinks.com/MDFodHRwOi8vd3d3LjkxMXJldmlzaXRlZC5jb20vdmlkZW8uaHRtbA==
" target="_blank">
..
Status:

In a Relationship

Here for:

Networking, Friends

Hometown:

Bristol

Orientation:

Straight

Zodiac Sign:

Capricorn

Children:

Proud parent

Occupation:

Artist