No recent updates in this category.
Why not...
Bring Your Own Records Party! hasn't earned any badges yet... have you?
General

------------------------------------------------------------------------------------------------- DECEMBER 27 SAT 08 (as written by the DJs) RON
Mickey Mouse Club "Talent Round-up"
Max Romeo & The Upsetters "One Step Forward"
Television
Big Business "Grounds for Divorce"
SARAH
Kate Bush "Running Up that Hill"
Gang Gang Dance "House Jam"
Tom Tom Club "Wordy Rappinghood"
ESG "Moody"
Prince "Kiss (Extended Remix)"
MISUN THE MINT
Rod Stewart "Handbags & Gladrags"
Hall & Oates "Kiss On My List"
The Cars "Just What I Needed"
Salt & Pepa "Push It"
Yelle "A Cause De Garcons"
CORY B
Jerry Goodman & Jan Hammer "Country Easter"
Black Dice "Toka Toka"
Giorgio Moroder "Utopia"
Mouse on Mars ?
The Tuss "Freudckoolon 5"
TYLER S
Roule Gems
ISAAC
Baja Marimba Band "Say a Little Prayer for You"
Mr.T "Mr T's Commandments"
Kiss Offs "Bottle Blonde"
ERIN
"Don't Stop Me Now"
"Dance Mix 2000"
"Our Cover's Blown"
ERIC DOW
didn't write down his songs :(
IAN
"Weekend"
Fugazi "Waiting Room"
"Mama Don't Let Your Babies.."
MATT
Sly & Robbie "Rock Steady Dub"
Neil Young "Mr.Soul"
TRAVIS EGEDY
Sewn Leather "Enter // Trainer"
Ikonika "Please"
Stenchman "Distress Signal"
ROGER
Jimmy Castor Bunch "It's Just Begun"
The Seeds
Hasil Adkins "No More Hot Dogs"
ALEJANDRO
Black Eyes "Speaking in Tongues"
Crass "Where Next Columbus?"
Coachwhips "You Gonna Get It"
JOHNN-IE
Gang Gang Dance "Bebey"
Gang Gang Dance "First Communion"
The Knife "Pass This On"
DOUG
Gang of Four "Damaged Goods"
Swans "Beautiful Children"
MIGUEL
NO AGE!
KEVIN
Aphrodite's Child "All the Seats Were Occupied"


Movies

Heroes
Play

Play Next

Add to queue
About me:
The Bring Your Own Records Party is a mostly-monthly-community-happening in Denver,Colorado.Since 2004 the record party has been a place devoted to the celebration and pure love of records and, to music of all flavors, and that sweet sweet vinyl sound.Come out and play!
It's easy! All you gotta do is just show up around 10 o'clock with 3-5 songs on WAX,sign up and play them your dang self!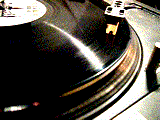 no experience necessary
we will show you how things work
the point is to have FUN and listen to some good jamz...together !!!
"BEST DIY DJ NIGHT"
"Everyone has a little disc jockey inside of them, and once a month (or so), Carioca Cafe -- better known to scene kids everywhere as Bar Bar -- hosts a coming-out party for all the wicky-wicky wannabes. The concept is simple: Bring your records, play your records. Be sure to arrive early because the sign-up sheet fills up quickly. The free-for-all makes for interesting mixes of everything from soul and hip-hop to grindcore and psychedelic folk. It's a commune of music that welcomes all genres, no matter how obscure or badly mainstream. Plus, showing off your record collection is totally addictive, because, really, who has better taste in music than you do?"
--tuyet nguyen

WESTWORD "BEST OF DENVER" 2007
Who I'd like to meet:
records,lovers,record lovers
Status:

Swinger

Hometown:

DENVER

Zodiac Sign:

Scorpio

Occupation:

fiesta