No recent updates in this category.
Why not...
Joe Marshall hasn't earned any badges yet... have you?
General

COME YOU NIGHT ELVES!

I'm gonna slay your wrethed nation from this world...

I'M THE DARKNESS!!!

The Loraeron will be mine once again !!! I'm the true king of this land !!!

UNDEAD ARMY

tremble mortals from the might of the SCOURGE!

Undead Scourge

Formed by the Burning Legion, the scourge was sent to destroy all life in Azeroth.

After Arthas was currupt was by Frostmourne, he turned on those he once trusted and began working towards the fall of Lordaeron. Now that

Arthas is allied with the Lich King, the ruler of the scourge, Arthas leads vast armys of

undead to destroy everything that he once lovedsince he is with them he will now destroy all who oppose the scourge.

THE CULT OF THE DAMNED

My life for Aiur- er, I mean, Ner'zhul

the Acolytes...

The Cult of the Damned was formed during the opening days of the Third War, during which the Scourge was working to establish its foothold on Lordaeron. The Scourge, under command of the Lich King, was to weaken the world of Azeroth in preparation for the arrival of the Burning Legion, whose mission was (and remains still) to destroy all life and order in the Universe. The wretched Lich King, during the time of the

Third War, was yet an unwilling servant of the Legion. Even so, he commanded his minions telepathically from the confines of his prison-throne. Reaching out with his mind, he contacted many men, orcs, and elves who already held in their hearts a lust for power.

FROSTMOURNE

A powerful runeblade, Arthas sought Frostmourne in the hope that its vast power would allow him to rid Lordaeron of the Scourge and save his people. Unknownst to him, however, Frostmourne was in fact a cursed blade created by the Lich King.

The sword granted Arthas immense power, but it also channeled the Lich King's powers through him, which turned him into the Lich King's puppet and the Scourge's greatest Death Knight.

The pedestal in Northrend that housed Frostmourne was guarded by Ice Revenants who attempted to stop Arthas from gaining the blade - when

Arthas taunted them about trying to protect Frostmourne from him, their leader rebuked that they were actually attempting to protect Arthas from the blade itself. On the pedestal, an inscription warned adventurers thusly:

"Whomsoever takes up this blade shall wield power eternal. Just as the blade rends flesh, so must power scar the spirit."

Prominent victims of Frostmourne include:

Muradin Bronzebeard

Mal'Ganis the Dreadlord,

King Terenas Menethil,

Uther Lightbringer,

Antonidas of Dalaran,

Sylvanas Windrunner,

and Illidan Stormrage (who is the only character who has been critically wounded by Frostmourne and lived).

Heroes

My love JAINA PROUDMOORE

Because of their mutually royal heritage, it was inevitable that Jaina and Prince Arthas, the heir to the throne of Lordaeron, would meet. They began seeing each other regularly, and their relationship, over time, developed into something of a love

affair. However, both Arthas and Jaina didn't care for the public attention they were getting, and so they broke off contact, but remained good friends.

KING ARTHAS MENETHIL

KEL'THUZAD

LICH KING

ANUB'ARAK

GUL'DAN

SAPPHIRON

SYLVANAS WINDRUNNER

-traitor

http://www.blizzard.com

Illidan has mocked the Scourge long enough! It's time we put the fear of death back in him !!!

MY ENEMY:

1.Sylvanas Windrunner

-FORSAKEN...

2.Illidan Stormrage

-DEMON...

3.Lady Vashj

-NAGA...

4.Prince Kael'Thas

-BLOOD ELFS...

5.Kil'Jaeden

-BURNING LEGION

6.Thrall

-ORCS...

you orcs are weak

7.MalFurion Stormrage

-NIGHT ELFS...

8.Cairne Bloodhoof

-TAURENS...

9.Vol'Jin

-TROLLS...

AND ALSO I HATE:

HUMANS

GNOMES

and DWARFS

SCOURGE ARMY:

WARCRAFT MOVIE:
About me:
..
Contact Box Generated from MyPimpSpace.com
COME THEN, YOU HEROES! COME IN ALL YOUR POWER AND GLORY! FOR IN THE FINAL HOUR, ALL MUST SERVE THE ONE TRUE KING...
This profile was created using: ProfileTweaks Editor Ver.2


Ner'zhul the Elder Shaman was one of the mightiest and most malevolent of the Shamans in Draenor, and was the tutor of Gul'dan. Ner'zhul was chosen by Kil'jaeden to transform his people into a scheming, bloodthirsty band of warriors that would bring chaos to the far corners of the universe. Kil'jaeden promised Ner'zhul and the orcs great power, and all he wanted in return was the enslavement of the orcs to the command of the Burning Legion.
However, Kil'jaeden soon saw that Ner'zhul had no will to carry out his scheme, and Ner'zhul soon realized that he was damning himself and his followers. He refused to go ahead with Kil'jaeden's wishes, which vexed the warlock to no end. Ner'zhul, however, was horrified to find that Kil'jaeden had found a new pawn: Ner'zhul's gifted but insidious protg, Gul'dan. His pupil succeeded only too well.
Ner'zhul stayed behind and immediately grew to the power of Warchief on Draenor, and in times of battle, led the other clans with an iron fist. However, when the Bleeding Hollow Clan returned to report their losses, Ner'zhul formed another plan.

The orcs, pacified by the war, would soon need fresh blood to spill. Ner'zhul concocted a plan that he assured them would lead to new worlds to conquer, but in fact, he feared retribution from Kil'jaeden for his insolence and was attempting to flee into the Twisting Nether, where he hoped to hide from the Legion. Desparate for his life, and knowing that time was running out, he accelerated his plans to open multiple Dark Portals to new worlds.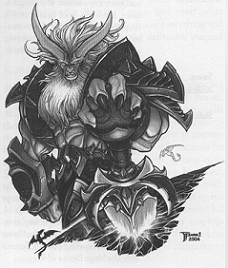 Knowing that the Skull of Gul'dan had been captured by Tagar Spinebreaker of the Bonechewers, Ner'zhul slaughtered the clan, usurped the Skull, and then planned to travel back to Azeroth. He intended to steal more artifacts from over Azeroth and use them to open the new portals.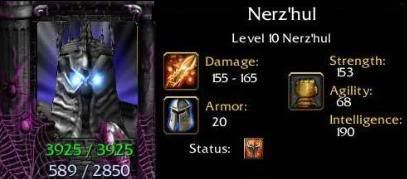 Ner'Zhul's powers:
Frostmourne

Advanced Unholy Armor
Helm Of Glory

Death Coil
A coil of death that can damage an enemy living unit or heal a friendly undead unit.
Death Pact

Kills a target friendly unit, giving a percentage of its hit points to the Lich King.
Unholy Aura
Increases the movement speed and life regeneration rate of nearby friendly units.
Animate Dead
Raises 6 dead units in an area to fight for the Lich King. Animated units are invulnerable.
Frost Nova
Blasts enemy units around a target enemy unit with a wave of damaging frost that slows movement and attack rate.
Frost Armor

Creates a shield of frost around a target friendly unit. The shield adds armor and slows melee units that attack it.
Dark Ritual
Sacrifices a target friendly unit to convert its hit points into mana for the Lich King.
Death And Decay

Damages everything in its area of effect by 4% of its base hit points per second.
True Sight
Reveals nearby invisible units.
Unsummon
Unsummons your building to regain 50% of the spent resources.
Summon
Brings up a list of the available buildings that you may choose to summon.
Skeletal Mastery
Causes one of the two skeletons created by Raise Dead to be a Skeletal Mage.
Skeletal Longevity

Increases the duration of raised Skeleton Warriors and Skeletal Mages by 15 seconds.
Essence of Blight
Restores 10 hit points to nearby friendly units.
Spirit Touch

Restores 3 mana to nearby friendly units.
Possession
Orb of Annihilation

Adds 20 bonus damage to the Lich King's attack and causes his attacks to do area of effect damage.
Necromancer Master Training
Further increases mana capacity by 100, mana regeneration rate by 30%, hit points by 40, and gives them the ability to cast Cripple.
Unholy Frenzy
Increases the attack rate of a target unit by 75%, but drains 4 hit points per second. Lasts 45 seconds.
Raise Dead

Raises 2 Skeletons from a target corpse.
Spell Immunity
Renders this unit immune to negative spells.
Devour Magic
Consumes all positive and negative buffs from all units in an area. Each unit that is devoured of magic gives back the Destroyer 50 hit points and 75 mana. Deals 180 damage to summoned units.
Absorb Mana

Takes all mana from one of your units and gives it to the Lich King.
Curse
Curses a target enemy unit, causing it to have a 33% chance to miss on an attack.
Anti-magic Shell
Creates a barrier that stops 300 points of spell damage from affecting a target unit.
Cripple
Reduces movement speed by 75%, attack rate by 50%, and damage by 50% of target enemy unit.
After stealing the Jeweled Sceptre of Sargeras, bartering with Alterac for the Book of Medivh, and stealing the Eye of Dalaran from the being-rebuilt Cross Island in Dalaran, Ner'zhul had the artifacts returned to Draenor, and then cast great spells and evil invocations to open multiple rifts across the skies. Leaving the Warsong, Shattered Hand, and Bleeding Hollow clans stranded in Azeroth, and feeling Draenor begin to die beneath him, Ner'zhul took his followers and entered the Twisting Nether. However, it was not a new world that they found. Instead, Ner'zhul found himself thrust into the waiting grasp of Kil'jaeden. The warlock, enraged to no end at the foolish impudence of Ner'zhul, tore apart the old shaman piece by piece, keeping his essence alive and conscious for every iota of agony, reminding him the blood pact he made long ago was still binding. He told Ner'zhul that he would soon succeed in the plan which Kil'jaeden had always had in mind for him. He would pave the way for the Burning Legion's tremendous return. .. width="425" height="350">....> Locking Ner'zhul's tormented spirit into a frozen block of ice, Kil'jaeden revealed his plan to the bodiless shaman. Granting his mind incredible powers and transforming him into the insidious Lich King, Kil'jaeden told him of his plan to send him back to Azeroth,
where he would spread a disease, a Plague, of evil and death and terror that would destroy humanity forever. As each soldier fell before this Scourge, they would rise once again to serve it.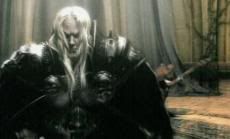 Kil'jaeden told the Lich King that if he performed his task well, he would be given a new body to inhabit. Ner'zhul was eerily eager to begin. The warlock sent the ice cask spiralling down to land in the snowswept continent of Northrend, where it was buried deep within the snowy glacier of Icecrown. Feeling his vast consciousness reach out to the indigenous creature of the land, he collected ice trolls and wendigo to do his building, and he began to amass an army. Soon, the time came when he was confident enough to make an attack, and so he struck out at a human colony. None survived, and they quickly rose from the dead in his service. Ner'zhul proceeded to wipe out every trace of human civilization on Northrend. His forces, now also equipped with undead "frost wyrms" comprised of the multiple corpses of the Dragonblight, were amassed after ten years, but a new threat reared its six-eyed head. The subterranean spider kingdom of Azjol-Nerub had inhabited the continent for ages, and the Lich King's ever encroaching empire worried them to no end. The Nerubians were immune to the Lich King's mental domination, and also the Plague itself. But the Lich King invaded their underground kingdom and brought the icy ceilings crashing down onto their heads. Many Nerubians escaped the massacre, but the Lich King, in an attempt to remind them of their might, animated the corpses of their long-dead, mummified lords of old, adopting them as soldiers in his ever-growing army of the dead. He also used many of their structures to supplement his settlements. Now, he was prepared.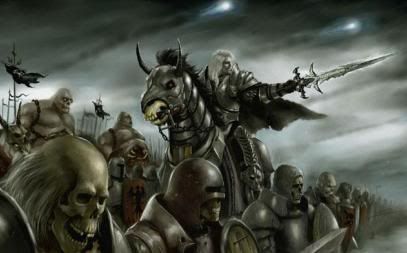 Among the many pawns who were touched by the Lich King's overwhelming mental domination, Kel'Thuzad was the most prominent. At Ner'zhul's bidding, Kel'Thuzad travelled to Northrend, where he beheld the Lich King himself. Kel'Thuzad was sent back to sow the seeds of the Plague in Lordaeron.
The Lich King brooded silently and slowly in the far reaches of Icecrown as his plans came to fruition. Within the confines of his prison, he forged a magical sword inscribed with dark runes, called Frostmourne. Pushing it from the Frozen Throne, Ner'zhul had it taken to the south of Northrend, where it would wait.

Kel'Thuzad was killed by the vengeful prince,
Arthas, who soon murdered the Dreadlord, Mal'Ganis as well, but sacrificed his soul to the will of the runeblade, Frostmourne, a cursed sword crafted by Ner'zhul to bend souls to his will. .. width="425" height="350">....> With Arthas as his pawn, Lich King spread the Plague throughout Lordaeron and into Quel'Thalas, where he had the elves devestated, and regained Kel'Thuzad as an ally. Finally, Archimonde was summoned in Dalaran, and he immediately gave control of the Scourge to Tichondrius. But the Lich King was not done yet. Arthas and Kel'Thuzad disappeared.
Arthas, however, reappeared to Illidan Stormrage after he'd been freed, and duped the demon hunter into using the Skull of Gul'dan to kill Tichondrius, and indirectly playing a part in the Legion's final downfall, just as Ner'zhul had planned. But there was a flaw. Now that Ner'zhul had openly defied the will of the Legion, he knew that the wrath of Kil'jaeden and his demonic lackeys would be fierce, but, at the worst possible time, Ner'zhul was losing his magical power. When he had pushed Frostmourne from the Throne, he had caused a crack within the icy cask, and his power had begun to seep out like blood from an open wound. Likewise, Arthas was losing powers, and his hold over the undead was slipping. Sensing this weakness, the Dreadlords used this opportunity to stage a coup and retake the throne of Lordaeron, sending Arthas running into the wild. Ner'zhul reached out to Arthas and called him back to Northrend. Arthas returned to Northrend, where he was aided by Anub'arak, Ner'zhul's prime General in Icecrown. As Arthas made his way to the glacier, Ner'zhul contacted him and told him of the misfortune that had befallen them, and that now, Arthas must return the blade and complete the circle. But Illidan, Kil'jaeden's newest pawn, brought his collective armies to Northrend to advance on Icecrown and destroy the Frozen Throne. .. width="425" height="350">....> Ner'zhul waited patiently as Arthas and Illidan made war upon each other. But in the end, Arthas was the victor, and made his way into the glacier and up the steps to the Frozen Throne. As he ascended, Ner'zhul flooded his mind with his presence, and drowned out the voices of Arthas' former friends and allies. Only one voice resonated, telling him to finish it all, and complete the circle with a final strike. With a great cry of despair, Arthas heaved the blade and shattered the icy throne. The ice and armour within broke and fell at the knight's feet, and Arthas leaned forward, daintily picking up the shivering helm, and placed it upon his head.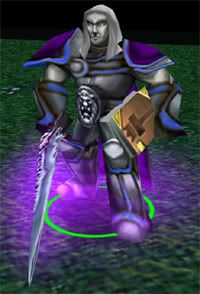 "Now," Ner'zhul cried victoriously, "we are one!" And with that, the outer wall of Icecrown fell away, and only the single pinnacle remained, reaching up to the Frozen Throne. And upon that throne, the body of Arthas sat and silently lorded over all he had attained.
..
Extended Network Banner @ Internet Graphics website CSS Codes HTML codes website help and improvements Myspace Layouts Codes
..
....
Myspace Layout Generator
by
LayoutGeneratorMyspace.com
Status:

Single

Here for:

Networking

Hometown:

NORTHERN

Body type:

Athletic

Ethnicity:

White / Caucasian

Religion:

Other

Zodiac Sign:

Pisces

Occupation:

LICH KING