Play

Play Next

Add to queue
Play

Play Next

Add to queue

84 plays

Play

Play Next

Add to queue

26 plays

Play

Play Next

Add to queue

58 plays

Play

Play Next

Add to queue

224 plays

Play

Play Next

Add to queue

143 plays
Genre: Hip Hop / Rap

Location NEW YORK, US

Profile Views: 103517

Last Login: 4/7/2011

Member Since 11/14/2005

Website twitter.com/punchline_NYC

Record Label Unknown Indie

Type of Label Unsigned

Bio

.. .. .. .... ........Few artists await their solo debut after already being featured on a certified gold album, and lyricist Rashaan "Punchline" Truell is by far not a newcomer to this industry. Being surrounded by the conscious hip-hop scene, Punchline first found his calling in high school, writing rhymes in the back of class. From there, he formed the three member group, Uprising. After losing one member of the group, Punchline met up with upcoming rapper Wordsworth. After losing another original member of Uprising, Punchline and Wordsworth continued to work together and became the duo Punch 'N' Words. Punch 'N' Words began making the rounds on the national underground Hip Hop open mic circuit. Audiences immediately responded to their conversational chemistry and the duo rapidly developed a loyal fan base. Punchline managed to meet with the Trackmasters and immediately provided them a demo after an impromptu freestyle. Recognizing Punchline's talent, the Trackmasters signed Punchline and Wordsworth to their label under the Sony imprint. Punchline's love for hip-hop made him an instant studio rat. Punch sat in on sessions with Kool G Rap, Noreaga, Nas, Heavy D, and more. While Noreaga was doing a video interview for the Shades of Hip Hop DVD, a freestyle session sparked between Punchline, Noreaga, 50 cent, and Consequence. After seeing the DVD, Kid Capri then enlisted Punchline to feature on "One on One," a single which Capri featured on his album Soundtrack to the Streets. Throughout the years, Punchline continued to build a name for his self. He wrote a track on Joe Pesci's album called "Wise Guy" and began co-writing for MTV's Lyricist Lounge Show. After performing with Wordsworth at the Lyricist Lounge Show in 1997, event host Q-Tip was so impressed that he enlisted Wordsworth and Punchline to perform on "Rock Rock, Y'all," the closing track on A Tribe Called Quest's 1998 gold-certified album The Love Movement. Later that same year the duo was also featured on Black Star's "Twice Inna Lifetime." Punch 'N' Words were considered a part of Q-Tip's production collective called The Ummah. In 2001, Punchline and Wordsworth released their self-titled EP, "Punch-N-Words" which was released through Mona Hip Hop, a label started by Punchline. After recording the EP, Punchline and Wordsworth was the opening act for the Disposable Arts tour with Masta Ace. While on tour, rumors began that a group was forming. What was originally started as a rumor in 2001, by 2006 the rumor birthed the idea for the formation of eMC, a group consisting of Masta Ace, Punchline, Wordsworth, and Stricklin. While working on the eMC project, Punchline continued working in the studio writing for albums and working with artists such as Free of 106 and Park, Lil' Kim, Fatman Scoop, and 50 cent. Punchline also recorded a track with Deemi which was produced by Midi Mafia and released through Commercial Free, a company formed by Punchline. Finally in 2008, eMC released the album "The Show" which featured production from Ayatollah, 9th Wonder, Frequency, and Nicolay. The album has been proclaimed by DJ Premier to be one of the greatest albums of the year. All the artists from eMC then decided to continue to pursue their solo efforts. Since July 2008, Punchline has been in the studio recording music for his solo debut, however he continues to tour with eMC and work with other artists. In the beginning of 2008, the Trackmasters presented him with an idea for a children's cartoon for which he began writing songs for. While waiting for the release of the cartoon, which now has the support of Steve Rifkin's SRC, Punchline continues to ghostwrite for artists and commercials. His latest work has been collaboration with artist Fokis on a project called "A Walk Through Myspace". Fans can get a taste of what's to come with Punchline's mix tape with DJ Avee "On Smash Vol.1", has seen approximately 20,000 downloads since it's release in October 2008. When asked why he continues to push forward, Punchline states, "Being an emcee is still fun to me. I want to bring fun back to hip-hop. It's time for real lyricism to be bought back to a forefront." .. .. .. .. � � � � � � � � �:::::::::::::::::::::::::::::::::::::::::::::::::.... .. Punchline is from New York City Lower East Side (L.E.S.) Been Rhyming for along time now and traveled all over the globe performing in London, Germany, and all over the United States. .. I have written songs for various artist and I am working on a children's cartoon called Kids Block in association with the production duo Trackmasters & Steve Rifkin. .. I also co-wrote and appeared in the MTV show The Lyricist Lounge Show, Myself and wordsworth were also Featured On A Tribe Called Quest last Group Album "The Love Movement" (Grammy Nominated Gold Album) .. I have a group called E.M.C. that consist of ..Masta Ace, Wordsworth, Strick and myself .. and the album is called "The Show" .. Check Out the Emc Myspace page. .. Hip Hop is my 1st Love and i stay busy in the studio. .. If your looking for the real feel good hip hop music. check out my songs on the page.....

Members

.. .. .. .. .. .. .. .... .... .. .. .. .. .. ...... ::::::::::::::::::::::::::::::::::::.... .... ....niner ll lyvewire digital........ .. .. .. .. .. .. .. .. .. .. .. .. .. .. FOR SHOW BOOKINGS CONTACT : PUNCHINDAHOUSE@AOL.COM

Influences

.. .. ..

Sounds Like

The Best Music ever made
No recent updates in this category.
Why not...
Bio:



..

..                  :::::::::::::::::::::::::::::::::::::::::::::::::



Punchline is from New York City Lower East Side (L.E.S.) Been Rhyming for along time now and traveled all over the globe performing in London, Germany, and all over the United States.
I have written songs for various artist and I am working on a children's cartoon called Kids Block in association with the production duo Trackmasters & Steve Rifkin.
I also co-wrote and appeared in the MTV show The Lyricist Lounge Show, Myself and wordsworth were also Featured On A Tribe Called Quest last Group Album "The Love Movement" (Grammy Nominated Gold Album)
I have a group called E.M.C. that consist of Masta Ace, Wordsworth, Strick and myself and the album is called "The Show"
Check Out the Emc Myspace page.
Hip Hop is my 1st Love and i stay busy in the studio.
If your looking for the real feel good hip hop music. check out my songs on the page.


Member Since:
November 14, 2005
Members:
::::::::::::::::::::::::::::::::::::
niner ll lyvewire digital
FOR SHOW BOOKINGS CONTACT : PUNCHINDAHOUSE@AOL.COM
Influences: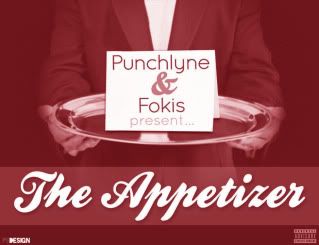 Sounds Like:
The Best Music ever made
Record Label:
Unknown Indie
Punchline has 6547 friends.