Play

Play Next

Add to queue
Play

Play Next

Add to queue

10,228 plays

Play

Play Next

Add to queue

7,529 plays
Genre: Metal / Other / Progressive

Location Massachusetts, US

Profile Views: 76637

Last Login: 12/21/2012

Member Since 10/25/2004

Website http://myspace.com/3HeadedMonster

Record Label Melissa Records - Europe

Type of Label Indie

Bio

.. .... .. .. New England's 3 HEADED MONSTER consists of three former high school buddies who have been kicking ass for a number of years already with their all-instrumental blend of genres, varying from power , death and thrash to prog and old-fashioned heavy metal. While conceptually the members of 3 HEADED MONSTER keep their tongues firmly in cheek with monster movie and pro-wrestling themes, they're dead serious about their metal." .. If any of you New England area bands wanna set some shows up with us, hit us up through here or email us at ..3headedmonster@gmail.com... We are ALWAYS looking for shows. .. .. .. .. ..LINKS.... ...... .. ..-----> "1776" LIVE MP3 <----- .. ..RETURN TO THE PIT PAGE WITH PICS FROM SHOWS AND LOGOS.... .. .. ........ ..

Members

Chris Kessaris - guitar.. Paul Muise - bass.. "Evil" Andu Korajczyk - drums..

Influences

Nevermore, Iced Earth, Megadeth, Necrophagist, Decapitated, Cattle Decapitation, Vital Remains, Jag Panzer, The Police, In Flames, Prototype, Judas Priest, Iron Maiden, Metallica, the nWo, the 4 Horsemen, the Royal Rumble, Wrestlemania, The Truth Commission, WCW, Mr. Perfect, The Ultimate Warrior, Hulk Hogan, e-feds, Godzilla movies, zombie movies, ECW...ect.

Sounds Like

if Hulk Hogan and Godzilla had a baby, brought it through wrestling school, had it do battle with tons of monsters, and then taught it music theory and composition...and had it's vocal chords surgically removed
No recent updates in this category.
Why not...
Bio:
..

New England's 3 HEADED MONSTER consists of three former high school buddies who have been kicking ass for a number of years already with their all-instrumental blend of genres, varying from power , death and thrash to prog and old-fashioned heavy metal. While conceptually the members of 3 HEADED MONSTER keep their tongues firmly in cheek with monster movie and pro-wrestling themes, they're dead serious about their metal."
If any of you New England area bands wanna set some shows up with us, hit us up through here or email us at 3headedmonster@gmail.com. We are ALWAYS looking for shows.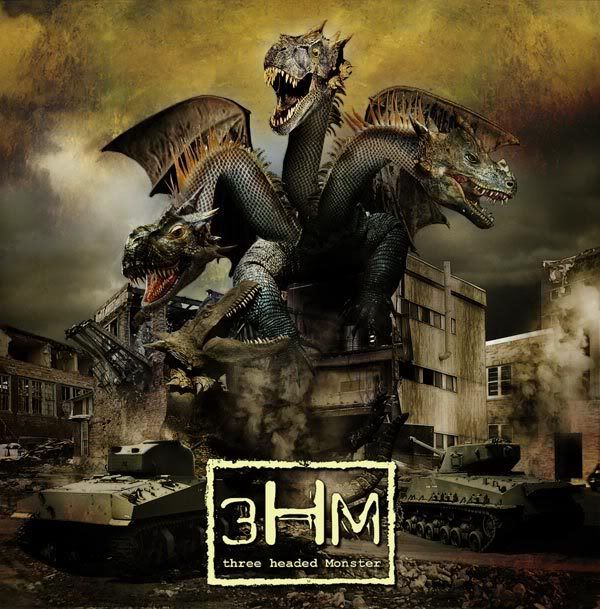 ..LINKS..
-----> "1776" LIVE MP3 <-----

RETURN TO THE PIT PAGE WITH PICS FROM SHOWS AND LOGOS
Member Since:
October 25, 2004
Members:
Chris Kessaris - guitar
Paul Muise - bass
"Evil" Andu Korajczyk - drums

Influences:
Nevermore, Iced Earth, Megadeth, Necrophagist, Decapitated, Cattle Decapitation, Vital Remains, Jag Panzer, The Police, In Flames, Prototype, Judas Priest, Iron Maiden, Metallica, the nWo, the 4 Horsemen, the Royal Rumble, Wrestlemania, The Truth Commission, WCW, Mr. Perfect, The Ultimate Warrior, Hulk Hogan, e-feds, Godzilla movies, zombie movies, ECW...ect.
Sounds Like:
if Hulk Hogan and Godzilla had a baby, brought it through wrestling school, had it do battle with tons of monsters, and then taught it music theory and composition...and had it's vocal chords surgically removed
Record Label:
Melissa Records - Europe
Label Type:
Indie