No recent updates in this category.
Why not...
Empress Stah Power hasn't earned any badges yet... have you?
General

Dressing Up, Drinking n' Dancing, Candle Light Bubble Baths, Eating Gourmet Food, Sensual Sex, Sticking Pins in Myself, Swimming Laps of the Pool, Hanging Upside Down, Doing an occassional Yoga Class, Being a Genius,Taking a Chance, Taking a walk in a Park, Pulling things out of my Arse, Other peoples Minds, Being turned On, Being Tied up, Travelling to Exotic places... not in any particular order.

Music

It has to have lyrics really! 80's Trash

,

Disco

,

Swing

,

Rock n' Roll

,

Punk

,

Electro - Juliette Lewis and the Licks

,

Dolly Parton

,

Scissor Sisters

,

Grace Jones

,

Antony and the Johnsons

,

Tiger Lillies

,

Peaches

,

The Flaming Do Dits

,

Goldfrappe

,

Elvis

,

Peaches

,

Johhny Cash

,

Joy Division

,

Princess Supa Star

,

ZZ Top

,

The Cramps

,

Urban Vodoo Machine

,

Nina Simone... that sort of thing to name but a few.

Movies

Television

Books

Erotica, Philosophy, Biographies on Amazing People .... hate Sci Fi. Favourite authors include Janette Winterson and Tom Robins. I am drawn to words more then pictures.

Heroes

Madonna and The Little Engine That Could.
About me:

I am a London based Trapeze Artist, Neo Burlesque Starlet, Fetish Freak & Twisted Cabaret Performer.
I travel around the world presenting my unique repetoire of shows in Nightclubs, Private Parties and Music Festivals.
My work is at times, Light Hearted, Pornograhic, Humourous, Blasphamous, Slightly Left Of Centre, Extreme, Politically Incorrect... but above all Entertaining!
Skills & Stunts may include Trapeze, Body Piercing, Rose Eating, Ballet, Pussy Painting, Blood Drinking, Tap Dancing, Hula Hooping, Lip Synching, Nitrous Balloons and pulling Diamonds from my Pussy .... this is known as my 'Diamond Pussy'.
My signature performance is called 'Swinging From The Chandelier'.
Check out my website for more details of each individual show .....
www.empressstah.com
.
The pictures in this slideshow are from Empress Stah in Zero G
The pictures in the slide show are taken from my live performances.
Who I'd like to meet:
People Who Rock My World, Friends Old and New, Creative Individuals and Exotic Creatures, Circus Performers, Burlesque Starlets and Freaks.
I am not interested in joining groups and if you leave a comment that does not contain a personal message for me .... I will delete it.
If you want to contact me regarding work I prefer you use my email address twinkle@empressstah.com
LOOK AT ME ..... I'M ON THE TELLY !!!!!!!!
Click to view the different video's of me in action and then come and join my channel @
www.youtube.com/EmpressStah
NEW SHOW APRIL 2009
NEW SHOW FOR DECEMBER 2008 - TICKETS SELLING NOW
ICE PALACE OF MALICE - A Christmas Cabaret Rated X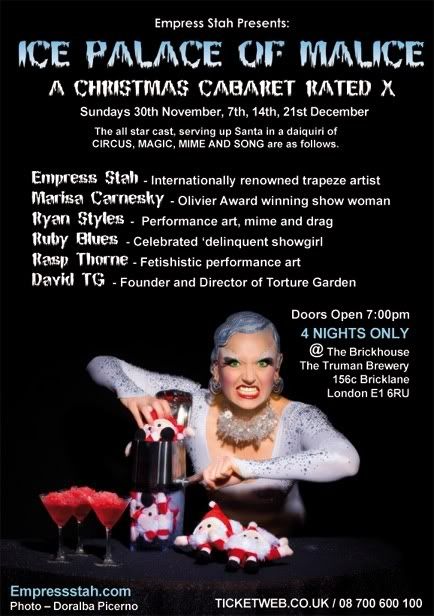 THE VERY BEST OF EMPRESS STAH - MY SOLD OUT WEST END SHOW !
Bonus Acts by Ryan Styles Hosted by Dusty Limits
PICTURES IF YOU CLICK ON THE LINK
Status:

Single

Here for:

Networking, Friends

Hometown:

London

Orientation:

Bi

Religion:

Other

Zodiac Sign:

Aquarius

Smoke / Drink:

Yes / Yes

Occupation:

Being Empress Stah