No recent updates in this category.
Why not...
Amanda Savell hasn't earned any badges yet... have you?
General

Muscle & Fitness For Her Photo Shoot

http://i72.photobucket.com/albums/i187/cut260/PERSONAL/page1.jpg

"

Heroes

My mom and dad
Play

Play Next

Add to queue

Play

Play Next

Add to queue

Play

Play Next

Add to queue
About me:



CLOSE FRIENDS AND FAMILY,


Please join us in celebrating the life of Amanda, our angel. The Memorial Service will be held in Dallas, Texas at 11am on Sunday, June 8th. We have LIMITED seating, so please contact the family for further information.


Thank you all for your prayers and support. This comforts our family beyond words. We ask out of respect for the family, that you only attend if you knew her personally. The reception will immediately follow and will be announced at the Celebration of her life on Sunday.


Blessings, Our Angel Amanda is with her Father in Heaven
To Amanda's friends, myspace friends and fans: Amanda Jo Earhart-Savell is in Heaven. As I am sure most of you know, Amanda had the biggest heart! She was our angel and now she is an angel in Heaven. I know you all would like to post your comments and to find some sort of peace. Please do, this will provide some comfort to our family. We have peace in knowing that she lived her life for her family, friends and fans. She never turned someone down that needed her. She was loyal, and would often say 'but this person needs me, so I am going to be there for them'. No matter the outcome. She was the most loyal and kind hearted of all people and no matter what someone said or did to her, she always honored them with her kindness.


Amanda's biggest goal in life was to motivate people. Only a rare few have the kind of PASSION that she had whenever she attempted a new goal. Be it Tennis, Bodybuilding or Figure. She found the most success in life motivating people to have that same passion and drive! She is now in heaven (I bet she has already started an Angel Bootcamp and making everyone eat fish)!


The last time we talked her exact words were 'I get so much joy out of the myspace comments and emails from my fans saying they are motivated by me'. Thank you guys so much for this.


This precious girl was a gift to us all. We cannot imagine what our life would have been without her in it. She touched us all with her spirit and I am sure she touched you all in someway as well.


We don't have any further information right now, we kindly ask that your posts be honorable to her family. Please know that communicating with you all gave her immense joy. She was JOY to us, and I cannot express the amount of grief we are feeling right now.


Amanda, Troll, Sis, Jo-Jo - your beautiful green eyes, your contagious laugh and the beauty of your voice when you would sing ;), will be so missed and so much a part of us. Thank you for gracing us with your heart. Your enormous heart...



My babygirl, big sis, besty,my "only sunshine" I lost a part of me inside when you left this earth, a part of me that nobody can touch or even compare to. You were more than a best friend but a big sister always there to be a shoulder to cry when i had nobody else. You never judged or looked down upon anyone. You had the biggest heart of anyone ive ever met. Everywhere i turn i'm reminded of you and it hurts so incredibly much to know that i'm not going to see your face, have our daily phone calls/texts or watch your stupid impression of my bad dancing (i don't know how to dance to techno remember). I am truly blessed to have known you and loved you. Its an honor to have had your loyal friendship and sisterhood. I can't wait to see you in heaven someday where we can workout together again in Gods amazing gym he's got for you. I still wont even try to keep up with your running, your still on your own there. I miss you so much Manda, thank you for being a friend to me that people search their entire life for and never find. I've had a blast with you, through our personal life ups and downs we got through together and now i gotta figure it all out with out my big sis. God has gained one strong amazing angel when he took you home. I miss my besty and can't imagine what this life will be like without you, it hurts to think about it, i wish i could have protected you more but your safe now in Gods arms, nobody will ever hurt you. You will always be my sunshine too. Rest in peace my beautiful sister. I love you more than you know. Until we see each other again, Erica (lil sis)




..
Who I'd like to meet:
By figure and fitness industry definitions, IFBB professional Amanda Savell had an amazing year in 2007. As she reached the pinnacle of her sport, Amanda took the fitness magazine world by storm as well with a much heralded cover on Oxygen magazine and major appearances in Muscle and Fitness, Flex, and M&F Hers. On the competitive stage, she finished runner up at the 2007 Figure International and in the top five at the 2007 Figure Olympia. Throughout the year Amanda was the epitome of stage-defining figure excellence, with a combination of muscle size, shape and symmetry, incredible conditioning and undeniable beauty and femininity. On top of all these successes, Amanda has that attitude and determination that can't be taught. She lifts heavy and diets hard, and at the same time works to achieve balance in her life. But the past year has also been important in Amanda's life in many other ways, with an opportunity for personal growth. As she has faced one challenge after another, including most recently not getting an invitation to the Arnold, she has met them head on and has learned a lot about herself and her focus in life, and has moved forward with inner and outer strength and without regret. Thank You FigureRX for writing this!
Please Visit One of My Sponsors - Elizabeth Dwelle. She Makes Beautiful Hand Made Jewelry That Just Can Not Be Beat Anywhere! Girls (and Guys With Girls Who Compete) You Don't Want to Miss Out On Such Great Products That Can Give You That Extra Edge On Stage! Elizabeth Is Also Such A Wonderful and Nice Person So Please Send Your Jewelry Business To Her. Thanks!! =)
www.elizabethdwelle.com
elizabeth@elizabethdwelle.com
..
Here are varoious covers, magazines and photo shoots I have appeared in.
..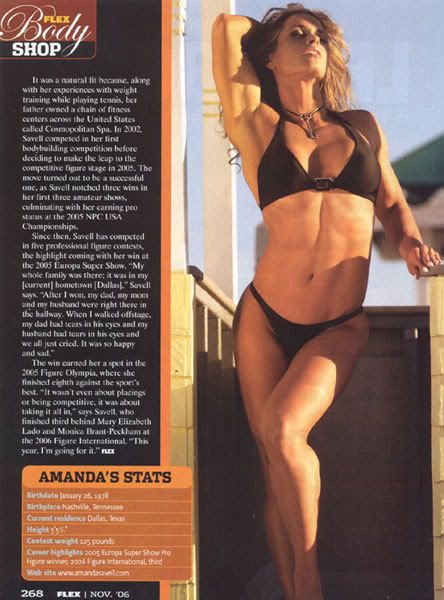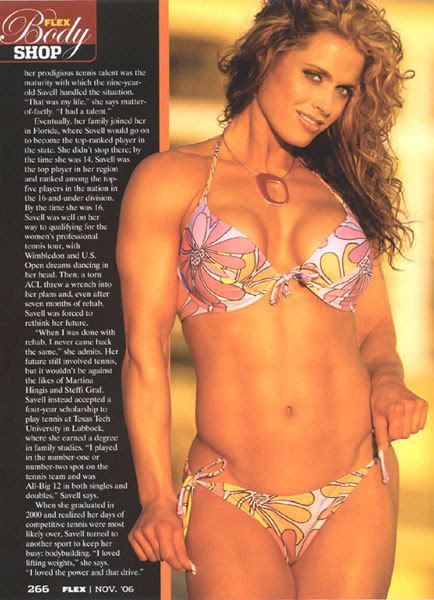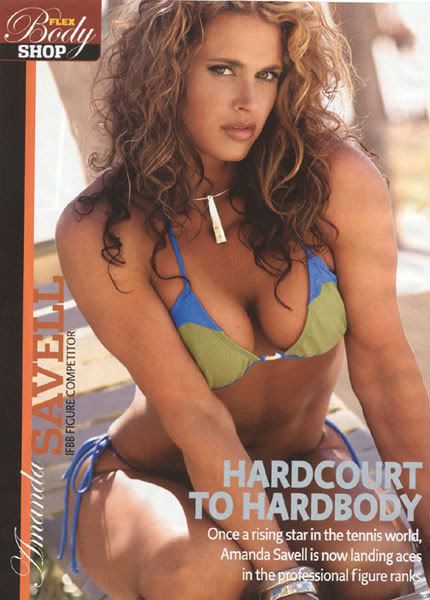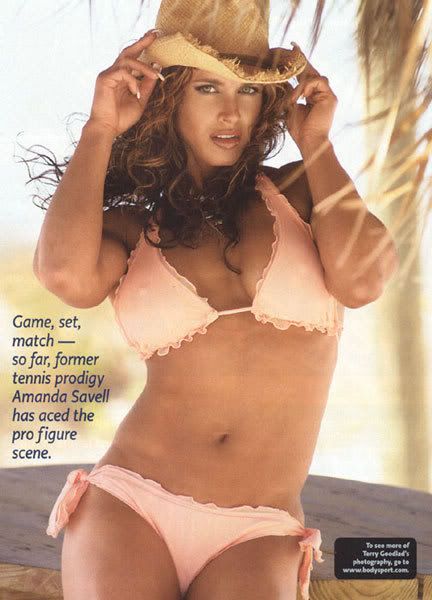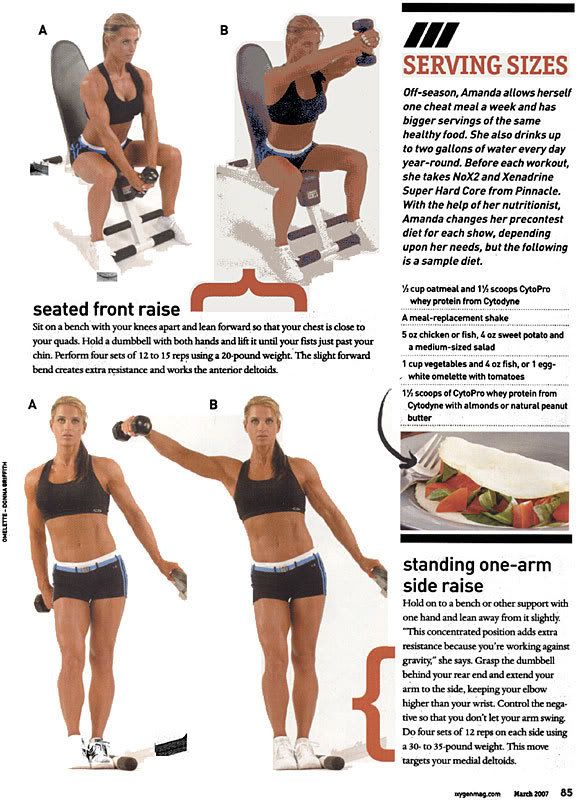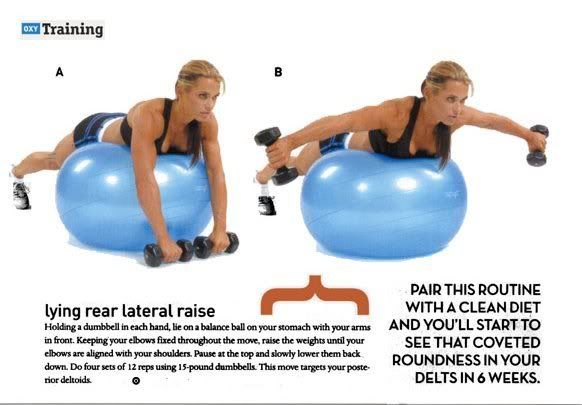 Status:

Single

Here for:

Networking, Friends

Hometown:

Dallas TX

Orientation:

Straight

Body type:

5' 6" / Athletic

Ethnicity:

White / Caucasian

Religion:

Christian - other

Zodiac Sign:

Aquarius

Children:

Someday

Smoke / Drink:

No / No

Education:

College graduate

Occupation:

IFBB Pro and Fitness Model
Texas Tech University

Lubbock, TX

Graduated:

N/A

Student status:

Alumni

Degree:

Bachelor's Degree

Major:

Family Studies

Minor:

Sports Psychology

Clubs:

4 year tennis scholorship

1996 to 2000
Amanda Savell's Bootcamp

Allen, TX US

Amanda Savell Enterprises