No recent updates in this category.
Why not...
♫Եસヨ ąლąƶḯᾖģ ƳʊʊɮЇ ҉✗Ã₦GḔℒἊ✗0(≧∀≦)0♫ hasn't earned any badges yet... have you?
Music

Movies

Television

Books

Tsubasa, Chobits, Chibi Vampire, and Yu Yu Hakusho, Tokyo Mew Mew, currently reading: Tokyo Mew Mew!

Heroes

Yu~ki, Seth, Miku, Uruhaa, Reita, Takuya, Teruki, Jacqui W. Hoffman (mah sis), Kaoru, Aoi, Tero, Jui
Bliinky Valentine DressUp Game
Hot Fashion Shopping Girls
Princess and little dog dress up
The Kingdom of Peace Foundation
The Kingdom of Peace Foundation
About me:
♫†♭ury mŸ #ʓarŦ deep✗Ãngela✗†♫0(≧∀≦)0

..I made that. Both of them are guys *o* Miku and bou :) .... ~Hello, I'm Angela, and I am cooler than you. :D kidding. I'm a 5 ft. 6 tall geek of Jrock... Don't judge me. Someday my geekness will be useful. I'm REITAS #1 fan, and Yu~ki's #2; dont quite know everything about him. So, anyway, YES!! I FINALLY DELETED ALL THIS CRAP ABOUT TWILIGHT!!!! YUSH! I'm a twilight hating-person now!! I know its sudden, its actually been like this se=ince what=? january? I never edited it out. I have pics of me now! some of you know who I am... Yush yush. :3 :3 So... yeah. Anyway... So, joseph and I broke up T.T And Alex did forever ago. Im single. But a friend likes me. Oh well, no? I can't always be matched with my dream. Reita.... :S so, I'm having fun on myspcae, I always thought it was bad, but to avoid badness, jacqui and nikki are not allowed to be my myspace buddies. :D Now, I is to put icons I made, i am bored... so, read it. :3 Daily icon? :D loose weight ..

.. -[~Sou Itsuni Saikoro~]- Lazu-San
For Us (Miyavi Poem)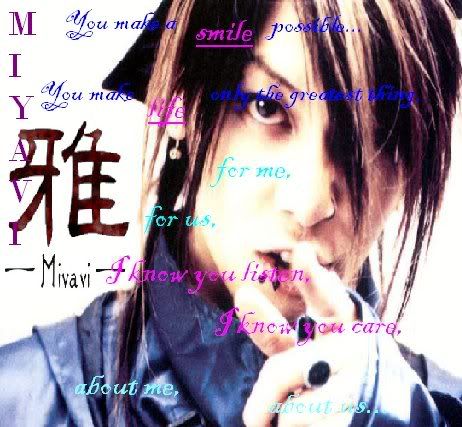 You make a smile possible, You make life only the greatest thing, for me, for us, I know you listen, I know you care, About me, About us... For Miyavi 381 TOKYO <3 I LOVE YOU MYV!
Who I'd like to meet:
Mana-Sama, Seth (:D), ovbiously Kozi, he's worth it. Maybe Gackt... Yu~ki too. If Kami we're alive...? hide too... And Miku, Takuya, Teruki... Uruha... Reita, Kai... umm, Saga, Tero and Rame... Jui... ... reita. again.
Status:

Single

Here for:

Friends

Hometown:

... Quincy Illinois

Orientation:

Straight

Body type:

5' 6" / Average

Ethnicity:

White / Caucasian

Religion:

Other

Zodiac Sign:

Aries

Children:

Someday

Occupation:

A 13 Year Old Middle Schooler. xD
Anime Girl and dog dress up
So you think you can dance