No recent updates in this category.
Why not...
Shattered Memories hasn't earned any badges yet... have you?
Play

Play Next

Add to queue

Play

Play Next

Add to queue

Play

Play Next

Add to queue

Play

Play Next

Add to queue
About me:
.. ..
Who I'd like to meet: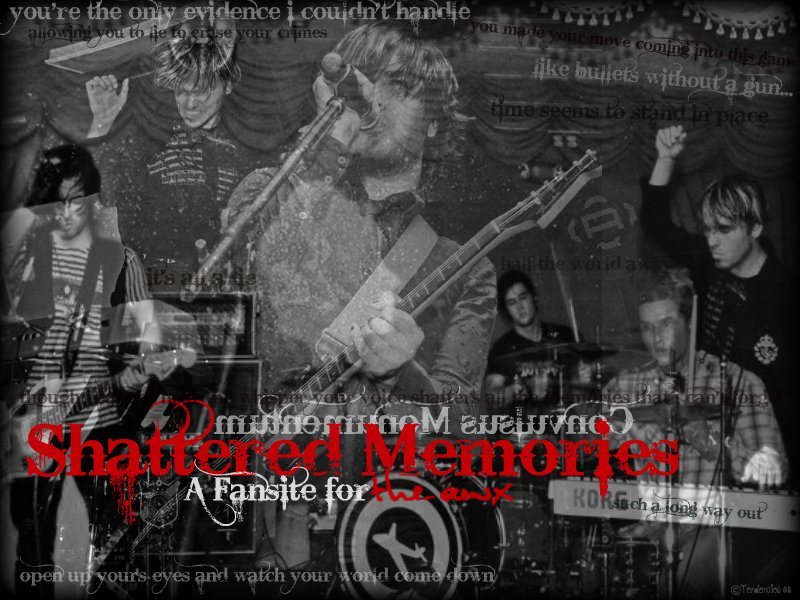 About the Fansite
Shattered Memories
This fansite was created to support and help promote an amazing band called The Anix. The name comes from the lyrics of Half the World Away, "Though I cannot hear the whisper, your voice
shatters all the memories
that I can't forget."
As all fansites have to announce to the world,
I am not the band, I have no personal, business or other affiliation with them. Go to their myspace if you would like to talk, stalk or party with 'em, mmmk?
Kthx. =]
---
The Anix
Band Bio
Drawing influences from The Police, Depeche Mode, The Cure, Queen and Rush, the Anix mingles elements of grungy electronics and hard hitting alternative rock to blur the edges of musical boundaries as we have grown accustomed to. The three piece consistis of singer/guitar player Brandon Smith, drummer Logan Smith, and keyboardist Greg Nabours. In an era where the rock genre has become tired and generic, The Anix is a welcome blast of adrenaline, both gritty and ethereal, modern and reminiscent, disturbed and serene.
---
F.A.Q.
curiousity
Explain your band's name… how did it come about?
..Brandon Smith:.. Our band name came from a few days of brainstorming ideas that would be easy to remember, short, and could easily be found on the internet. Also there is a vintage synthesizer by Yamaha called the "an1x" that I love, so that kind of helped us make our decision. [Laughs]
What does Demolition City refer to?
..Brandon Smith:.. Demolition City is based on the classic teenage dream, where all youth strive to move to Hollywood to pursue their acting, music, or entertainment dreams. The only problem is that people aren't usually aware of how the city destroys more people than it does launch them. I have seen so many hopefuls reduced to drug addicts, hookers, bums, etc. It really grosses me out what this city has in store for unsuspecting newcomers.
What's it like having brothers in the band now?
..Brandon Smith:.. Well, it is great and terrible at the same time! [Laughs] It is great because I don't have to hold back or sugar coat anything with him. If a beat sucks, He will hear about it on the spot. On the other hand, brothers naturally don't listen to each other, or take each other seriously, so that creates an entire new problem. I would say the benefits outweigh the negatives, though!
---
On Tour
show time

The Anix is not on tour at the moment. :)


---




Interviews




Face to Face

..




---




Live Performances




see, hear, speak

..





Hey Man Nice Shot [Filter Cover] - Erfurt, Germany

- February 14th, 2009


Don't Save Your Breath - Koln, Germany - RST

- February 12th, 2009


Long Way Out on Rock Remedy

- July 2nd, 2008


Bullets Without A Gun on Rock Remedy

- July 2nd, 2008


Don't Save Your Breath on Rock Remedy

- July 2nd, 2008



---


**All pictures, information, logos, etc. belong to The Anix and company.

....


---
.. ..
Status:

Single

Zodiac Sign:

Leo