Play

Play Next

Add to queue
Play

Play Next

Add to queue

122 plays

Play

Play Next

Add to queue

517 plays

Play

Play Next

Add to queue

16,380 plays

Play

Play Next

Add to queue

12,432 plays

Play

Play Next

Add to queue

13,814 plays
Genre: Hip Hop

Location Brooklyn raised Vermont made, Un

Profile Views: 160819

Last Login: 3/10/2012

Member Since 12/10/2005

Website BURNTmd.com

Record Label GTD Entertainment

Type of Label Indie

Bio

...."The hardest working man in local hip hop", said Seven Days VT,.. BURNTmd, originally from Brooklyn, New York now lives in Burlington, Vermont where he has received a huge amount of media recognition for his contribution to Vermont hip hop culture. Dubbed MD, or Microphone Doctor, BURNTmd can be very creative, inspiring, and intense at the same time. With the production and talent of many different artists contributing to the Growth Till Death movement, GTD has been able to establish itself as a premier entertainment company in New England. .... "BURNTmd is a testament to the hard work and love for his culture." - VERMONT CYNIC. ....Some artists you may know of who BURNTmd is getting ready to release or has released collaborations with are Snoop Dogg, Game, Junior Reid, C.L. Smooth, Keith Murray, Tash of Tha Alkaholiks, Krondon & Phil The Agony of Strong Arm Steady, Copywrite, Akrobatik of The Perceptionists, Planet Asia , Craig G of The Legendary Juice Crew, Main Flow, and much more! .. .. Most recently, BURNTmd released a single titled "Smugglers Notch" featuring Keith Murray on GTD/Coalmine. "Smugglers Notch" was featured on XXL.com as XXL Banger, Nahright.com, HipHopDX.com, and more. 4-20-10 BURNTmd released an EP, titled LETS GET ILL, on April 20th,2010. Lets Get ILL EP features DJ Green Lantern, Copywrite, Phil The Agony & Krondon of Strong Arm Steady, Planet Asia, !LLMIND, Akrobatik, Reef The Lost Cauze, J.Glaze, and REKS. BURNTmd was also recently featured on The Evil Genius DJ GREEN LANTERNs mixtape Monster Mash 4 (7-4-09) which was distributed to fans while Green Lantern was on tour with Nas & Damien Marley. BURNTmd was also recently selected as a finalist for the SoulAssassins.com MC contest. Recording music is not BURNTmd's only talent, he has performed well over 100 concerts in just the past couple years and shared the bill with internationally recognized artists such as: Ice, Cube, Lil Kim, Black Thought of The Roots, GZA of Wu Tang Clan, C.L. Smooth, Keith Murray, Immortal Technique, Tash of Tha Alkaholiks, Mr. Cheeks of The Lost Boyz, M.O.P., Camp Lo, Souls of Mischief, Strong Arm Steady, Wordsworth, Murs of Living Legends, Necro, Devin The Dude, Brother Ali, Planet Asia, Apathy, Mr.Lif, Special Teamz, Slaine, Esoteric, Hell Razah, Poisen Pen, Remedy of Wu Tang Family, CunninLynguists, Akrobatik of The Perceptionists, Zion I & The Grouch, Craig G., Tonedeff and Pack FM, NYOIL, Termanology, and more - dont miss the next show in your area!....GTD Entertainment is a company that dedicates itself to providing positive atmospheres for the masses with no boundaries and we are constantly growing. ....If you would like to be a part of the GTD Movement hit us up with some info about who you are and what you do. GTD has soldiers all over the world learning, growing, and spreadin the cure... What do you want to be remembered for? ...... GTD.. 'Kill the Disease...Spread the Cure' .......... .. ........_________.. .. .. .. .. .. ................................................................................br>.......... ..........................BURNT MD & THA PROFESSOR LP..Hosted by DJ ON & ON of Boston's JAM'n 94.5 & UGHH.com - Underground Hip Hop.... A concept LP produced by Tha Professor and written by BURNTmd will be released in early '08. This LP features a new breed of hip hop music with guest appearances by PLANET ASIA, AKROBATIK, DJ TOUCHPHONICS, NETWORK of Growth Till Death, TEKST of The Higher Concept, and introducing the vocal talents of TRICKY C.!......EXECUTIVE PRODUCER - BURNTmd of Growth Till Death......BURNTmd music releases are available on UGHH.com, iTunes Store, Amazon, and all the major online sites!.................... ....ILL SESSIONS: The ALBUM ..features.. BURNTmd, Network, Devin The Dude, CunninLynguists, Pack FM, DJ GI-JOE, and more!......................BURNT UNDERGROUND RADIO is BURNTmd's first officially pressed but second cd. The first cd, the BURNT EP is currently sold out. BURNT UNDERGROUND RADIO features 21 tracks of flavor ..mixed and cut by DJ TOUCHPHONICS formerly of The Loyalists and features The Loyalists, Ramiz and The Subliminal Twinkies, Tekst of T.H.C. and BURNT before the MD was added to his name!.............. ........ .. .. .. .. .. .. .. .. .......... .. .......... .... .............. ....................../>.. ...... ........ ......................................

Members

..........Click here to view BURNTmd''s Electronic Press Kit........ .. .... .. .. .. .. .. .. ..................BURNTmd.com............GTD is pr0ud to have been sponsored by:.... 95.5fm TRIPLE XXX..Mash Up Radio Fridays 10pm on 99.9fm THE BUZZ..Nibus Clothing..802ACTIONSPORTS.com..THE BOYS & GIRLS CLUB of VT..92.1 KISS FM..RED BULL..HEINEKEN LIGHT.. UndergroundHipHop.com..TOYOTA SCION..SYMPTOMS CLOTHING..ConCollective.com..SoundSurvivor.com..BRANDNEW Clothing..Fundamental Clothing..Prizm Clear & Flavored Rolling Papers..Full Tank Glass..FITID hats..GOOD TIMES GLASS GALLERY.. NewEnglandHipHop.com..VThiphop.com..and THIRD SHIFT gear ---....If you would like to sponsor any GTD events please feel free to contact Bookings@GrowthTillDeath.COM for info!.... .. .... .. .. .. ...... .. .. .. .. .. .. .. .. ...... .. ...... ..Read the BURNT UNDERGROUND RADIO review here!...... .. .. .. .. .... ................KURUPT of SNOOP DOGGs THA DOGG POUND - speaking on BURNT MD producer J GLAZE @ VH1 Hip Hop Honors Awards.. .. .. .. ...... ......BURNT MD producer J GLAZE featured on the OFFICIAL JAY Z mixtape from the Major Motion Picture "AMERICAN GANGSTER ft. Denzel Washington and Russell Crowe"........ .. ...... .. .. .. ........

Influences

......

Sounds Like

....................video- PLANET ASIA LIVE @ ILL 6: The ILL Sessions 6-28-07..Presented by GTD Entertainment.... .. .. .. ....video- PLANET ASIA LIVE @ ILL 6: The ILL Sessions 6-28-07..Presented by GTD Entertainment ......video - MURS live @ GTD Presents ILL-one: THE ILL SESSIONS 4-10-06.... .. .. .. ....video - MURS live @ GTD Presents ILL-one: THE ILL SESSIONS 4-10-06
03:22 | 122 plays | Apr 22 2009
Bio:
"The hardest working man in local hip hop", said Seven Days VT,
BURNTmd, originally from Brooklyn, New York now lives in Burlington, Vermont where he has received a huge amount of media recognition for his contribution to Vermont hip hop culture. Dubbed MD, or Microphone Doctor, BURNTmd can be very creative, inspiring, and intense at the same time. With the production and talent of many different artists contributing to the Growth Till Death movement, GTD has been able to establish itself as a premier entertainment company in New England.
"BURNTmd is a testament to the hard work and love for his culture." - VERMONT CYNIC.
Some artists you may know of who BURNTmd is getting ready to release or has released collaborations with are Snoop Dogg, Game, C.L. Smooth, Keith Murray, Tash of Tha Alkaholiks, Krondon & Phil The Agony of Strong Arm Steady, Copywrite, Akrobatik of The Perceptionists, Planet Asia , Craig G of The Legendary Juice Crew, Main Flow, and much more!
Most recently, BURNTmd was featured on The Evil Genius DJ GREEN LANTERNs mixtape Monster Mash 4 (7-4-09) which was distributed to fans while Green Lantern was on tour with Nas & Damien Marley. BURNTmd was also recently selected as a finalist for the
SoulAssassins.com
MC contest. Recording music is not BURNTmd's only talent, he has performed nearly 100 concerts in the past couple years and shared the bill with internationally recognized artists such as: Ice Cube, Lil Kim, Black Thought of The Roots & J Period, GZA, C.L. Smooth, Keith Murray, Inspectah Deck, Tash of Tha Alkaholiks, Mr. Cheeks of The Lost Boyz, M.O.P., Camp Lo, Souls of Mischief, Strong Arm Steady, Wordsworth, Murs of Living Legends, Necro, Devin The Dude, Brother Ali, Planet Asia, Apathy, Mr.Lif, Special Teamz, Slaine, Esoteric, Hell Razah, Poisen Pen, Remedy of Wu Tang Family, CunninLynguists, Akrobatik of The Perceptionists, Zion I & The Grouch, Craig G., Tonedeff and Pack FM, NYOIL, Termanology, and more - dont miss the next show in your area!
GTD Entertainment is a company that dedicates itself to providing positive atmospheres for the masses with no boundaries and we are constantly growing.
If you would like to be a part of the GTD Movement hit us up with some info about who you are and what you do. GTD has soldiers all over the world learning, growing, and spreadin the cure.
What do you want to be remembered for?
GTD
'Kill the Disease...Spread the Cure'
.. ..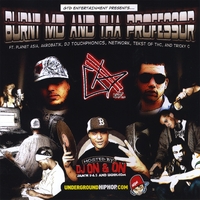 BURNT MD & THA PROFESSOR LP
Hosted by DJ ON & ON of Boston's JAM'n 94.5 &
UGHH.com
- Underground Hip Hop
A concept LP produced by Tha Professor and written by BURNTmd will be released in early '08. This LP features a new breed of hip hop music with guest appearances by PLANET ASIA, AKROBATIK, DJ TOUCHPHONICS, NETWORK of Growth Till Death, TEKST of The Higher Concept, and introducing the vocal talents of TRICKY C.!
EXECUTIVE PRODUCER - BURNTmd of Growth Till Death
BURNTmd music releases are available on
UGHH.com
, iTunes Store, Amazon, and all the major online sites!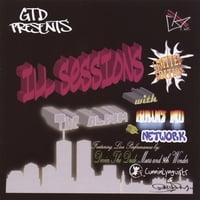 ILL SESSIONS: The ALBUM
features
BURNTmd, Network, Devin The Dude, CunninLynguists, Pack FM, DJ GI-JOE, and more!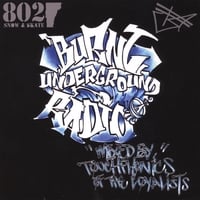 BURNT UNDERGROUND RADIO is BURNTmd's first officially pressed but second cd. The first cd, the BURNT EP is currently sold out. BURNT UNDERGROUND RADIO features 21 tracks of flavor
mixed and cut by DJ TOUCHPHONICS formerly of The Loyalists and features The Loyalists, Ramiz and The Subliminal Twinkies, Tekst of T.H.C. and BURNT before the MD was added to his name!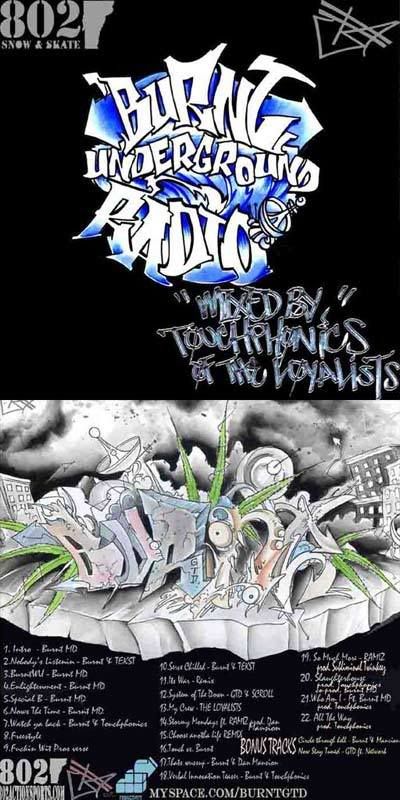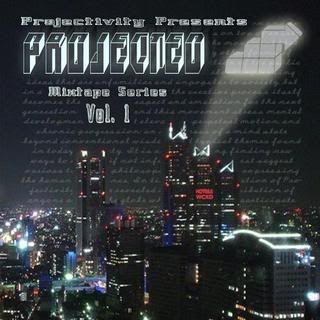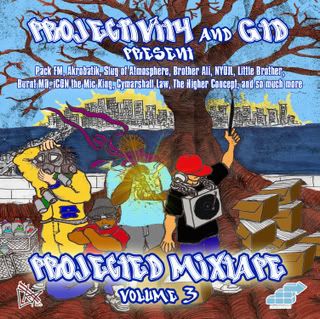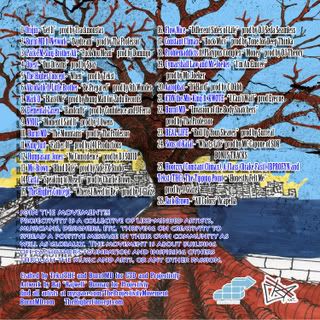 />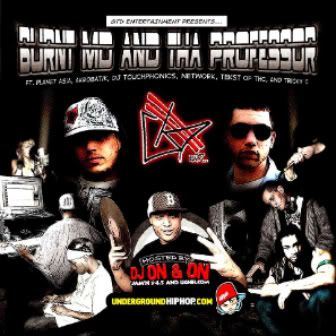 Member Since:
December 10, 2005
Members:
Click here to view BURNTmd''s Electronic Press Kit
..
BURNTmd.com
GTD is pr0ud to have been sponsored by:
95.5fm TRIPLE XXX
Mash Up Radio Fridays 10pm on 99.9fm THE BUZZ
Nibus Clothing
802ACTIONSPORTS.com
THE BOYS & GIRLS CLUB of VT
92.1 KISS FM
RED BULL
HEINEKEN LIGHT
UndergroundHipHop.com
TOYOTA SCION
SYMPTOMS CLOTHING
ConCollective.com
SoundSurvivor.com
BRANDNEW Clothing
Fundamental Clothing
Prizm Clear & Flavored Rolling Papers
Full Tank Glass
FITID hats
GOOD TIMES GLASS GALLERY
NewEnglandHipHop.com
VThiphop.com
and THIRD SHIFT gear ---
If you would like to sponsor any GTD events please feel free to contact Bookings@GrowthTillDeath.COM for info!
Read the BURNT UNDERGROUND RADIO review here!..
.. .. .. ..
KURUPT of SNOOP DOGGs THA DOGG POUND - speaking on BURNT MD producer J GLAZE @ VH1 Hip Hop Honors Awards
BURNT MD producer J GLAZE featured on the OFFICIAL JAY Z mixtape from the Major Motion Picture "AMERICAN GANGSTER ft. Denzel Washington and Russell Crowe"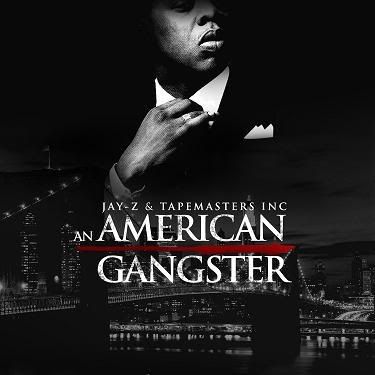 .. ..
Influences:

Sounds Like: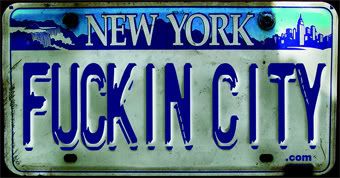 video- PLANET ASIA LIVE @ ILL 6: The ILL Sessions 6-28-07
Presented by GTD Entertainment
video- PLANET ASIA LIVE @ ILL 6: The ILL Sessions 6-28-07
Presented by GTD Entertainment
video - MURS live @ GTD Presents ILL-one: THE ILL SESSIONS 4-10-06
video - MURS live @ GTD Presents ILL-one: THE ILL SESSIONS 4-10-06
Record Label:
GTD Entertainment