No recent updates in this category.
Why not...
Z.C.O.R.E. Virginia Street Team hasn't earned any badges yet... have you?
General

FOUNDERS:



SEAN "Of The Dead" McKenna

VINCE "The Devastator" Vincenzo

JR "The Heartbreaker" Rodriguez



A GREAT NOVEL BY MAX BROOKS, HELPING YOU UNDERSTAND THE VIRUS BEHIND THESE CANNIBAL ZOMBIES AND HOW TO FIGHT THEM DURING A MASS OUTBREAK!

--------------------------


A FICTIONAL ACCOUNT OF WHAT WILL HAPPEN IN THE NEAR FUTURE WHETHER WE ARE READY OR NOT

--------------------------
Z.C.O.R.E DIVISIONS:

MEXICO:
..

GERMANY: (IN NEED OF MODERATOR!)
..


UNITED STATES:
..

UNITED KINGDOM:
..

-------------------
Z.C.O.R.E. STREET TEAMS

NEW YORK
LOS ANGELES
INDIANA
MASSACHUSETTS
KENTUCKY
HAWAII
LOUISIANA
OREGON
GEORGIA
OHIO
TEXAS
MICHIGAN
WASHINGTON
NORTH CAROLINA
MONTANA
ILLINOIS

-------------------

INTERACTIVE TRAINING TOOLS



VIDEO TRAINING & REFERENCE
Night Of The Living Dead
Land Of The Dead
Shaun Of The Dead
Dawn Of The Dead '04
ResidentEvilExtinction


Play

Play Next

Add to queue
About me:
..
ADD THIS BANNER TO YOUR PAGE!
FOUNDERS OF Z.C.O.R.E
..
WHAT IF A ZOMBIE BREAK-OUT OCCURED, WHAT WOULD YOU DO? WOULD YOU KILL YOURSELF? GO CRAZY? OR TRY AND LIVE? Z.C.O.R.E PROVIDES YOU WITH ALL THE INFORMATION YOU NEED LOOKING AT IT FROM A REALISTIC ASPECT. WE DISCUSS THE TYPES OF ZOMBIES, AND WHAT YOU WOULD NEED TO DO WITH EVERY SINGLE ONE OF THEM. ADD THE PROFILE AND JOIN THE GROUP!
THINK YOUR READY FOR A ZOMBIE OUTBREAK? WANT TO BE AN OFFICIAL Z.C.O.R.E. MEMBER? CLICK ON THE PICTURE BELOW TO JOIN THE GROUP! MEMBERSHIP IS NOW OPEN TO EVERYONE! PLEASE TAKE PART IN THE DISCUSSIONS IF YOU WISH TO REMAIN A Z.C.O.R.E. MEMBER!
Z.C.O.R.E.'S ALLIES!
..
.. ..
Who I'd like to meet:
REGARDING STREET TEAMS:
..
..
..Z.C.O.R.E. LEVEL IS CURRENTLY ON "GUARDED!"..
CLICK BELOW TO TAKE THE QUIZ!
..
BEST WEAPONS
Ruger 10/22
The Ruger 10/22 is a semi-automatic rimfire rifle chambered in .22 Long Rifle. It has a removable 10 or 5 round rotary magazine which allows the magazine to fit flush with the bottom of the stock. Higher capacity Magazines are also available. A magnum version, chambered for the .22 WMR cartridge, was made from 1998 to 2006, and a .17 HMR version, the 10/17 was announced in 2004, but this model is no longer in production. The standard version has been in production since 1964. Very user friendly and require easy to find bullets (.22 WMR)
..
Sword/Katana
Why a Sword you say? A sword does not need to be maintained like guns or anything running on gas or bullets. A Sword can be carried with you at all times and if sharp/light enough you can kill faster by aiming at the neck. Practice sword fighting and make sure you choose the lightest and sharpest sword for combat against Zombies! Keep in mind, using a replica Katana is not as effective as an actual one. So if you have the chance of getting a real one, take it!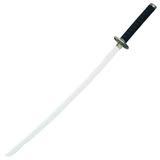 Medieval Flail
A Medieval flail can be debatable. One of the bad things about using one is the fact that they would become wedged to the zombie. Handling a Medieval flail is easy and does not require much talent to use. A Medieval flail could be used if you are fighting a horde or a couple of zombies. Simply duck your head and swing in a circular formation. Aiming at the head is your best bet since that is how you kill them. Please note, a one ball flail is good but a morning star is better. Like the one shown below. Most Importantly: A Medieval flail is NOT to be used when trying to escape zombies.
Small Knives or Hammers
When being in close combat with a zombie (even though it is always safe and smart to try and stay away from a zombie as best as you can) you need a weapon that can either puncture the brain or give you time to flee. A brain is not the easiest thing to get through being covered by a hard skull. However depending on the zombie's decay factor you might be able to get away with damaging its brain with a simple sharp object. Small knives can be useful to losing a zombie's grip so you can run away. If you have a hammer you can beat its brain until it is completely dead. Always however avoid close contat with a zombie at all costs! Depending on the type of zombie it is...it is best to avoid getting its blood on you or any open wounds you may have. This is how you can become infected.
SURVIVAL GEAR
Body Armor
As shown below, you will need to be well padded and protected if you want to avoid being bitten. straight from an army surplus store, the best gear you can find to protect yourself! Below is a complete, Shoulder, arm, leg body and knee protectors made of hard shell protecting you from any bites.
Gas Mask
Escape with protection against chemical and biological Agents. The DefendAIR® is designed for over 15 minutes of protection against toxic gases, including nerve/blood agents and tear gas that may be encountered while exploring in a viral infected area. The hood is easy and quick to don (less than 10 seconds) especially in an emergency situation. This is the only NIOSH-approved escape hood. Voice communication is clear, since there are no mouthbits or nose clips required. It can be worn with glasses and by those who have beards or long hair. With an integrated half mask, the wearer can breathe and speak normally to provide life saving instructions required in these situations. The hood is designed to provide maximum protection against hazards by providing a 1000 protection factor and effective filtering capability and protection from biochemical wastes.
..
FOOD SUPPLY
Chlorine Purification tablets
Chlorine Purification tablets (which can be found at any Army surplus stores) will become very useful when needing to drink water from a contaminated source such as rivers ect...To use a chlorine tablets, simply drop the tablet in water and it automatically makes it ready, killing any harmful organisms in the water. (Do not believe certain websites that conclude it is not always safe and should only be taken when towns are not supplied with water)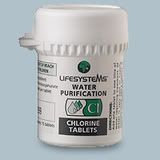 MRE (Meals Ready To Eat) (Military food)
When emergency hits us, these will be the food supply to obtain! These are ready to eat meals made usually for soldiers in the military. They last typically for 10 years so can be stored and used. You can live off of eating one MRE a day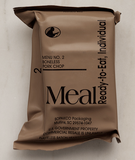 Status:

Single

Here for:

Networking, Friends

Body type:

6' 4" / Body builder

Zodiac Sign:

Gemini

Occupation:

Zombie Hunter