No recent updates in this category.
Why not...
Jean Starwind hasn't earned any badges yet... have you?
General

Music

Movies

Television

Books

Heroes

J.R.R. Tolkien

Yuy Beop-Ryuong

Park Hui-Jin

Raymond Harryhausen

.. ..

Video Games


King of Fighters (2D only)
Samurai Spirits/Samurai Showdown (2D only)
Street Fighter (2D Only)
Capcom vs. SNK
Guilty Gear
DOA




Chuck Norris Fact of the Day

"Chuck Norris counted to infinity twice!"

"Chuck Norris gave Mona Lisa her smile."

"There is no theory of evolution, just a list of animals that Chuck Norris allows to live."

"Chuck Norris' tears can cure cancer. To bad he never cries."

"Guns don't kill people. Chuck Norris kills people."

"When Chuck Norris does a pushup, he isn't lifting himself up, he's pushing the Earth down."

"Chuck Norris is the reason why Waldo is hiding."

"Chuck Norris is so fast, he can run around the world and punch himself in the back of the head."

"When Chuck Norris wants your opinion he'll give it to you."

"According to Einstein's theory of relativity, Chuck Norris can actually roundhouse kick you yesterday."

"God is just filling in until Chuck Norris gets tired of kicking ass on earth."


Chuck Norris Action Figure

Chronicles of the Cursed Sword


Bango Rey vs. Sorcerer King


A pic of Yuae that I drew


Origonal Korean Covers
Vol 1
Vol 2
Vol. 3
Vol 4
Vol 5
Vol 6
Vol 7
Vol 8
Vol. 10

Chronicles Character of the Week


Chun


Chun is one of Taorun disciples. She is a quiet rather refined character, whom seems to be well respected by her fellow disciples. Thus far in the series she is the samurai character and she uses a quick draw style of swordplay.
Play

Play Next

Add to queue
About me:
..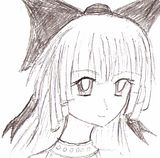 Here is a new pic that drew; this time of my own character that I created. In my "pics" I have a folder of my artwork, for those of you whom are interested.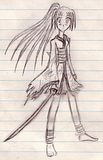 Here is a rough sketch image that I did a while back, but could not scan it. Eventually I will have an edited version of this image.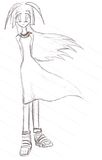 ..
Who I'd like to meet:
Yuy Beop-Ryuong & Park Hui-Jin the authors/illustrators of Chronicles of the Cursed Sword.
Status:

Single

Orientation:

Straight

Ethnicity:

White / Caucasian

Zodiac Sign:

Aries

Smoke / Drink:

No / No

Education:

In college

Occupation:

Student