Play

Play Next

Add to queue
Play

Play Next

Add to queue

14,351 plays

Play

Play Next

Add to queue

6,880 plays

Play

Play Next

Add to queue

12,543 plays

Play

Play Next

Add to queue

4,655 plays

Play

Play Next

Add to queue

3,963 plays
Genre: Glam / Hip Hop / Indie

Location LOS ANGELES, US

Profile Views: 709383

Last Login: 5/3/2010

Member Since 11/19/2004

Website www.legendarymusic.net

Record Label Legendary Music

Type of Label Indie

Bio

.. .. .. .. .... .. .. ...... ........................ .. .. .. .. .. .. .. ...... .. .. .. .. .. .. .. .. .. ..Welcome to the world of Luckyiam.Psc!.. .. He is known as PSC, Luckyiam, Lucky, LuckyOne or Cool Man number 1!!! In the early 90's Lucky studied the art of dope Left Coast hip hop at the Goodlife Cafe among Heavyweights Freestyle Fellowship & countless others. Wanting to create his own style and identity in hip hop, he headed north to the bay area shortly after the infamous L.A. Riots and joined The Mystik Journeymen with Sunspot Jonz. The Journeymen took the the bay area underground scene by storm and continued to take the underground street tape hustle they invented worldwide. Luckyiam.psc is the co-founder of The Living Legends crew and he is a consistant solo artist as well (Extra Credit series 1&2 and Justify The Mean$ & The Collectors Item are all critically acclaimed works*) .. He is a member of 3 inner crew groups as well, (Mystik Journeymen feat. Sunspot Jonz, The CMA with The Grouch and The Underbosses with his little brother MURS). Always on the road touring & promoting projects; 2003 saw Lucky do 3 USA tours in one year! (Creative Differences,My Way & The Highway and Cali Comm) plus a Japan tour in the summer with Eligh! In 2004 Lucky was even more busy! He toured the Northwest with Living Legends in January,next recorded with the Legends in Maui for the new LLcrew album in Feb. Then he toured Europe for more than a month with Atmosphere, came back home and then performed @ both days of The Coachella Festival (day one with Living Legends, day 2 with Atmosphere) Lucky then played Scribble Jam 2004 with the Legends crew in August. After which he toured Japan with Murs & Eligh, Omni & DJ Quietstorm (Sept),next he was off to South America & became one of the 1st underground artists to ever perform in Peru along with his "Old Passports" partner Omni. Finally at the end of 2004 Lucky toured Australia Dec. 29th - Jan 10th 2005 with Murs. Lucky is on a mission! With all of this on his plate he still managed to help make the sophmore CMA album "All Over" one of the best Living Legends/Legendary Music releases EVER. 2005 Lucky came back to the states with work on his mind. The CMA teamed up with Scarub and toured Japan mid Febuary this year. His 9th trip to Japan consisted of shows, in-stores & a Japaneese press junket for Classic. Lucky came back to the states @ the end of Feb. and then played Alaska with The Grouch & worked on his pro snowboarding skills! March 8th Legendary Music released the "Classic" album and one week after Lucky & The Legends embarked on a 57 day USA/Canadian tour with Pigeon John opening and guests J-Live & Jedi Mind Tricks. The tour was a success full of wild sold out shows from the east coast to the west. 2 weeks after that Lucky left to tour Europe with the Legends for 3 1/2 weeks pushing Classic to the Euro-heads & killing it live on stages from Prague to Finland. Lucky took a month & a half off this summer then went on a short version of Cali Comm with Living Legends, Aceyalone, Peanut Butter Wolf & One Block Radius, good times! Now we come to the present..Lucky is taking time off to write new songs & record music for his next two solo albums. Lucky keeps on pushing the envelopes, of money into his pocket while staying true to his art! .. ..Lucky's Interests*** .. .. ..General:.. Family,Friends,Making dope Music, listening to Good Music, nice ass 4 to 5 star hotels,Dope original shoes,free drinks & free drugs ,Acting,Peace on Earth,Being cool as fuck,Travel & Touring,Art, Good books,Good food, film,LRG,Beautiful women who like to cook ,Sports, Being a bad dude & a great guy,video games,fun times & being awesome,Rad & dope as fuck* .. ..Music:.. Stevie Wonder, Modest Mouse, Amp Fiddler,The Grouch, Vox Vermillion,The Hives, Coldplay,Hova, E-40, Cody Chesnut, Death Cab, Mr. Dibbs,Foriegn Exchange, The White Stripes,J DILLA, Sage Francis, NERD, Ras Kass, Absract Rude,Little Brother, Murs, Living Legends, The CMA, 3MG,The Liks, Luda, Mystik Journeymen, 2Mex, Bjork, Atmosphere, Brother Ali, E&A, MF Doom, Maroon 5, Aceyalone, Freestyle Fellowship, Hieroglyphics, Pep Love, Casual, Del Tha Funkee Homosapien, One Block Radius, Z-Man, Paul Wall, Le Tigre(old), Blackalicious, The Smiths,Lupe Fiasco, Def Jux, El-P, Aesop Rock, Mr. Lif, SA Smash, Mac Dre,The Roots, Common, Kanye West, Outkast, Jonny Vulture, UGK, Eligh, De La Soul, A Tribe Called Quest, The Pharcyde (old), Dr. Dre, Eminem (old), Buck 65, Mike Realm, Red Hot Chilli Peppers, Broken Social Scene, and lots more shit livin in my broken ipod. .. ..Movies:.. Citizen Kane, Blade Runner, Sabrina, Rear Window, Crash,The Incredibles, Sin City, King Of New York, Indiana Jones & The Temple Of Doom, The Empire Strikes Back, Million Dollar baby, RAY, Moulin Rogue, Heat, GoodFellas, Casino, Monsters Inc.,The Incredibles, Shawn of the Dead,Finding Nemo, SAW 1&2, Weird Science, Adaptation,The Breakfast Club, Requiem for a Dream, Fargo,Full Metal Jacket, Made, City Of God, Swingers, Dr. Strange Love, Office Space, The Big Lebowoski, Mystic River, The Exorcist, Westside Story, Breakfast at Tiffany's, Buffalo 66, They Live, 48 hours, Arthur, Lets do it again, Beat Street, Im gonna get you Sucka!,Trading Places, Shrek 1 & 2, Some like it Hot, Training Day, Purple Rain, Natural Born Killers, Friday, CB4, Braveheart, Mallrats, Clerks, Meet The Parents, Something About Mary,Dogma, Eddie Murphy Delirious & RAW, Kids, Bully, Pulp fiction, Jackie Brown, Kill Bill 1&2, True Romance and so so so so much more. .. ..Television:.. The Food network, Iron Chef & Iron Chef America and anything with Rachel Ray involved, Entourage, Flavor of Love, SpongeBob Squarepants, Celeberty Fit Club, The Comeback (RIP), Family Guy , Robot Chicken, Stankervision, Rome, Curb Your Enthusiasm,The Wire, The Simpsons (old), Sportscenter, Aqua teen Hunger Force, Scare Tactics, Chappelle's Show (RIP), Sopranos,6 feet Under (RIP), Wife Swap, Amazing Race, Martin, The Daily Show, South Park(sometimes)... I watch too much T.V. when Im not on tour, fuck* .. ..Books:.. All the Harry Potters, Lemony Snicket's A Series of Unfortunate Events, Battle Royal,The Biggest Secret, The Davinci Code, Tales of a fourth grade nothing, Pimp, Soul on Ice, Have Gun will travel, Iliad, Valley Of The Dolls, Live from Death Row, Atlas Shrugged, The Lion The Witch & The Wardrobe, Stand, The Rock Says, Alice in Wonderland & the truth about the World Trade Center disaster. (David Icke is telling on them) .. ..Heroes:.. My parents, Charlie Murphy, Nelson Mandela, Wolverine, Spiderman, Morgan Freeman, Martin Luther King, Bill motherfucking Gates & Sean Daley, ok bitches. ..

Members

Living Legends: ..Luckyiam.PSC, ..The Grouch ..Eligh, ..Sunspot Jonz, ..Scarub, ..Murs, ..Bicasso, ..Aesop, ..The CMA, Mystik Journeymen, ..3MG, G&E and The Underbosses.

Influences

Stevie Wonder, Al Green, M.J., Ice Cube/NWA, Freestyle Fellowship, De La Soul, ATCQ, U2, Public Enemy (old), The Beatles, LiL Wayne,The (O.G.) Pharcyde, Hieroglyphics, Sublime, KRS-One, Bored Stiff, Black Sheep, Leaders Of the New School, The Beastie Boys,DPG, The Cure, Big Daddy Kane, Outkast & etc. .. .. .. ....CLICK ON EACH ALBUM TO PURCHASE IT!!!.... .. .. ...... .. .. .... .. .. .... .. .. .... .. .. .... .. .. .... .. .. .... .. .. .... .. .. .... .. .. ....

Sounds Like

The BEST in the West. Intelligent hip hop you could dance to. (if you could dance)
No recent updates in this category.
Why not...
03:21 | 450 plays | Nov 19 2007
Bio:
.. .. ..
Welcome to the world of Luckyiam.Psc!
He is known as PSC, Luckyiam, Lucky, LuckyOne or Cool Man number 1!!! In the early 90's Lucky studied the art of dope Left Coast hip hop at the Goodlife Cafe among Heavyweights Freestyle Fellowship & countless others. Wanting to create his own style and identity in hip hop, he headed north to the bay area shortly after the infamous L.A. Riots and joined The Mystik Journeymen with Sunspot Jonz. The Journeymen took the the bay area underground scene by storm and continued to take the underground street tape hustle they invented worldwide. Luckyiam.psc is the co-founder of The Living Legends crew and he is a consistant solo artist as well (Extra Credit series 1&2 and Justify The Mean$ & The Collectors Item are all critically acclaimed works*)
He is a member of 3 inner crew groups as well, (Mystik Journeymen feat. Sunspot Jonz, The CMA with The Grouch and The Underbosses with his little brother MURS). Always on the road touring & promoting projects; 2003 saw Lucky do 3 USA tours in one year! (Creative Differences,My Way & The Highway and Cali Comm) plus a Japan tour in the summer with Eligh! In 2004 Lucky was even more busy! He toured the Northwest with Living Legends in January,next recorded with the Legends in Maui for the new LLcrew album in Feb. Then he toured Europe for more than a month with Atmosphere, came back home and then performed @ both days of The Coachella Festival (day one with Living Legends, day 2 with Atmosphere) Lucky then played Scribble Jam 2004 with the Legends crew in August. After which he toured Japan with Murs & Eligh, Omni & DJ Quietstorm (Sept),next he was off to South America & became one of the 1st underground artists to ever perform in Peru along with his "Old Passports" partner Omni. Finally at the end of 2004 Lucky toured Australia Dec. 29th - Jan 10th 2005 with Murs. Lucky is on a mission! With all of this on his plate he still managed to help make the sophmore CMA album "All Over" one of the best Living Legends/Legendary Music releases EVER. 2005 Lucky came back to the states with work on his mind. The CMA teamed up with Scarub and toured Japan mid Febuary this year. His 9th trip to Japan consisted of shows, in-stores & a Japaneese press junket for Classic. Lucky came back to the states @ the end of Feb. and then played Alaska with The Grouch & worked on his pro snowboarding skills! March 8th Legendary Music released the "Classic" album and one week after Lucky & The Legends embarked on a 57 day USA/Canadian tour with Pigeon John opening and guests J-Live & Jedi Mind Tricks. The tour was a success full of wild sold out shows from the east coast to the west. 2 weeks after that Lucky left to tour Europe with the Legends for 3 1/2 weeks pushing Classic to the Euro-heads & killing it live on stages from Prague to Finland. Lucky took a month & a half off this summer then went on a short version of Cali Comm with Living Legends, Aceyalone, Peanut Butter Wolf & One Block Radius, good times! Now we come to the present..Lucky is taking time off to write new songs & record music for his next two solo albums. Lucky keeps on pushing the envelopes, of money into his pocket while staying true to his art!
Lucky's Interests***
General: Family,Friends,Making dope Music, listening to Good Music, nice ass 4 to 5 star hotels,Dope original shoes,free drinks & free drugs ,Acting,Peace on Earth,Being cool as fuck,Travel & Touring,Art, Good books,Good food, film,LRG,Beautiful women who like to cook ,Sports, Being a bad dude & a great guy,video games,fun times & being awesome,Rad & dope as fuck*
Music: Stevie Wonder, Modest Mouse, Amp Fiddler,The Grouch, Vox Vermillion,The Hives, Coldplay,Hova, E-40, Cody Chesnut, Death Cab, Mr. Dibbs,Foriegn Exchange, The White Stripes,J DILLA, Sage Francis, NERD, Ras Kass, Absract Rude,Little Brother, Murs, Living Legends, The CMA, 3MG,The Liks, Luda, Mystik Journeymen, 2Mex, Bjork, Atmosphere, Brother Ali, E&A, MF Doom, Maroon 5, Aceyalone, Freestyle Fellowship, Hieroglyphics, Pep Love, Casual, Del Tha Funkee Homosapien, One Block Radius, Z-Man, Paul Wall, Le Tigre(old), Blackalicious, The Smiths,Lupe Fiasco, Def Jux, El-P, Aesop Rock, Mr. Lif, SA Smash, Mac Dre,The Roots, Common, Kanye West, Outkast, Jonny Vulture, UGK, Eligh, De La Soul, A Tribe Called Quest, The Pharcyde (old), Dr. Dre, Eminem (old), Buck 65, Mike Realm, Red Hot Chilli Peppers, Broken Social Scene, and lots more shit livin in my broken ipod.
Movies: Citizen Kane, Blade Runner, Sabrina, Rear Window, Crash,The Incredibles, Sin City, King Of New York, Indiana Jones & The Temple Of Doom, The Empire Strikes Back, Million Dollar baby, RAY, Moulin Rogue, Heat, GoodFellas, Casino, Monsters Inc.,The Incredibles, Shawn of the Dead,Finding Nemo, SAW 1&2, Weird Science, Adaptation,The Breakfast Club, Requiem for a Dream, Fargo,Full Metal Jacket, Made, City Of God, Swingers, Dr. Strange Love, Office Space, The Big Lebowoski, Mystic River, The Exorcist, Westside Story, Breakfast at Tiffany's, Buffalo 66, They Live, 48 hours, Arthur, Lets do it again, Beat Street, Im gonna get you Sucka!,Trading Places, Shrek 1 & 2, Some like it Hot, Training Day, Purple Rain, Natural Born Killers, Friday, CB4, Braveheart, Mallrats, Clerks, Meet The Parents, Something About Mary,Dogma, Eddie Murphy Delirious & RAW, Kids, Bully, Pulp fiction, Jackie Brown, Kill Bill 1&2, True Romance and so so so so much more.
Television: The Food network, Iron Chef & Iron Chef America and anything with Rachel Ray involved, Entourage, Flavor of Love, SpongeBob Squarepants, Celeberty Fit Club, The Comeback (RIP), Family Guy , Robot Chicken, Stankervision, Rome, Curb Your Enthusiasm,The Wire, The Simpsons (old), Sportscenter, Aqua teen Hunger Force, Scare Tactics, Chappelle's Show (RIP), Sopranos,6 feet Under (RIP), Wife Swap, Amazing Race, Martin, The Daily Show, South Park(sometimes)... I watch too much T.V. when Im not on tour, fuck*
Books: All the Harry Potters, Lemony Snicket's A Series of Unfortunate Events, Battle Royal,The Biggest Secret, The Davinci Code, Tales of a fourth grade nothing, Pimp, Soul on Ice, Have Gun will travel, Iliad, Valley Of The Dolls, Live from Death Row, Atlas Shrugged, The Lion The Witch & The Wardrobe, Stand, The Rock Says, Alice in Wonderland & the truth about the World Trade Center disaster. (David Icke is telling on them)
Heroes: My parents, Charlie Murphy, Nelson Mandela, Wolverine, Spiderman, Morgan Freeman, Martin Luther King, Bill motherfucking Gates & Sean Daley, ok bitches.
Member Since:
November 19, 2004
Members:
Living Legends:
Luckyiam.PSC,
The Grouch
Eligh,
Sunspot Jonz,
Scarub,
Murs,
Bicasso,
Aesop,
The CMA, Mystik Journeymen,
3MG, G&E and The Underbosses.
Influences:
Stevie Wonder, Al Green, M.J., Ice Cube/NWA, Freestyle Fellowship, De La Soul, ATCQ, U2, Public Enemy (old), The Beatles, LiL Wayne,The (O.G.) Pharcyde, Hieroglyphics, Sublime, KRS-One, Bored Stiff, Black Sheep, Leaders Of the New School, The Beastie Boys,DPG, The Cure, Big Daddy Kane, Outkast & etc.
CLICK ON EACH ALBUM TO PURCHASE IT!!!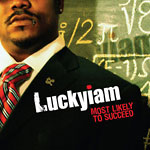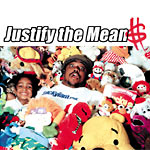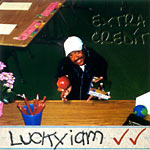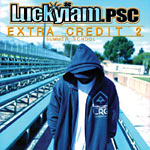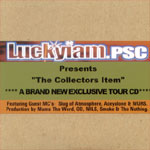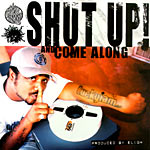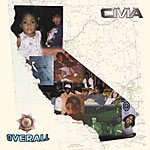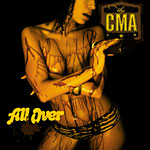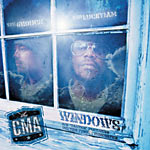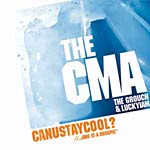 Sounds Like:
The BEST in the West. Intelligent hip hop you could dance to. (if you could dance)
Record Label:
Legendary Music
Label Type:
Indie
Luckyiam has 24955 friends.