Play

Play Next

Add to queue
Play

Play Next

Add to queue

681 plays

Play

Play Next

Add to queue

391 plays

Play

Play Next

Add to queue

458 plays

Play

Play Next

Add to queue

493 plays

Play

Play Next

Add to queue

366 plays
Genre: Blues / Rock / Roots Music

Location New York/Milan, Un

Profile Views: 77481

Last Login: 2/18/2013

Member Since 2/12/2006

Website www.jakewalkerband.com

Record Label Left Turn Music

Type of Label Indie

Bio

Jake Walker, "The Ambassador of New York Blues", has earned an international reputation as "one of the very finest Blues guitar players and singers anywhere" (Danny Bryant, Rounder Records). He has won over audiences around the world with a style of guitar playing and singing that is at once "deeply soulful and grooving" (Blues Blast), and extraordinarily original. Jake Walker's many international tours as frontman have taken him to Holland, Belgium, England, France, and Italy, where he has headlined festivals, and filled historic halls and squares with die-hard fans. Jake's debut C.D., "Confidence Man" was produced and mixed by multi-platinum selling produced Elliot Mazer (Neil Young, Janis Joplin, The Band, Jerry Garcia, Santana, The Who), and features famed Blues musicians such as Mark Naftalin (Paul Butterfield, Mike Bloomfield, Duane Allman, Van Morrison), and Arthur Neilson (Shemekia Copeland, Cyndi Lauper). Confidence Man has received rave reviews, garnering comparisons with Freddie King, Otis Rush, and Albert King, among other Blues Gods, while always winning praise for Jake's own very personal, powerful, and nuanced approach to the idiom-- "Jake pays tributes to the masters, but he doesn't imitate them" (George Willet, 12-Bar Rag). -------------------------------------------------------------------------------- BOOKING: PBOX BLUES (FRANCE) 00 33 (0) 475 42 34 64/ CURTIS LOEW AGENCY (ITALY) See contact info on sidebar) ************LIVE IN THE FRENCH RIVIERA (2008): ......Jake Walker suite...... .. .. .. .. .. ......Jack's Blues Café.. | ..MySpace Video.... JAKE SINGS WITHOUT MICROPHONE AT GREAT ITALIAN OPERA HOUSE (2009): .. .. .. .. .. .. .. LIVE AT BLUES RIVER FESTIVAL, ITALY (2010) .. .. .. .. .. .. .. BLUES RIVER FESTIVAL, ITALY (2010) .. .. .. .. .. .. .. Soundcheck @ San Giorgio .. .. .. .. .. .. .. ROOTSWAY FESTIVAL, PARMA (2009) .... .. .. .. .. .. ..

Members

Influences

MANAGEMENT: JERSEY GIRL MUSIC: dino@jerseygirlmusic.com ......Ameno Blues Festival Italy 2010 ............ ...... Live At Rootsway Festival, Parma, Italy, July 18th 2009 ...... JAKE WALKER CONFIDENCE MAN !!! LEFT TURN MUSIC (SANS N°) / WWW.LEFTTURNMUSIC.COM Confidence man / Can't get no grindin' / Heads up / Somebody in your band / Luck is bad / Time for love / Mondo Freddie / Miniskirt / Confidence man. (36:36) Chanteur-guitariste new-yorkais, Jake Walker se fait connaître ici avec son premier album studio. Il n'est cependant pas inconnu des amateurs de blues du Vieux Continent, puisqu'il nous a déjà rendu visite. Une nouvelle tournée européenne débutera même le 30 octobre prochain. Il a aussi accompagné James et Lucky Peterson, enregistrant pour JSP et Alligator en tant que sideman. Ce disque, produit par le légendaire Elliot Mazer (Mike Bloomfield, Janis Joplin, Neil Young...), illustre la riche palette d'un excellent guitariste officiant sur une Epiphone pleine de grain, au son fin et délié. Il tire des notes détachées, pleines de sustain, souvent dans les aigus qu'affectionne Albert Collins, mais plus près d'un Ronnie Earl dans son phrasé. Si la voix semble de prime abord limitée dans sa puissance et son registre, il n'en est rien lorsqu'elle se fait par moments moins voilée car plus forte. Une voix en tout cas déjà bien "travaillée", qu'on associerait plus à un cinquantenaire qu'au jeune homme qu'est Jake Walker. On baigne dans un blues électrique de bon aloi, influencé par le style de Chicago ( surtout les sonorités texanes ( Can't get no grindin'), maisTime for love, Mondo Freddie guitare de aussi bien pu être signée par le Freddy King de la période Federal. Un album agréable à plus d'un titre, qu'on aurait aimé apprécier plus longuement. Sa durée, loin des standards actuels, frustre désagréablement l'auditeur. Un artiste à découvrir sur scène : une seule date en France est programmée pour le moment (le 5 décembre à Clermont-Ferrand), mais rien n'est encore gravé dans le marbre... , Miniskirt). La partie deTime for love aurait d'ailleurs tout Marc Loison SOUL BAG MAGAZINE Live At Liverpool Marina, November '08 ........ A few influences: Lightnin' Hopkins, Magic Slim, Freddie King, T-Bone Walker, James Peterson, Albert King, Pee Wee Crayton, Steve Cropper, John Mayall's Bluesbreakers, Snooks Eaglin, Wes Montgomery, B.B. King, Duane Allman, Dickey Betts, Magic Sam, Will McTell, Bobby Radcliff, Brother Dave Likhtiger, Joe Louis Walker, Arthur Neilson, Muddy Waters, Howlin' Wolf, Santana, Peter Green, Guitar Slim, Lucky Peterson, Taj Mahal, Michael Bloomfield, Dave Specter, Little Walter, Ronnie Earl, Jerry Garcia, Otis Rush, Johnny Winter, Earl King, Albert Collins... "> ...... .. ......

Sounds Like

"guitar playing meaner than a boot full of barbed wire" -Rob de Vries, BluesTrain FM, Holland
commented on Chaya Bernstein's profile

"I never go on myspace anymore. Just saw this! FB me next time. Would be great to see you. "
03:53 | 30 plays | May 16 2012
Bio:
Jake Walker, "The Ambassador of New York Blues", has earned an international reputation as "one of the very finest Blues guitar players and singers anywhere" (Danny Bryant, Rounder Records). He has won over audiences around the world with a style of guitar playing and singing that is at once "deeply soulful and grooving" (Blues Blast), and extraordinarily original. Jake Walker's many international tours as frontman have taken him to Holland, Belgium, England, France, and Italy, where he has headlined festivals, and filled historic halls and squares with die-hard fans. Jake's debut C.D., "Confidence Man" was produced and mixed by multi-platinum selling produced Elliot Mazer (Neil Young, Janis Joplin, The Band, Jerry Garcia, Santana, The Who), and features famed Blues musicians such as Mark Naftalin (Paul Butterfield, Mike Bloomfield, Duane Allman, Van Morrison), and Arthur Neilson (Shemekia Copeland, Cyndi Lauper). Confidence Man has received rave reviews, garnering comparisons with Freddie King, Otis Rush, and Albert King, among other Blues Gods, while always winning praise for Jake's own very personal, powerful, and nuanced approach to the idiom-- "Jake pays tributes to the masters, but he doesn't imitate them" (George Willet, 12-Bar Rag). -------------------------------------------------------------------------------- BOOKING: PBOX BLUES (FRANCE) 00 33 (0) 475 42 34 64/ CURTIS LOEW AGENCY (ITALY) See contact info on sidebar)
Member Since:
February 12, 2006
Influences:
MANAGEMENT: JERSEY GIRL MUSIC: dino@jerseygirlmusic.com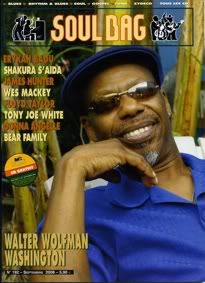 JAKE WALKER CONFIDENCE MAN !!! LEFT TURN MUSIC (SANS N°) /
WWW.LEFTTURNMUSIC.COM
Confidence man / Can't get no grindin' / Heads up / Somebody in your band / Luck is bad / Time for love / Mondo Freddie / Miniskirt / Confidence man. (36:36) Chanteur-guitariste new-yorkais, Jake Walker se fait connaître ici avec son premier album studio. Il n'est cependant pas inconnu des amateurs de blues du Vieux Continent, puisqu'il nous a déjà rendu visite. Une nouvelle tournée européenne débutera même le 30 octobre prochain. Il a aussi accompagné James et Lucky Peterson, enregistrant pour JSP et Alligator en tant que sideman. Ce disque, produit par le légendaire Elliot Mazer (Mike Bloomfield, Janis Joplin, Neil Young...), illustre la riche palette d'un excellent guitariste officiant sur une Epiphone pleine de grain, au son fin et délié. Il tire des notes détachées, pleines de sustain, souvent dans les aigus qu'affectionne Albert Collins, mais plus près d'un Ronnie Earl dans son phrasé. Si la voix semble de prime abord limitée dans sa puissance et son registre, il n'en est rien lorsqu'elle se fait par moments moins voilée car plus forte. Une voix en tout cas déjà bien "travaillée", qu'on associerait plus à un cinquantenaire qu'au jeune homme qu'est Jake Walker. On baigne dans un blues électrique de bon aloi, influencé par le style de Chicago ( surtout les sonorités texanes ( Can't get no grindin'), maisTime for love, Mondo Freddie guitare de aussi bien pu être signée par le Freddy King de la période Federal. Un album agréable à plus d'un titre, qu'on aurait aimé apprécier plus longuement. Sa durée, loin des standards actuels, frustre désagréablement l'auditeur. Un artiste à découvrir sur scène : une seule date en France est programmée pour le moment (le 5 décembre à Clermont-Ferrand), mais rien n'est encore gravé dans le marbre... , Miniskirt). La partie deTime for love aurait d'ailleurs tout Marc Loison SOUL BAG MAGAZINE A few influences: Lightnin' Hopkins, Magic Slim, Freddie King, T-Bone Walker, James Peterson, Albert King, Pee Wee Crayton, Steve Cropper, John Mayall's Bluesbreakers, Snooks Eaglin, Wes Montgomery, B.B. King, Duane Allman, Dickey Betts, Magic Sam, Will McTell, Bobby Radcliff, Brother Dave Likhtiger, Joe Louis Walker, Arthur Neilson, Muddy Waters, Howlin' Wolf, Santana, Peter Green, Guitar Slim, Lucky Peterson, Taj Mahal, Michael Bloomfield, Dave Specter, Little Walter, Ronnie Earl, Jerry Garcia, Otis Rush, Johnny Winter, Earl King, Albert Collins... ">
Sounds Like:
"guitar playing meaner than a boot full of barbed wire" -Rob de Vries, BluesTrain FM, Holland
Record Label:
Left Turn Music..