§traηgεr §υη hasn't earned any badges yet... have you?
General

..

I am a huge Bettie Page fan. If you dont know who she is, she was a famous 50's pinup model that did alot of risque and bondage photos in her time. Check out my slideshow for some great examples.

..

I just love her look, her jet black hair (especially the bangs) and her outgoing nature. I collect almost anything with her likeness, especially books, magazines, original photos, trading cards, stickers/decals and anything interesting.

Also, I'm a huge fan (or pest) of Opie and Anthony!

I've listened to them since 1998 when they started on WNEW in New York and I bought XM Satalite Radio just to listen to them.

I dont even watch TV anymore because I listen to to the show all night and Ron and Fez all weekend.

To pass the time, I play some of my favorite video games on my PC. Some titles I own are: Half-Life 2, Quake 4,

Doom 3, Far Cry, The Sims 2, GTA: San Andreas, Jedi Academy, Max Payne, Myst (only the first 3, the last 2 sucked!) and FEAR. I don't play any online games...I dont have that much free time.

Currently playing: STALKER - Call of Pripyat

This is the 3rd game of the STALKER series. The 1st game, Shadow of Chernobyl, was by far the best of the series and the 2nd, Clear Sky, was total shit. This game however is much better than Clear Sky but not a good as SoC. So far, it has that same eerie atmosphere and environment mixed in with combat that makes game play pretty good, but it still uses that same buggy game engine that causes random crashes.

Music

Korn performs live on The Opie & Anthony Show.

Twisted Transistor

Coming Undone

..

Some of my favorite artists and albums.




Monster Magnet, Audio Slave, Velvet Revolver, Godsmack, Alice in Chains, SoundGarden, Faith No More, Tool, Korn, NIN, Rage Against the Machine, Rob Zombie, Metallica, Ozzy, Maiden are some of my Heavy Metal tastes. I also enjoy artists like Tracy Bonham.

Movies

Bettie on film

The Notorious Bettie Page:

Bettie Page - Dark Angel:

Repo Man:

Im not an Emilio Estevez fan, but this movie is great.

Some Comedies I like are The Blues Brothers, Napoleon Dynamite, Ed Wood, Mel Brooks movies like Spaceballs and Blazing Saddles, Cheech & Chong movies, Team America, Jackass the Movie and Grizzly Man...LOL.

Action and Sci-Fi Movies like the first two Alien movies are great, the Matrix movies except for Revolutions, The Fifth Element, Ultraviolet (gotta love Milla Jovovich!), Lord of War, V for Vendetta, Sin City, The Rock, Constantine, Hellboy, Aeon Flux, Spider-Man, Dare Devil, X-Men, Batman Begins, Fantastic Four, Doom and Superman Returns.

Not to Mention Star Wars, Star Trek, and I really like the Lord of The Rings movies.

Being a child of the '80s, I thought Transformers was awesome.

J.J. Abrams (creator of Lost and Cloverfield) directed the new Star Trek flick. A very cool re-invention of the original. Hopefully sequels will be made (without all the lens flare).

Tron Legacy coming out in 2010. Ive been waiting 27 years for this sequel to come out and it looks like a damn fine one at that!

Television

..

The little television that I do watch is usually contained to the History Channel, TLC and Discovery. But, my favorite shows are all animated like:

The Simpsons, Family Guy, Futurama, King of the Hill, Spongebob, South Park, Drawn Together, Venture Bros., Aqua Teen, Sealab 2021, Harvey Birdman, Home Movies, Cowboy Bebop, Invader Zim, Robot Chicken, Salad Fingers (it's not on TV, but worth mentioning)

and my new favorite...Metalocalypse!

..

Books

..

Some of the books I've read over time are:

"A Brief History of Time" by Stephen Hawking...Teaches you all about black holes.

"Hyper Space" by Michio Kaku...It's all about higher dimensions.

"Fingerprints of the Gods" by Graham Hancock...Lost civilizations before the ancient Egyptians.

"The Real Bettie Page" by Richard Foster...It all went down hill after the 50's. It's also the inspiration for the film "The Notorious Betty Page".

Heroes
About me:

I currently work as an engineer for a small ferrite manufacturing company in northern New Jersey. If you dont know what ferrite is (like most people), its basically metal powder pressed into various shapes then fired in a kiln. Its used in all electronic equipment, but we specialize in cellular and LAN equipment components or anything that uses high speed data transmission. I design the testing programs for all the various parts we make and I'm also doing some web design for our data sheets.
..
..
Who I'd like to meet:
Bettie putting on her stockings and getting dressed. This was very titilating in the fifties.
Bettie helps the bodacious buxom beauty Tempest Storm get dressed. After all, women were so helpless back then.
When Bettie dances, chaos ensues!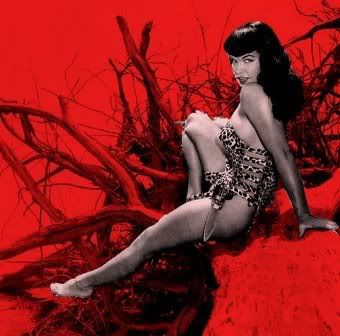 ..
Vera van Munster does her best Bettie Page, she sure likes talking on that telephone.
..
Paige Richards plays Bettie Page in this film that recreates the bondage flicks she made. I think any Bettie fan should check out this great film by Cult Epics.
This clip from TNBP recreates a bondage flick called Sally's Punishment. Gretchen Mol really has an uncanny resemblence to Bettie.
The weird and wonderful.
......
Status: Single
Here for: Friends
Orientation: Straight
Zodiac Sign: Aquarius