Play

Play Next

Add to queue
Genre: Experimental / Folk Rock / Healing & EasyListening

Location Bethlehem/Philadelphia, Pennsylvania, US

Profile Views: 37768

Last Login: 7/30/2011

Member Since 3/20/2006

Website You're on it

Record Label (self released)

Bio

The Paul Thiessen Band was formed when drummer John Kimock and bassist Peter Fritz took an interest in the Paul's songs. Performance and recording ensued, naturally; the band developed and arranged the songs to fit into their own living forms. But the rhythm section, as any great rhythm section should, had many interests and involvements with other performers. So, after spreading the recordings and playing every venue around town, other musicians began to perform in the band..... The other half of the band, as Paul says, is keyboardist/singer and sister Joy Thiessen. Having played together all their lives, Paul and Joy seem to be able to join together effortlessly on stage and create fresh life in the music arranged by Peter, John and Paul in 2007-2008..... Today, Paul and Joy are more focused than ever. Performing monthly on average, the band graces the stages of some of the finest venues for music around. Come experience the Paul Thiessen Band and see why people are grabbing on and not letting go! ...... .. .. ...... .. .. .... .. .. .. .. .. .. .. .. .... .. .. .......... .. .. .... Hear watch some videos:).... .. .. .. .. .. .. .. Paul Thiessen Band CD release, Godfrey Daniels 11/1/07 ..Paul Thiessen Band...... .. .. .. .. .. .. ...................... .. .. .. .. .. .. .. ....

Members

Guitar and Vocals- Paul Thiessen.. Keys and Vocals- Joy Thiessen.... Rhythm section varies by show:.. The Drummers: John Morgan Kimock, Matt Molchany, Keith McGonigal.. The Bassists: Peter Fritz, Steve Zalalas.... ..........View Paul Thiessen's EPK..

Influences

..................In no particular order: Prince, Stevie Wonder, Green Day, Phish, Trey Anastasio Band, Jerry Garcia Band, Greatful Dead, Steve Kimock, Bob Marley, Paul Simon, Neil Young, Bob Wills and the Texas Playboys, The Asylum Street Spankers, The Beatles, Jimi Hendrix, Al Green, Otis Reading, Jane's Addiction, Amos Lee, Vance Gilbert, Bad Religion, James Jewell and shoe, the worms, Ray Charles, Thelonius Monk, Miles Davis, Hank Williams, Johnny Cash, Rodger Miller, Del McCoury, Jason Casper, Frank Sinatra, Patsy Cline, Ben Longenecker, Daniel Bower, Sandi Turner, Frog Holler, Ben Folds, Fat Mama, Ulu, Jessica Saddington, Joy Thiessen, My Mom, Yer Mom...

Sounds Like

Bringing music to life by putting life to music
No recent updates in this category.
Why not...
03:40 | 109 plays | Mar 3 2009
Bio:
The Paul Thiessen Band was formed when drummer John Kimock and bassist Peter Fritz took an interest in the Paul's songs. Performance and recording ensued, naturally; the band developed and arranged the songs to fit into their own living forms. But the rhythm section, as any great rhythm section should, had many interests and involvements with other performers. So, after spreading the recordings and playing every venue around town, other musicians began to perform in the band.
The other half of the band, as Paul says, is keyboardist/singer and sister Joy Thiessen. Having played together all their lives, Paul and Joy seem to be able to join together effortlessly on stage and create fresh life in the music arranged by Peter, John and Paul in 2007-2008.
Today, Paul and Joy are more focused than ever. Performing monthly on average, the band graces the stages of some of the finest venues for music around. Come experience the Paul Thiessen Band and see why people are grabbing on and not letting go!
Hear watch some videos:)
Paul Thiessen Band CD release, Godfrey Daniels 11/1/07
Paul Thiessen Band
Members:
Guitar and Vocals- Paul Thiessen
Keys and Vocals- Joy Thiessen
Rhythm section varies by show:
The Drummers: John Morgan Kimock, Matt Molchany, Keith McGonigal
The Bassists: Peter Fritz, Steve Zalalas
View Paul Thiessen's EPK
Influences: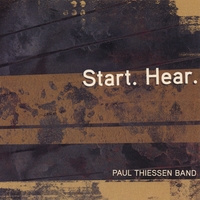 In no particular order: Prince, Stevie Wonder, Green Day, Phish, Trey Anastasio Band, Jerry Garcia Band, Greatful Dead, Steve Kimock, Bob Marley, Paul Simon, Neil Young, Bob Wills and the Texas Playboys, The Asylum Street Spankers, The Beatles, Jimi Hendrix, Al Green, Otis Reading, Jane's Addiction, Amos Lee, Vance Gilbert, Bad Religion, James Jewell and shoe, the worms, Ray Charles, Thelonius Monk, Miles Davis, Hank Williams, Johnny Cash, Rodger Miller, Del McCoury, Jason Casper, Frank Sinatra, Patsy Cline, Ben Longenecker, Daniel Bower, Sandi Turner, Frog Holler, Ben Folds, Fat Mama, Ulu, Jessica Saddington, Joy Thiessen, My Mom, Yer Mom...