Genre: Metal / Punk / Rock

Location London, Un

Profile Views: 647707

Last Login: 8/11/2011

Member Since 3/21/2006

Website http://www.msplinks.com/MDFodHRwOi8vd3d3Lm5lbWhhaW4uY29t

Record Label Tiefdruck-Musik

Type of Label Indie

Bio

.. .. .. .. .. .. .. .... .. ........ .... ........ .. ........ .. ........ .. ........ .. ........ .... OFFICIAL NEMHAIN CLOBBER! .......... .. ..Amber Erlandsson - Vox & words (former stage performer - Motorhead/COF).. Lakis - Guitar (Area 54/Love & Bullets) .. Sam Astley - Guitar (Ewws/Sangeeta).. Lisa Witch - Bass & vox .. Adrian Erlandsson - Drums (former ATG/The Haunted/COF) .... With the release of their first EP 'Blood runs free' , they have been taking audiences around the country by storm and spreading the Rock n' Roll plague all over the world. They were voted KBY band of the month by Rocksound Magazine, due to their intense live performance at The Barfly. This also earned them their first major support slot with Aussie Rock legends - ..Rose Tattoo.. at London's Scala. They were also asked by ..KEG Rocks.. to contribute a track to The Misfits 30th Anniversary tribute album, 'Anniversary of Brutality' and went for the jugular with a crushing rendition of the classic 'Die, die, my darling'. .... 2007 saw Nemhain touring throughout the UK and Netherlands with a second support to Rose Tattoo, Municipal Waste and Electric Eel Shock, and playing festivals with such Rock n' roll reprobates as In Flames, Arch Enemy, Twisted Sister and Saxon at Hard Rock Hell & the mighty Bloodstock. .... In early 2008, they played showcase gigs in LA, at The Joint and the Cat Club, during the NAMM convention, and since then have been working on their first full-length album. As of April 2008, they have completed recording of the album at Gothenburg's Studio Fredman. .... AUG 2009 - ..Tiefdruck Musik.. Signs Nemhain .... "I am very proud to announce that Tiefdruck-Musik and the London based band NEMHAIN have joined forces, the cooperation was signed in blood!!!", Daniel Heerdmann of Tiefdruck-Musik expresses his deep appreciation for the labels newest addition, NEMHAIN. .... The bands debut album 'From The Ashes' will be released worldwide on January 22nd 2010, and will be available at that date in stores and as digital downloads. .... The first single 'Second Skin' will be available from September, 29th. .... "With whiskey in our veins, fire in our hearts and fully armed with the weapons of Rock n roll, we take no prisoners with our own lethal injection of dark and dirty, blues stained punk rock mayhem!" .... "Nemhain is possibly one of the hottest bands on the horizon and I'm not just talking about the music. Check out their websites and you'll see why. But pin-up status aside, the band has the chops to make a serious bid for your CD player. Their music is a blend of punky rock and metal that is slightly raw but energetic. In fact the unbridled enthusiasm of the band ..s like "Heroin Child" and "Speed Queen" is positively adrenaline pumping" .... MORLEY SEAVER - ANTI MUSIC .... "Nemhain are going to be huge. It's as clear as that. They're a force to be reckoned with, taking their Rock n Roll Shenanigans to new levels with an unmistakable animalistic tone for alcohol abuse, live gigs and close up fan interaction.... These guys are infecting you with their Rock n Roll tunes, fiendishly good looks and Jack Daniel's inspired charm. Welcome to the party world of Nemhain!" .... DEVOLUTION MAGAZINE .... Nemhain use and abuse - Orange Amps, Pearl Drums, Vic Firth Sticks and Sabian Cymbals. .......... .... CONTACT - .... IF YOU ARE INTERESTED IN BOOKING NEMHAIN PLEASE E-MAIL - ..BOOKINGS@NEMHAIN.COM.. ...... .. .. .. .. .. .. .. .. .. ....ADD NEMHAIN ON FACEBOOK!! .......... .... ADD NEMHAIN ON TWATTER .... ...... ....ADD NEMHAIN ON REVERBNATION!! <img style="visibility:hidden;width:0px;height:0px;" border=0 width=0 height=0 src="http://c.gigcount.com/wildfire/IMP/CXNID=2000002.11NXC/bT*xJmx*PTEzMDg2ODk*ODQ*MjEmcHQ9MTMwODY4OTUwNzM5MCZwPTI3MDgxJmQ9dHVuZVdpZGdldF9maXJzdF9nZW4mZz*xJm9m/PTA=.gif" /> <object classid="clsid:D27CDB6E-AE6D-11cf-96B8-444553540000" width="434" height="415"><param name="movie" value="http://cache.reverbnation.com/widgets/swf/19/tuneWidget.swf?twID=artist_55217&posted_by=artist_55217&shuffle=true&autoPlay=true&blogBuzz=buzz"></param><param name="allowscriptaccess" value="always"></param><param name="allowNetworking" value="all"></param><param name="allowfullscreen" value="true"></param><param name="wmode" value="opaque"></param><param name="quality" value="best"></param><embed src="http://cache.reverbnation.com/widgets/swf/19/tuneWidget.swf?twID=artist_55217&posted_by=artist_55217&shuffle=true&autoPlay=true&blogBuzz=buzz" type="application/x-shockwave-flash" allowscriptaccess="always" allowNetworking="all" allowfullscreen="true" wmode="opaque" quality="best" width="434" height="415"></embed></object><br/><a href="http://www.reverbnation.com/rpk" onclick="javascript:window.location.href="http://www.reverbnation.com/c./a4/19/55217/Artist/55217/Artist/link"; return false;"><img alt="Electronic Press Kit" border="0" height="19" src="http://c2sostatic.reverbnation.com/widgets/content/19/footer.png" width="434" /></a> <img style="visibility:hidden;width:0px;height:0px;" border=0 width=0 height=0 src="http://www.reverbnation.com/widgets/trk/19/artist_55217/artist_55217/t.gif" /> ......NEMHAIN - SECOND SKIN...... .. .. .. .. .. ......NEMHAIN - DEBUT ALBUM OUT JAN 22ND 2010.. | ..MySpace Music Videos.... .. ............Myspace Layouts.. - ..Myspace Editor.. - ..Hot Comments.. - ..Image Hosting....

Members

.. .. ....Amber Erlandsson.. - Vocals & words.. .... ....Lakis K.. - Guitar.. .... ....Lisa Witch.. - Bass & Vox.. .... .. ..Adrian Erlandsson.. - Drums & methane.. ........Sam Astley.. - Guitars and incidentals.. .. ..Pictures by Falk Hagen & MH 2010

Influences

Sounds Like

Dark & Dirty Death Rock n Roll
Bio: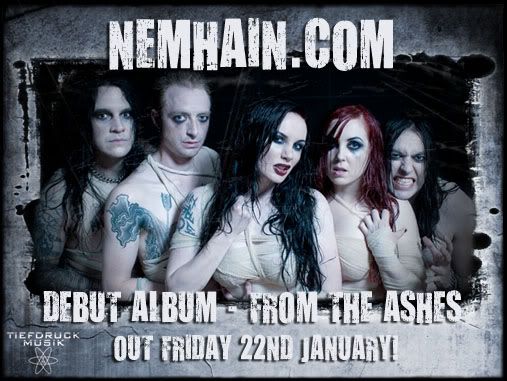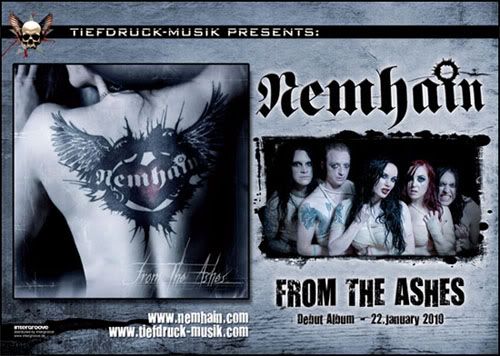 OFFICIAL NEMHAIN CLOBBER!
Amber Erlandsson - Vox & words (former stage performer - Motorhead/COF)
Lakis - Guitar (Area 54/Love & Bullets)
Sam Astley - Guitar (Ewws/Sangeeta)
Lisa Witch - Bass & vox
Adrian Erlandsson - Drums (former ATG/The Haunted/COF)
With the release of their first EP 'Blood runs free' , they have been taking audiences around the country by storm and spreading the Rock n' Roll plague all over the world. They were voted KBY band of the month by Rocksound Magazine, due to their intense live performance at The Barfly. This also earned them their first major support slot with Aussie Rock legends -
Rose Tattoo
at London's Scala. They were also asked by
KEG Rocks
to contribute a track to The Misfits 30th Anniversary tribute album, 'Anniversary of Brutality' and went for the jugular with a crushing rendition of the classic 'Die, die, my darling'.
2007 saw Nemhain touring throughout the UK and Netherlands with a second support to Rose Tattoo, Municipal Waste and Electric Eel Shock, and playing festivals with such Rock n' roll reprobates as In Flames, Arch Enemy, Twisted Sister and Saxon at Hard Rock Hell & the mighty Bloodstock.
In early 2008, they played showcase gigs in LA, at The Joint and the Cat Club, during the NAMM convention, and since then have been working on their first full-length album. As of April 2008, they have completed recording of the album at Gothenburg's Studio Fredman.
AUG 2009 -
Tiefdruck Musik
Signs Nemhain
"I am very proud to announce that Tiefdruck-Musik and the London based band NEMHAIN have joined forces, the cooperation was signed in blood!!!", Daniel Heerdmann of Tiefdruck-Musik expresses his deep appreciation for the labels newest addition, NEMHAIN.
The bands debut album 'From The Ashes' will be released worldwide on January 22nd 2010, and will be available at that date in stores and as digital downloads.
The first single 'Second Skin' will be available from September, 29th.
"With whiskey in our veins, fire in our hearts and fully armed with the weapons of Rock n roll, we take no prisoners with our own lethal injection of dark and dirty, blues stained punk rock mayhem!"
"Nemhain is possibly one of the hottest bands on the horizon and I'm not just talking about the music. Check out their websites and you'll see why. But pin-up status aside, the band has the chops to make a serious bid for your CD player. Their music is a blend of punky rock and metal that is slightly raw but energetic. In fact the unbridled enthusiasm of the band ..s like "Heroin Child" and "Speed Queen" is positively adrenaline pumping"
MORLEY SEAVER - ANTI MUSIC
"Nemhain are going to be huge. It's as clear as that. They're a force to be reckoned with, taking their Rock n Roll Shenanigans to new levels with an unmistakable animalistic tone for alcohol abuse, live gigs and close up fan interaction.... These guys are infecting you with their Rock n Roll tunes, fiendishly good looks and Jack Daniel's inspired charm. Welcome to the party world of Nemhain!"
DEVOLUTION MAGAZINE
Nemhain use and abuse - Orange Amps, Pearl Drums, Vic Firth Sticks and Sabian Cymbals.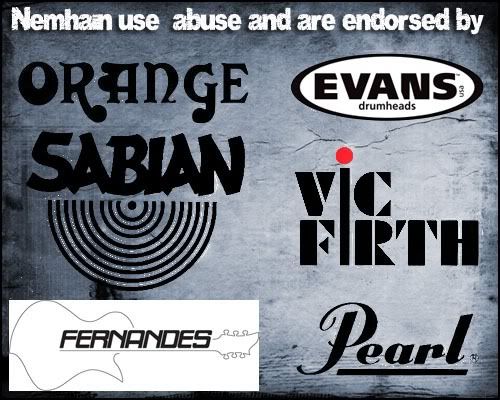 CONTACT -
IF YOU ARE INTERESTED IN BOOKING NEMHAIN PLEASE E-MAIL -
BOOKINGS@NEMHAIN.COM
ADD NEMHAIN ON FACEBOOK!!
ADD NEMHAIN ON TWATTER

ADD NEMHAIN ON REVERBNATION!!

NEMHAIN - SECOND SKIN

NEMHAIN - DEBUT ALBUM OUT JAN 22ND 2010 | MySpace Music Videos
..

Myspace Layouts - Myspace Editor - Hot Comments - Image Hosting
Member Since:
March 21, 2006
Members: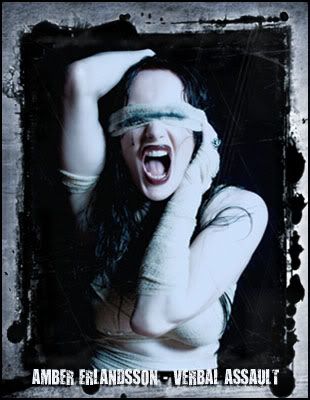 Amber Erlandsson
- Vocals & words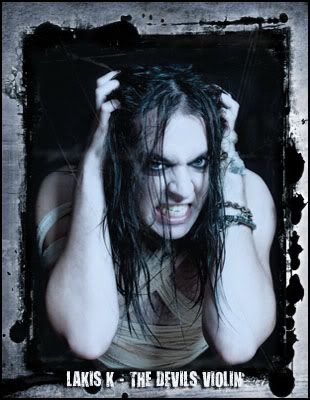 Lakis K
- Guitar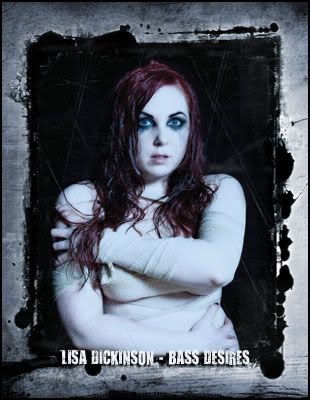 Lisa Witch
- Bass & Vox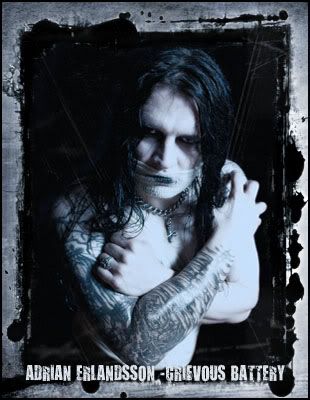 Adrian Erlandsson
- Drums & methane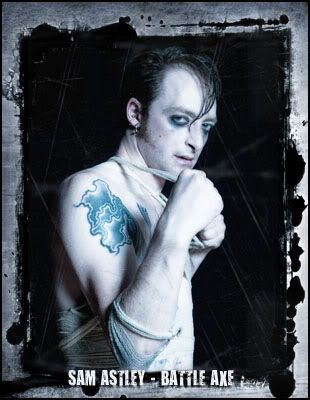 Sam Astley
- Guitars and incidentals
Pictures by Falk Hagen & MH 2010
Sounds Like:
Dark & Dirty Death Rock n Roll
Record Label:
Tiefdruck-Musik
Bloody hell; where did March go? Maybe we should get on the case with demoing all these shiny new songs ...

via Twitter

Demoing new tracks: Time signature switches, slide and feedback. Prepare for a Nemhainous earache!

via Twitter