Website

ROLLINGBOULDERFILMS.COM

Directors


Eric Zala & Chris Strompolos:
Chris and Eric. After working on the periphery of the film industry (e.g., Video Game Industry, Music, DVD Production), the resurfacing of Raiders of the Lost Ark: The Adaptation has reminded Chris and Eric of what is most satisfying and fulfilling to them: making movies. And so, after much careful planning, they have left behind safe corporate jobs and have formed an independent film production company, for the purpose of making the movies that they'd want to see themselves. Based in the same Mississippi town in which they did Raiders years earlier, their production company is called (appropriately enough) Rolling Boulder Films. Both will reprise their familiar roles: Chris, as producer, will work out of Los Angeles. Eric, as director, will work out of Ocean Springs, Mississippi. They are currently writing and developing a number of projects; including a new adventure film set in the South.
Jayson Lamb:
Jayson Lamb After graduating from the California College of Arts and Crafts, Jayson took up work as an Audio/Visual Technician for hotel conferencing. Jayson met hundreds of individuals from all over the world and learned much about the diversity of business worldwide. Presently Jayson has just launched his own business and website: www.jaysonlamb.com. It is a limited edition, fine art photography website. All of Jayson's works are printed and mounted on canvas with high quality archival inks. In addition to showing and selling his artwork, Jayson is also focusing on restoring, archiving and editing together thirty plus hours of lost Raiders: Adaptation footage and outtakes shot between 1982 - 1989.

Professional Affiliations


"Wanted to let you know how impressed I was with your very loving and detailed tribute to our Raiders of the Lost Ark. I saw and appreciated the vast amounts of imagination and originality you put in your film. Again, congratulations. I'll be waiting to see your names someday on the big screen."
- Steven Spielberg -(in a letter to Chris, Eric & Jayson)
"This would be the one of the greatest kids moviesof all time, much like the original is one of the greatestadventure films of all time. I LOVE LOVE LOVE the ideaand am so happy to hear a screenplay isbeing developed about it."- Eli Roth -(Director/Writer, Cabin Fever)

"Chris Strompolos captures the magic of Harrison Fordin the film... I feel this is the best damn fan filmI have ever seen. The love and passion and sacrificeis on every single frame of this thing...Personally, this is what fandom to me is all about.This sort of triumph. This sort of magic...Be prepared to be blown away by PURE MAGIC."- Harry Knowles -(Ain't It Cool News - May 31, 2003)

"Raiders of the Lost Ark: The Adaptation is justphenomenal. [Chuckles] I think they really pulled it off- every single shot and every moment. It's great!"- Wes Craven -

"Amazing. You guys are crazy. Absolute insanity."- Terry Rossio & Ted Elliot -(Screenwriters Pirates of the Caribbean)
"The video charms with its low budget ingenuity!Lots of people play with camcorders, but how manypull themselves underneath moving trucks fortheir favorite film?"- Premiere Magazine -






After the world premiere of Raiders: The Adaptation during Butt-Numb-A-Thon 4 at the Alamo Draft House in Texas (2003) things suddenly exploded. Chris, Jayson & Eric were approached by agents and magazines wanting to interview them. The honor went to Vanity Fair, and when the 10,000 word article came out, attention on Chris, Jayson & Eric and their film continued to grow.





The story got published in Vanity Fair's March 2004 "Hollywood" Issue.
Play

Play Next

Add to queue
About me:
.. .. ..
FOR MORE INFORMATION ON Raiders of the Lost Ark: The Adaptation VISIT THE WEBSITE
WWW.THERAIDER.NET
After seeing Raiders of the Lost Ark in 1981, three 12 year old friends, Chris Strompolos, Eric Zala and Jayson Lamb, began filming their own shot-by-shot adaptation in the backyards of their Mississippi homes. Seven years later their film was in the can.
Fourteen years later, in 2003, the Alamo Drafthouse Cinema in Austin Texas was proud to announce the theatrical world premiere of Raiders of the Lost Ark: The Adaptation.
And in 2004, it was announced that Hollywood producer Scott Rudin had purchased the life rights of Eric, Jayson and Chris to make a biographical film about their experiences making Raiders: The Adaptation. Writer Daniel Clowes is currently working on the screenplay. To be released by Paramount Pictures.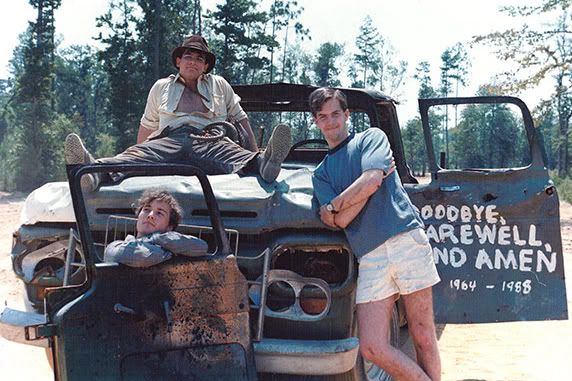 SCREEN SHOTS AND BEHIND THE SCENES
SCREENINGS
MANN'S CHINESE HOLLYWOOD SCREENING
SCREENING HISTORY
"Raiders of the Lost Ark: The Adaptation"
2003
May 2003 World Premiere – Alamo Drafthouse Cinema – Austin Texas
2004
April 2004 Crossroads International Film Festival, Jackson, MS
July 2004 Private Celebrity Screening: Museum of Jurassic Technology, LA, CA
June 2004 Fanzillacon / Mass Bay Film Festival – Worchester, Massachusetts
August 2004 Spudfest, Best Adaptation and the Audience Award, Driggs, Idaho
September 2004 Oldenburg International Film Festival, Oldenburg, Germany
September 2004 Ocean Springs Film Festival, Ocean Springs, MS
September 2004 Fundraiser: Boston Premiere –Coolidge Corner Theater – Boston, MA
2005
February 2005 Magnolia Film Festival
February 2005 San Francisco Independent Film Festival, Best 'Indy' Indie Feature
February 2005 Fundraiser: Jacob Burns Film Center, Pleasantville, NY
April 2005 Fundraiser: Northwest Film Forum, Seattle
April 2005 Palm Beach International Film Festival
April 2005 Brooklyn Underground Film Festival - Best Feature
May 2005 Sprockets Toronto International Film Festival / Toronto International Film Festival
May 2005 Future Filmmakers Event / Columbia University & The Chicago Film Festival
July 2005 Fundraiser: MS Gulf Coast Writers Association, Biloxi, MS
July 2005 Private screening: Pixar Animation Studios
July 2005 Private screening: Skywalker Ranch
July 2005 Fundraiser: California Film Institute – San Rafael, CA
July 2005 Private screening: Wired Magazine
July 2005 T Tauri Film Festival - Batesville, Arkansas
September 2005 Oxford Film Festival, Oxford, MS
September 2005 Fundraiser: Northwest Film Forum, Seattle (2nd screening)
October 2005 Popcorn Taxi Film Group, Fox Studios Sydney and Melbourne, Australia
Nov 2005 T.E.D. Conference Group Screening, LA, CA
Dec 2005 Fundraiser: Ohio University Fundraiser, Wexner Arts Center - Columbus, OH
2006
Feb 2006 Fundraiser: Yoknapatawpha Arts Council, Oxford, MS
Feb 2006 Barrie International Film Festival, Barrie, Ontario, Canada
April 2006 Newport Beach International Film Festival
May 2006 Fundraiser: Sitka Film Society – Sitka, Alaska
July 2006 Fundraiser: Alamo Drafthouse Cinema – Austin, Texas
September 2006: Calgary International Film Festival – Calgary, Canada
September 2006: George Eastman House – Rochester, NY
October 2006: Private screening: Google – San Francisco, California
2007
March 2007: Ragtag Cinema True/False Film Festival – Columbia, Missouri
April 2007: Milwaukee Art Museum – Milwaukee, Wisconsin
April 2007: Cleveland Institute of Art Cinematheque – Cleveland, Ohio
April 2007: Center for Contemporary Arts – Santa Fe, New Mexico
May 2007: Webster University – St. Louis, Missouri
May 2007: Riverview Theater – Minneapolis, Minnesota
June 2007: Alamo Drafthouse Theater – Austin, Texas
July 2007: Cinema Arts Centre – Long Island, New York
July 2007: Anthology Film Archives – New York, New York
September 2007: Black Earth Film Festival – Galesburg, Illinois
September 2007: Idaho International Film Festival – Boise, Idaho
October 2007: University of Colorado, Boulder – Boulder, Colorado
November 2007: Anthology Film Archives – New York, New York
2008
January 2008: MassBay Film Project – Boston, Massachusetts
May 2008: Sunscreen Film Festival – St. Petersburg, Florida
Who I'd like to meet:
You not only received a letter from Steven Spielberg but you also met him in person! How did that go?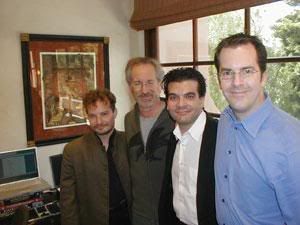 Chris: Dreams do come true. It was everything I imagined it to be. He was an amazing man. Down to earth, relaxed, he listened to us, was very kind and very conversational. He gave us so much of his time, brought us into his office and showed us outtakes from Raiders and Temple of Doom that probably, no one will never ever see. It was a magical day that I will always remember until I die. He was very real, very warm-hearted and intelligent. I still can't quite get my head around it. A life experience that has permanently changed me. The photo of the four of us hangs proudly in my home. It inspires me everyday.
Eric: It was an utterly singular experience. There were so many times during the making of our film where we'd fantasize about how cool it would be if we ever met the Man himself who, along with George Lucas, crafted this perfect adventure, created this world that we so much wanted to inhabit. Then jump forward 15, 20 years, and the three of us are sitting in a conference room at Amblin, on the Universal lot, drumming our fingers on the table nervously as we await the arrival of our host. Minutes pass, and we hear that familiar voice coming through the other side of the door, talking to someone about some business detail, and recognizing it from countless TV interviews viewed over the course of our childhood and lives. Nervousness ratchets up several notches. After a minute, the door swings open, and in walks... Steven Spielberg. "Hey guys, what's going on?" He sat down next to us, and we just talked, about Raiders, his filming his original, our filming our remake... movies... art... life... It was amazing. He couldn't have been more down-to-earth and real. He even screened for us the blooper reel from Raiders and Temple of Doom, something few have ever seen. He even graciously assented to our request for a photo together. All-in-all, we chatted with Mr. Spielberg for about 45 minutes or so... but it took me the rest of the day to work out of the daydreamish haze that I was in afterwards.
Jayson: I was amazed at how humble he was and extremely generous with his time. Our meeting was arranged just the day before, so I was shocked that our meeting went beyond a handshake. Not to mention 45 min, great conversation and a rare screening of a blooper reel. In all honesty though, you know when a person comes across an event that just makes their mind freeze. Well, my mind has been frozen since Eli Roth first called us to say that Mr. Spielberg wanted to send a letter to the three of us. Maybe in twenty years or so, our meeting with Mr. Spielberg might fully sink in.
Status:

Single

Here for:

Networking

Zodiac Sign:

Capricorn
Music

RAIDERS: ADAPTATION MUSIC SOUNDTRACK

Movies

RAIDERS: ADAPTATION ~ MOVIE TRAILER

RAIDERS: ADAPTATION ~ FIRST 10MIN

Television

BBC TV COVERAGE OF RAIDERS: ADAPTATION

Heroes

Raiders of the Lost Ark: The Adaptation Q&A - Part 1

Raiders of the Lost Ark: The Adaptation Q&A - Part 2

Raiders of the Lost Ark: The Adaptation Q&A - Part 3