No recent updates in this category.
Why not...
The Art of Being hasn't earned any badges yet... have you?
General

THE ART OF BEING RETURNS FOR A ONE NIGHT PERFORMANCE ON MAY 6, 2009 AT 8PM AT THE ART WORKS THEATRE IN HOLLYWOOD. ADMISSION IS $15 AND RESERVATIONS CAN BE MADE AT 310-248-0527. THE THEATRE IS LOCATED AT 6569 SANTA MONICA BLVD. LOS ANGELES, CA 90038. BELOW IS A THREE MINUTE PROMO WITH THE CURRENT CAST WHICH CONSISTS OF MEMBERS FROM ALL THREE PAST CASTS. The Art of Being Web Series 1st episode The Art of Loving Your Body As Is. Further information at

The Art of Being you tube channel

Wake up by Laura Cayer is an original song written for the short film The Art of Living Your Dream which is currently a contender in the (RED),

www.joinred.com

, film competition at the Vail Film Festival. The Art of Living Your Dream is a behind the look scenes at how The Art of Being came to be and the play's tour where the proceeds were donated. You can listen to more Laura Cayer music at

www.myspace.com/lauralizabeth

or by clicking on her in our top friends. Enjoy her beautiful and fitting song. Here's a sneak peak at the play as well as a Q&A with the cast presented by the Museum and Cultural Affairs Department. For information on how The Art of Being came to be visit

Creator/Director/Producer Adriana Garza's myspace page

and

www.adrianagarza.com ..

Behind the scenes with the cast of The Art of Being Adriana lived an amazing year in 2006. Not only did her first production ever open in Los Angeles but as a result she was awarded the 2006 Toyota Moving Forward Award from over 2,500 nominees nationwide for moving forward in the entertainment field and creating,producing,directing, and performing in The Art of Being. This is Adriana's six month award experience in pictures, which included a three month waiting period to see if she had won.

..

Music

EMBRACE YOUR FAITH "I believe the road you walk on and everything that happens to you is paved by YOUR very own actions and what you've given to the world is returned to you." Adriana Garza

EMBRACE THE SKIN YOU'RE IN "Stop putting life on hold. I'll go dancing when I can wear this dress again. I'll go to the Bahamas when I look good in a bathing suit. No. Now. It's all you've got!" Joy Nash

EMBRACE WHERE YOU ARE IN LIFE "The J.O.B... umm...U.F.O. Chaser... because it's a lot more likely to get me dates than Actor..." James Gilbert

EMBRACE YOUR MISTAKES "I told Florence I wanted to be an actress and she put her last dimes together to send me to California." Mary Queen Robinson

EMBRACE YOUR DESIRE TO BE LOVED "If you can share that absolute honesty with another person,

your soul mate

,

one day and they can accept you

, that would be a beautiful moment." Jonathan Sanhueza

EMBRACE YOUR AGE,

WHERE YOU'VE BEEN AND WHERE YOU'RE HEADED "I always thought of my forties as sexy

, ya know like Madonna and strong like Oprah. Like Oprah tells you its gonna be. And she always has these beautiful older women on the show with that like streak of grey down the front of their face,

and you think

, thats how I'm gonna be. What a cruel HOAX!" Barbara Cole

EMBRACE YOUR ETHNICITY "They knew nothing of how their children would translate those dreams in western tongues" Tammy La

EMBRACE LOSS "And all he has left is a daughter who can't think of a damn thing to say." J.Paige Ryan

EMBRACE YOUR ART OF BEING! THE ART OF BEING CAST CONSISTS OF ADRIANA GARZA,

JONATHAN SANHUEZA

,

MARY QUEEN ROBINSON

,

GREG BAINE

,

JOY NASH

,

TAMMY LA

,

MICHAEL MULLEN

,

BARBARA COLE

,

J. PAIGE RYAN

,

KRIS PUSTINA HALDANE AND JAMES GILBERT. SEE YOU ONSTAGE MAY 6

,

2009 IN LOS ANGELES!

Movies

Heroes
Play

Play Next

Add to queue
About me:
..
THE ART OF BEING RETURNS TO THE STAGE MAY 6 IN HOLLYWOOD. SEE BELOW FOR DETAILS.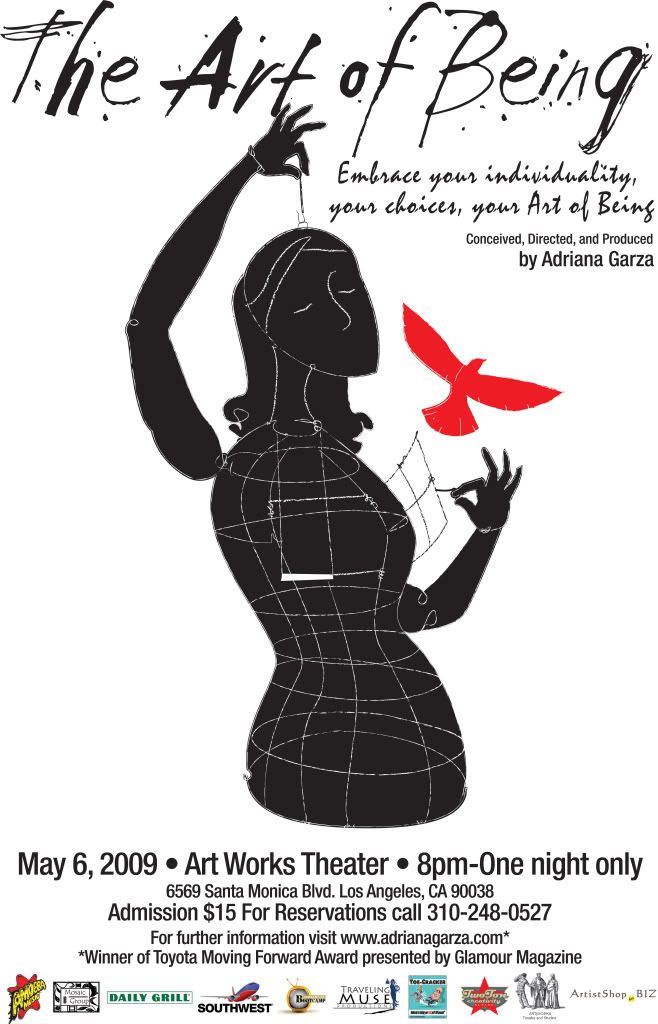 AFTER TWO SUCCESSFUL RUNS IN HOLLYWOOD IN 2006 THE ART OF BEING IS HITTING THE ROAD.
THE TOUR KICKED OFF ON MAY 5, 2007 AT THE FOX FINE ARTS CENTER IN EL PASO, FOLLOWED BY CHICAGO ON AUGUST 25 AT THE BALIWICK ARTS CENTER, AND SAN ANTONIO'S JUMP START PERFORMANCE COMPANY ON DECEMBER 8, 2007. THE ART OF BEING TOUR WILL BE CLOSING ON DECEMBER 12 AT THE ART WORKS THEATER IN LOS ANGELES. SEE POSTER FOR DETAILS.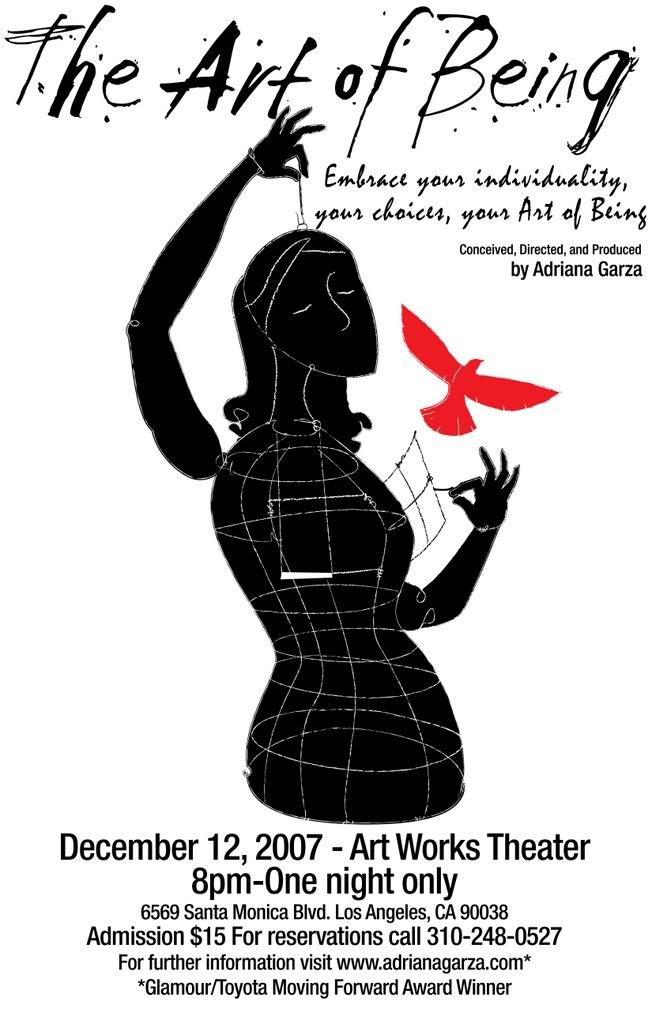 The Art of Being was in El Paso, Texas on May 5,2007 for two performances benefiting the UniveRsity Texas El Paso Theater Department Scholarship Fund and at the Bailiwick in Chicago on August 25, 2007 with proceeds benefiting the Bailiwick's Second Sex Series.
..
..
The Art of Being in Chicago pictures
(c) Patti Farfan/Motion Sharp Photography
.. .. ..
CLICK HERE to get a FREE MYSPACE LAYOUT OR create your own using MYSPACE PROFILE EDITOR!!!
This is an interview courtesy of Mexicans and Americans thinking together also known as www.matt.org. It's a great organization working to strengthen the ties between Mexico and America.
Who I'd like to meet:
Everyone and anyone who revels in their Art of Being. Which means you like yourself JUST AS YOU ARE! And to all those audience members we've met in Los Angeles, El Paso, and Chicago, we thank you for making The Art of Being a success and most of all for making the donations to the non profit arts related organizations possible! See you in San Antonio and Los Angeles later this year. For information on how The Art of Being came to be visit
Creator/Director/Producer Adriana Garza's myspace page
Status:

Single

Here for:

Networking

Hometown:

London,BatonRouge,Texas,Chicago,San Francisco etc.

Zodiac Sign:

Sagittarius

Occupation:

Actors/Directors/Producers
American Academy Of Dramatic Arts-West

Hollywood,California

Graduated:

N/A

Student status:

Alumni

1998 to 1998