Who I'd like to meet:
.. ..Chicago Tribune news: `Felt' proves puppet laughs come easily.. .. ..
THE CHICAGO TRIBUNE SAYS
`Felt' proves puppet laughs come easily
By Nina Metz
Special to the Tribune
September 8, 2006
As proved by "Avenue Q" and Triumph, the Insult Comic Dog, few things are funnier than puppets behaving badly.
Here in Chicago--home to a spirited pool of improv performers--this axiom has been adapted to the "yes, and" form with winning results, thanks to a team called Atticus Finch, the hands and voices behind the Muppet-y stars of "Felt." The show is the second half of a double bill on Wednesday nights at the i.O. Theater in Wrigleyville. "Felt" is paired with a more traditional opening act--a different team each week performs the Harold, a long-form improv format--and it becomes obvious why puppets (in this case, anyway) have greater comedic possibilities than their human counterparts.
Animated shows such as "South Park" fall into this category. So does the commercial for Comcast on Demand that features children, dressed as adult office workers, klatching about SpongeBob and the Can Do Crew. Practically anything is funny when the context is upside down from the start--when the patently make-believe apes reality.
Case in point: The improv team that opened the show the night I attended (The Chorus) gave a particularly strained effort; the goofy voices and desperate hurling of profanity was more awkward than entertaining.
But stick a bunch of actors behind a black curtain and arm them with "Sesame Street" rejects, and suddenly you've hit pay dirt. Nothing beats profanity-spewing puppets.
These aren't cheap, flimsy puppets, by the way. They are brightly colored and huggable--a tacit reminder of childhood and its supposed innocence that is perfectly juxtaposed with the adult nature of the material. (So be sure to leave the kids at home.)
At a recent performance, the humor was heavy on puns--again, something puppets can get away with easier than humans. The audience suggestion was "first aid," which prompted the Doberman to yell out, "We've got a bleeder!" The scene turned into a parody of every medical emergency television show put to screen--"Which doctor? I'm not a witch doctor!" The command, "Elevate the legs" is misunderstood as "Salivate the legs!" and you can imagine the rest.
The actor-puppeteers prefer to remain anonymous (and to confuse matters more, they apparently trade puppets midshow), but whoever voices the Doberman deserves high praise. Crabby and blunt, this lone canine among a cast of furry aliens and yellow-hued humans virtually steals the show.
Open run, Wednesdays at i.O., 3541 N. Clark St. Tickets are $5 at 773-880-0199.
Copyright © 2006, Chicago Tribune
TimeOut Chicago Magazine (Click
HERE
here to read the full article) says :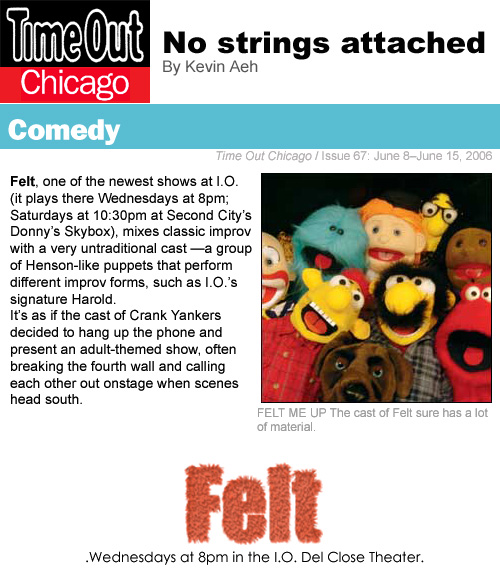 Status:

In a Relationship

Here for:

Networking, Friends

Ethnicity:

Other

Zodiac Sign:

Libra

Smoke / Drink:

Yes / Yes

Education:

Some college

Occupation:

Improvisors!
General

FELT wants your Booty at IO...come see the smash hit of the Summer. Escape the heat and join us at IO Argggh...Improv Puppets have been sighted!!!

Music

FELT attacks at IO...stay out of the water this summer. The only safe place to be is at IO -Wednesdays at 8pm- admission is $5

Movies