Play

Play Next

Add to queue
Play

Play Next

Add to queue

1,597 plays

Play

Play Next

Add to queue

1,969 plays

Play

Play Next

Add to queue

1,458 plays

Play

Play Next

Add to queue

331 plays

Play

Play Next

Add to queue

333 plays
Genre: A'cappella / Hip Hop

Location BROOKLYN, New York, US

Profile Views: 21158

Last Login: 3/24/2010

Member Since 3/20/2007

Website www.modularmoods.com

Record Label Modular Moods

Type of Label Indie

Bio

.... ..During a time when some Jews refrain from listening to live music - famous Orthodox rapper ....Y-Love.... and beatbox superstar....Yuri Lane.... (who has over 6 millions hits on youtube) create all their music non-instrumentally. The album is an all vocal hip-hop record with over seven tracks to correspond to the seven weeks of the Sefira. The album is amazingly musical and innovative, with a bangin intro and an outro that will make it hard to believe that Yuri Lane's mouth wasn't being produced by ..Timbaland..... The first single, "Watch" is about keeping the history of the Passover alive. Every year the Jewish Nation leaves Egypt; from exile to one step closer to redemption. G-dly things happening - Watch! ..listen to some of the songs @ ..www.myspace.com/7sefira.... ....Buy the CD from Shemspeed, here.. or on iTunes, ..here... ....Download the Passover song by clicking these words.... ..BUY THE WHOLE ALBUM HERE!.. .. ..PURIM FREESTYLE LIVE.... .. .. .. .. .. .. ..OLD SCHOOL FREESTYLE LIVE BACKSTAGE AT SPERTUS MUSEUM (Chicago).... .. .. .. .. .. .. ..DOWNLOAD THE SUKKOT SONG FREE HERE!.... .. .. ............ ..Y-Love and Yuri Lane. .. Count it. 7 songs for Sefira. Rhymes and Beat Box. All Accapella!! ..ORDER NOW.. (available only through ..modular moods.. and ..shemspeed..) .. .... .... .. .. .. ..ALL BEAT BOX & RHYMES.... "During the 7-week period following Passover, the Jewish Nation spends its time counting the days and weeks of the Omer period, culminating in the receiving of the Torah. During these weeks we are forbidden to use our normal musical instruments as a sign of decreased joy, forcing us to improvise. This is a paradox -- being commanded to serve the Creator with joy always, but having His service be to decrease joy. Our music is that paradox. As we improvise with our music, so too, we sometimes must improvise with our simcha. Count it." - Y-Love .. ..FREE DOWNLOADS:.. MUSIC: ..(..Passover Single..) .. ..RINGTONE:.. TEXT 71434 TO "MYXER" (69937) ..FOR YOUR NEW FREE Y-LOVE & YURI LANE PASSOVER RINGTONE!.. (To be released IMMEDIATELY before Pesach!) .. .. .. .......... .... .... .... .. ...... .... ........... .. .. .. .. .. .............. .. ............. .. .... Lyrics to the intro of the album:.... Spit yeshivish lyrics made to hit you where your speakers at.. On charedi playlists and you know you can't compete with that.. Pump this in the 'burg, in Flatbush is where my people at .. Ready! Set! Go! -- My rhyme is art, 613 is back!.. Beatbox, freestyle, Yuri Lane, sefira track.. Y-LOVE, Modular, you feeling me? they feeling that.. Believe in that, elevate the nation, gonna bring it back.. Decimating chet, who gonna dare to say this Yid was wack?...... ... Oh yeah...and........Count It (Sefira) has been written up in AJL, Jewish Week, The Forward, Jew School, Jewlicious and Jewtastic.. Jewtastic quote; "Ultimately, Sefira is one of the best Jewish rap albums to come along in a long while, blending intelligent, thought-provoking lyrics with some cutting edge beats, and making you think even as it makes you dance. A must for any Jewish music collection."........ ..

Members

.... .. .. .. .. .... ........ .. .. ..Y-Love.. - rhymes.. ..Yuri Lane.. - beat box.. ..diwon.. - producer.... .. ..Y-LOVE & YURI LANE ALBUMS (below):.. .. ..YURI LANE .... ........YURI LANE.. ....NEW........ Yuri Lane - Human Beatbox-$15.... ........ ............ .. ........ .. ..DESCRIBE & Y-LOVE:.... Change.. .......... ..DIGITAL DOWNLOAD.. .. ..Y-LOVE ALBUMS:.... * This is Babylon.. .......... ..BUY CD.. ..or.. ..DOWNLOAD IT DIGITALLY.. .. * Count It.. ............ ....BUY CD.... or.. ..DOWNLOAD IT DIGITALLY.. .. * Y-Love Mixtape.. ........ ..purchase.. .. .. .. ..Lyrics to Bar Yochai v. 6.13........

Influences

Sounds Like
No recent updates in this category.
Why not...
Bio:
....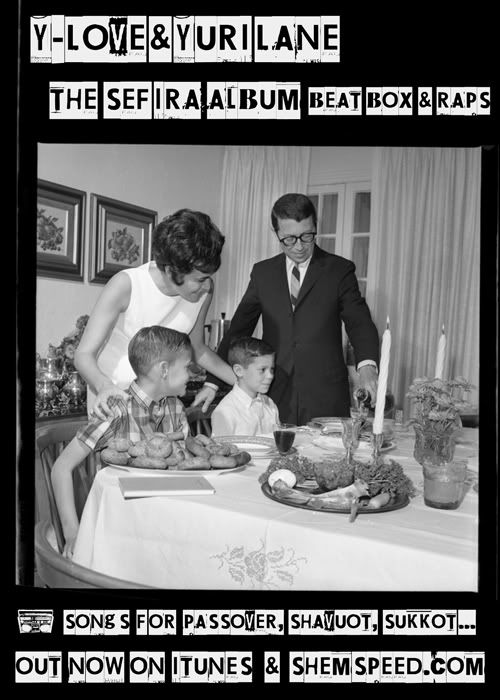 During a time when some Jews refrain from listening to live music - famous Orthodox rapper
Y-Love
and beatbox superstar
Yuri Lane
(who has over 6 millions hits on youtube) create all their music non-instrumentally. The album is an all vocal hip-hop record with over seven tracks to correspond to the seven weeks of the Sefira. The album is amazingly musical and innovative, with a bangin intro and an outro that will make it hard to believe that Yuri Lane's mouth wasn't being produced by
Timbaland
... The first single, "Watch" is about keeping the history of the Passover alive. Every year the Jewish Nation leaves Egypt; from exile to one step closer to redemption. G-dly things happening - Watch!
listen to some of the songs @ www.myspace.com/7sefira
Buy the CD from Shemspeed, here or on iTunes, here.
Download the Passover song by clicking these words
BUY THE WHOLE ALBUM HERE!
PURIM FREESTYLE LIVE

OLD SCHOOL FREESTYLE LIVE BACKSTAGE AT SPERTUS MUSEUM (Chicago)

DOWNLOAD THE SUKKOT SONG FREE HERE!
ALL BEAT BOX & RHYMES
"During the 7-week period following Passover, the Jewish Nation spends its time counting the days and weeks of the Omer period, culminating in the receiving of the Torah. During these weeks we are forbidden to use our normal musical instruments as a sign of decreased joy, forcing us to improvise. This is a paradox -- being commanded to serve the Creator with joy always, but having His service be to decrease joy. Our music is that paradox. As we improvise with our music, so too, we sometimes must improvise with our simcha. Count it." - Y-Love
FREE DOWNLOADS:
MUSIC: (Passover Single)
RINGTONE: TEXT 71434 TO "MYXER" (69937)
FOR YOUR NEW FREE Y-LOVE & YURI LANE PASSOVER RINGTONE!
(To be released IMMEDIATELY before Pesach!)
Lyrics to the intro of the album:
Spit yeshivish lyrics made to hit you where your speakers at
On charedi playlists and you know you can't compete with that
Pump this in the 'burg, in Flatbush is where my people at
Ready! Set! Go! -- My rhyme is art, 613 is back!
Beatbox, freestyle, Yuri Lane, sefira track
Y-LOVE, Modular, you feeling me? they feeling that
Believe in that, elevate the nation, gonna bring it back
Decimating chet, who gonna dare to say this Yid was wack?
.
Oh yeah...and....Count It (Sefira) has been written up in AJL, Jewish Week, The Forward, Jew School, Jewlicious and Jewtastic
Jewtastic quote; "Ultimately, Sefira is one of the best Jewish rap albums to come along in a long while, blending intelligent, thought-provoking lyrics with some cutting edge beats, and making you think even as it makes you dance. A must for any Jewish music collection."
Member Since:
March 20, 2007
Members:
Y-Love - rhymes
Yuri Lane - beat box
diwon - producer

Y-LOVE & YURI LANE ALBUMS (below):

YURI LANE
YURI LANE
NEW Yuri Lane - Human Beatbox-$15

DESCRIBE & Y-LOVE:
Change

..

..DIGITAL DOWNLOAD
Y-LOVE ALBUMS:
* This is Babylon


BUY CD
or
DOWNLOAD IT DIGITALLY
* Count It


BUY CD
or
DOWNLOAD IT DIGITALLY
* Y-Love Mixtape


purchase

Lyrics to Bar Yochai v. 6.13


Record Label:
Modular Moods