About me:
My brand new TV sereis starts June 15, 2011 on ABC1. It's called "Lawrence Leung's Unbelievable" and is a 6-part series, Wednesdays, 9:30pm ABC1.
Trailer: http://www.youtube.com/watch?v=xNnShlXi7gw
Thanks to all those who have turned up to hear my stories and jokes...
Hi Adventurers,
Thanks so much for your wonderful messages and for watching my CHOOSE YOUR OWN ADVENTURE TV series.
If you missed episodes the Complete Series DVD is in shops May 7.

I'm doing in-store appearances if you want to say hi, get some Rubik's Cube advice or get a body part signed! It's going to be fun, so see you there...

Friday May 8th - 12.30PM ABC Shop QVB Building NSW
Saturday May 9th - 11AM ABC Shop Brookvale & 2PM ABC Shop Macquarie NSW
Sunday May 10th - 11AM ABC Shop Miranda NSW
Friday 15th May - 1PM ABC Shop Melbourne GPO VIC
Saturday 16th May - 12PM ABC Shop Chadstone VIC
Saturday 30th May - 12PM ABC Shop Chermside QLD
We are holding FIGHT CUBE battles at these events, so if you can solve the Cube, bring it along and race me to win prizes!
SEE ME LIVE! I'm up in Sydney May 5-9 performing my LIVE show onstage for the Sydney Comedy Festival. Come see me: http:?/?/?www.?sydneycomedyfest.?com.?au/?index.?php??view=?details&?id=?121

My brand new comedy show ..TIME NINJAS LIVE on stage in April at the ..Melbourne International Comedy Festival and in May at the ..Sydney Cracker Comedy Festival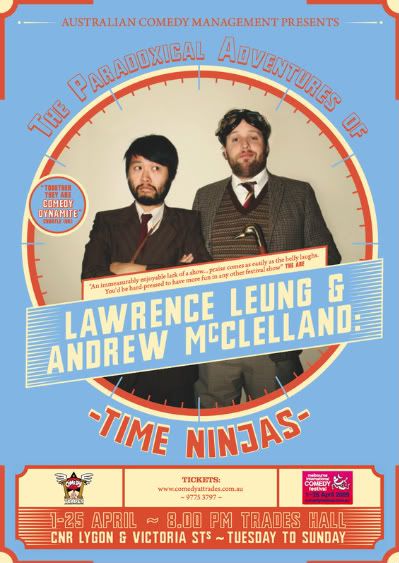 ON AIR: My 6-part documentary/comedy/adventure TV series "LAWRENCE LEUNG'S CHOOSE YOUR OWN ADVENTURE". Six adventures over six weeks. Wednesday nights, 9:30pm on ABC1 in Australia, on air now. Watch episodes, play the games (allow pop ups) and competitions on the ..OFFICIAL TV SERIES WEBSITE abc.net.au/lawrence To get updates and to join the adventure, become a ..Facebook Friend of my Adventures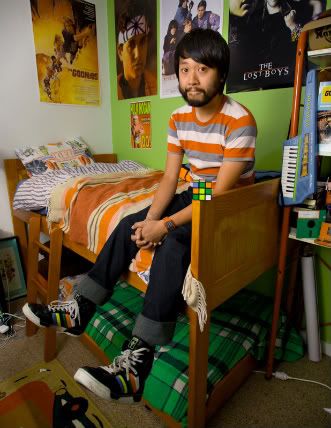 NEWS FLASH: I was nominated in the category of Best Performing Artist at the Inaugural 2008 SMAC (Sydney Music Arts and Cultural) Awards. The guy who won played Hamlet. So fair enough. Earlier in 2008, my live show "Lawrence Leung Learns to Breakdance" won .. BEST LOCAL COMEDIAN at the Inaugural Time Out Cracker Comedy Festival Awards 2008. .. Um... I think it means most likeable Australian show, as opposed to Overseas act OR does it means I'm a Sydneysider now? I am told I was meant to get a Golden Chicken, but I couldn't make it along to the awards night because, ironically, the Best Local recipient was in Melbourne.
The show won ..2007 THE AGE CRITICS AWARD for Best Australian Show of the Comedy Festival.
See the show at the SYDNEY OPERA HOUSE, April 15-26, 2008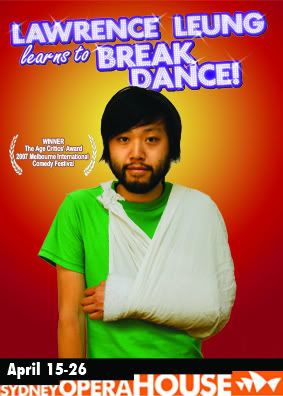 Edinburgh season August 2007
London season september 2007 Part stand up comedy, part documentary, this brand new show is Lawrence's personal yet awkward quest for "coolness".
Lawrence Leung had a bunk bed until he was 24. It's fair to say he's never been 'cool'. Join him as he explores the hysterical history of 'hip' and finally settles the score with his older (infinitely cooler) bass guitar-playing brother.
It's a search that sends a kid from the wrong side of the trackydacks stumbling into the finals of a hardcore breakdancing championship.
What is "coolness"? Is it all a myth? And does doing a show about the notion of cool ultimately make one uncool? You decide.
"Of course, dorks trying to act cool is always going to be funny – just look at all the unhip white comics who talk like rappers for a quick laugh - but Leung takes it further than this. 'Breakdance' is a show with real heart, an uplifting message and hilarious lines that come thick and fast. What could be cooler than that?" Chortle UK www.lawrenceleung.com
NEWS FLASH: My short film "HOWARD FLU" wins the Audience Favourite Award at the Comedy Channel Short Film Festival ..
Who I'd like to meet:
A 1960s Gentleman Thief of the French Riviera. No, sorry, that's who I'd like to be.

But I did meet a Jedi Knight.
TV Shows

2009 Lawrence Leung's Choose Your Own Adventure, ABC1

2009 Talkin' Bout Your Generation, TEN, guest & winning team EP1.4

2007 The Chaser's "War On Everything", Season 2, contributing writer

2006 The Chaser's "War On Everything", Season 1, contributing writer

2006 Australia Stands Up (thecomedychannel)

2005 C4 (New Zealand)

2005 Room To Lounge (H2, pilot with Justin Kennedy & Emma Race)

2004 In Siberia Tonight, (SBS TV), mini-docs, writer/presenter

2004 George Negus Tonight (ABC TV)

2003 Postcard From Edinburgh (thecomedychannel)

2003 On the Streets (thecomedychannel)

2002 The Edinburgh Show (BBC2, UK)

2002 Open House (RTE, Ireland)

2002 The Today Show (Channel Nine)

2001 Headliners, series 7, (the comedy channel)

2001 Trash Palace (pilot with Leigh Whannel and Michael Chamberlin)

2000 Raw Comedy 2000 (ABC-TV)

Films

2009 The Last Supper (short, dir: Angus Sampson)

2007 God's Algorithm (short, dir: John Pace)

2006 I Could Be Anybody (short, dir: Lorin Clarke)

2005 Rats & Cats (feature, dir: Tony Rogers) upcoming release

1999 The Long Lunch (feature, dir: Antony Redman), Singapore Film Festival, Perth Film Festival.




Website

lawrenceleung.com

Bio

Lawrence Leung writes and tells jokes...

Apart from being a writer and comedian, he's also directed comedy shows, music video, mini-documentaries and has appeared on film, TV and radio.

In 2000, he was in the National Grand Final of Raw Comedy. He came second. In 2001, he was handpicked by the Melbourne Comedy Festival to be part of the Comedy Zone.

Lawrence is best known for his storytelling comedy, hardcore whimsy and acclaimed solo shows SUCKER (Best Solo Show Award, Melbourne Fringe 2001), SKEPTIC and THE MARVELLOUS MISADVENTURES OF PUZZLE BOY and LAWRENCE LEUNG LEARNS TO BREAKDANCE (The Age Critics' Award for Best Australian Show, 2007 MICF and 2008 Sydney Comedy Festival's award for Best Local Show) and also a duo-show LAWRENCE LEUNG & ANDREW McCLELLAND'S SOMEWHAT SECRET SECRET SOCIETY SHOW. He has directed two comedy shows COURTENEY HOCKING'S FOOLISH IDEAS AND CRACKPOT INVENTIONS SHOW and ANDREW McCLELLAND'S SOMEWHAT ACCURATE HISTORY OF PIRATES (Comics' Choice "Piece-of-Wood" Award, Melb Comedy Festival 2004). His 2009 double act show with Andrew McClelland, TIME NINJAS won the Jury Prize at the Sydney Comedy Festival

He has toured his own shows at the Melbourne Comedy Festival, Melbourne Fringe, Edinburgh Fringe, Dublin Fringe, Adelaide Fringe, Adelaide Cabaret Festival, New Zealand Comedy Festival, Perth International Arts Festival, London's Soho Theatre and two seasons at the Sydney Opera House.

He made a fun 6 part documentary/adventure series called LAWRENCE LEUNG'S CHOOSE YOUR OWN ADVENTURE that appeared on ABC1 in March/April and ABC2 in November 2009. The series is nominated for an AFI Award for Best TV Comedy Series. www.abc.net.au/lawrence

Lawrence won the GQ Australia Man Of The Year award for 2009 Best Comedic Talent. He is also adept at Poker cheating sleight-of-hand, did a bit of ghosthunting in Scotland and can solve any Rubik's Cube in under a minute.

If you want to contact Lawrence for a gig speak to his manager. He's a nice guy:

Geoff Ring

Australian Comedy Management

geoff@comedymanagement.com.au
Status:

Single

Orientation:

Straight

Height:

0' 1"

Zodiac Sign:

Virgo