No recent updates in this category.
Why not...
Casper & Runyon's Nook hasn't earned any badges yet... have you?
Play

Play Next

Add to queue

Play

Play Next

Add to queue

Play

Play Next

Add to queue

Play

Play Next

Add to queue

Play

Play Next

Add to queue
About me:
---
Casper & Runyon's Nook in St. Paul is going national. The neighborhood restaurant on Hamline Avenue, known for its Juicy Lucy burger, will be featured on the Food Network's "Diners, Drive-Ins and Dives" show Jan. 21.
-Nancy Ngo (Pioneer Press)

---
The sign hanging outside this quaint St. Paul hangout reads "Casper & Runyon's Nook: A Small Place with Big Burgers." Certainly, the burgers are what bring in the business—the place is regularly noted as one of the best burger joints in the Twin Cities—but Casper & Runyon's is also a great place to grab a drink and catch the big game. Sports memorabilia lines the walls, there are nightly happy hour specials, and plenty of TVs put you in the mood to cheer on your favorite team.
---
Dining Out:
Can't make it to the big game? All that cheering leave you parched? Tucked across from pro sports factory Cretin–Derham Hall High School (Joe Mauer, Chris Wienke, et al.), Casper & Runyon's Nook (492 Hamline Ave. S., St. Paul, 651-698-4347) has walls full of memorabilia from past and present Cretin players and plenty of TVs for watching the big game while chowing down on the best burger-and-fries basket in town.
---
Tucked away on this quiet residential street is this little slip of a bar serving the best fries in town, a great burger, and what may be the definitive Jucy Lucy.
---
  Looks like Casper's & Runyon's Nook in St. Paul got the word out to their regulars to weigh in on our Juicy Lucy survey. Last week, we listed our five favorite places to get the burger with scalding cheese in the middle and asked readers to go to twincities.com to vote for their top spot. As of Wednesday morning, 4,387 people responded. Here are the results:
Casper's & Runyon's Nook (St. Paul) 1,467 votes (33 percent)
Matt's Bar (Minneapolis) 1,229 votes (28 percent)
Groveland Tap (St. Paul) 811 votes (18 percent)
5-8 Club (Minneapolis and St. Paul) 730 votes (17 percent)
Bennett's (St. Paul) 150 votes (3 percent)
-Pioneer Press - Thu, Mar. 08, 2007

---
  As long as we're on the subject of the Xcel Center and food, we'll bring you these fellows.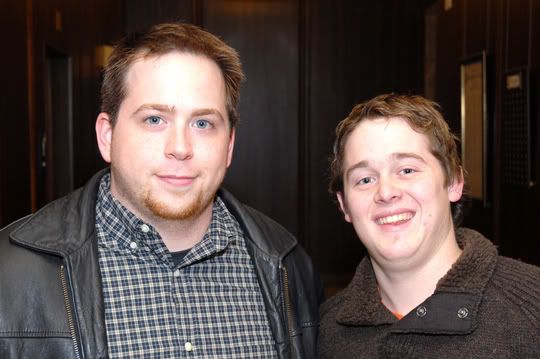 On the left is Ted Casper, at right is Mike Runyon. Casper's dad was formerly the owner of the Cherokee Sirloin Room and the Ciatti's in Woodbury.
  Ted and Mike are better known as the proprietors of Casper's and Runyon's Nook, the famed hamburger joint at Hamline and Randolph -- no less than Barbara Streisand plugged the place from the stage of the below mentioned Xcel Energy Center, citing a burger there as her dinner.
  "We think she was a take-out order," said Casper, who doesn't recall seeing the diva in his St. Paul bar, but won't rule it out, either.
  Anyway, they closed on Shamrock's last Wednesday and just went before the City Council this afternoon for a quick transfer of the liquor license. It'll soon be known as "Shamrocks: The Irish Nook."
  The bar at 995 W. 7th St. was formerly owned by Pat Fleury, the leader of the city's tavern league and an organizer of the unsuccessful campaign to turn back the city's smoking ban. It's been closed for months.
  "We kind of want to do the same thing there as we did with the Nook," said Runyon, as he was waiting for the City Council meeting to start up.
  They're doing some work on the place and hope to have it up and running by the end of January.
-Pioneer Press
---
  "...I guess that is how Barbra Streisand easily pulled those Twin City references (Mall of America, Casper & Runyon's Nook, Leeann Chin, Grand Ol' Creamery) that she worked into her opening at the Xcel Energy Center."
-Pioneer Press
---
"Casper and Runyon's Nook
  Two kids with local restaurant pedigrees took a St. Paul dive, cleaned it up just enough to make it palatable, and created the ultimate hole in the wall for burgers. A great bakery bun, the best fresh-cut fries we tried, and a real beefy taste make this very good burger a top ten. The Nookie is probably the area's best Juicy Lucy as well. Goes to show what you can do if you care. These guys are the real deal. 492 Hamline Ave. S., St. Paul, 651-698-4347"
-Mpls St. Paul Magazine
---

.. ..

..
Who I'd like to meet:
..
Status:

Single

Here for:

Networking, Friends

Hometown:

St. Paul, MN

Zodiac Sign:

Virgo