Play

Play Next

Add to queue
Play

Play Next

Add to queue

41,144 plays

Play

Play Next

Add to queue

23,046 plays

Play

Play Next

Add to queue

31,894 plays

Play

Play Next

Add to queue

24,161 plays
Genre: Pop

Location FR

Profile Views: 172763

Last Login: 6/15/2010

Member Since 6/24/2006

Record Label RCA - Victor

Type of Label Major

Bio

Sylvie Vartan is NOT managing this MySpace and DOESN'T read or answer personal messages. Thank you for your understanding. .............................. ...... ...... Sylvie Vartan est née le 15 août 1944 à Iskretz, en Bulgarie. En décembre 1952, sa famille, fuyant le régime communiste, s'installe à Paris. Encouragée par son frère, le producteur et compositeur Eddie Vartan, Sylvie sort son premier 45T en 1961. Son premier grand succès sera "Tous mes Copains" fin 1962, composé par son ami Jean-Jacques Debout. Mais c'est le rocker Johnny Hallyday qu'elle épousera le 12 avril 1965, après être devenue "la reine des yéyé", grâce à une longue liste de succès, dont le fameux "La plus belle pour aller danser" (1964), composé par Charles Aznavour. En février 1964, Sylvie partage l'affiche de l'Olympia avec les Beatles. ...... Les années soixante représentent aussi une jolie carrière internationale pour Sylvie Vartan, qui enregistre des disques en anglais, allemand, italien, espagnol, japonais, néerlandais... Elle enregistre également des titres très rock, comme "N'oublie pas qu'il est à moi" (1964) ou "C'est un jour à rester couché" (1969), ou aux échos psychédéliques, comme "Irrésistiblement" (1968), ainsi que de nombreuses ballades pop-rock très tendres, parfois moins connues, comme "Quant un amour renaît" (1966) ou "Nuit de neige" (1967). Jusqu'à la fin des années septante, sa carrière est davantage axée sur le music-hall et la disco, tandis qu'intervient la séparation avec Johnny. Leur fils, David Hallyday, né en 1966, fera également une jolie carrière comme chanteur pop-rock dès les années nonante. ...... En 2004, Sylvie Vartan, remariée à l'Américain Tony Scotti, sortait son autobiographie intitulée "Entre l'ombre et la lumière". Au-delà de ses qualités artistiques, Sylvie Vartan se démarque aussi particulièrement par sa chaleur humaine, sa gentillesse et sa droiture. ...... Keep calm John, think of Cynthia !!! ...... Don't worry Paul, she won't damage your bass... .. .. .. .. .. Avec Paul Anka à la TV américaine (1964) .. .. .. .. .. Cette lettre-là (1965) 2'35 de Bonheur (1967) .. .. .. .. .. Un beau mois d'été (1967) .. .. .. .. .. Comme un garçon (1968 show) Star en Italie - Festa negli occhi (1969) Avec Jane Birkin et Serge Gainsbourg (1972) .......... .. .. .. .. .. Qu'est-ce qui fait pleurer les blondes ? (1976)

Members

...... ......

Influences

...... Avec son amie Chantal Goya dans un show en 1973. .. .. .. .. .. La plus belle pour aller danser (1964) .. .. .. .. .. Sylvie + Petula + Françoise - medley (1964) Et pourtant je reste là (1965) Quand tu es là (1965) ...... .. .. .. .. Sylvie : Star in Japan (1965) .. .. .. .. .. Garde-moi dans ta poche (18 février 1967) .. .. .. .. .. Par amour, par pitié (22 février 1967) Deux mains (1967) .......... .. .. .. .. .... Sylvie Vartan sings for German TV (1970) Italian TV Show (1975) .......... .. .. .. .. .. "Sylvie 1980" show

Sounds Like

Françoise Hardy, France Gall, Chantal Goya, Annie Philippe, Pussy Cat
No recent updates in this category.
Why not...
Bio:
Sylvie Vartan is NOT managing this MySpace and DOESN'T read or answer personal messages. Thank you for your understanding. .............................. ..
Sylvie Vartan est née le 15 août 1944 à Iskretz, en Bulgarie. En décembre 1952, sa famille, fuyant le régime communiste, s'installe à Paris. Encouragée par son frère, le producteur et compositeur Eddie Vartan, Sylvie sort son premier 45T en 1961. Son premier grand succès sera "Tous mes Copains" fin 1962, composé par son ami Jean-Jacques Debout. Mais c'est le rocker Johnny Hallyday qu'elle épousera le 12 avril 1965, après être devenue "la reine des yéyé", grâce à une longue liste de succès, dont le fameux "La plus belle pour aller danser" (1964), composé par Charles Aznavour. En février 1964, Sylvie partage l'affiche de l'Olympia avec les Beatles.

Les années soixante représentent aussi une jolie carrière internationale pour Sylvie Vartan, qui enregistre des disques en anglais, allemand, italien, espagnol, japonais, néerlandais... Elle enregistre également des titres très rock, comme "N'oublie pas qu'il est à moi" (1964) ou "C'est un jour à rester couché" (1969), ou aux échos psychédéliques, comme "Irrésistiblement" (1968), ainsi que de nombreuses ballades pop-rock très tendres, parfois moins connues, comme "Quant un amour renaît" (1966) ou "Nuit de neige" (1967). Jusqu'à la fin des années septante, sa carrière est davantage axée sur le music-hall et la disco, tandis qu'intervient la séparation avec Johnny. Leur fils, David Hallyday, né en 1966, fera également une jolie carrière comme chanteur pop-rock dès les années nonante.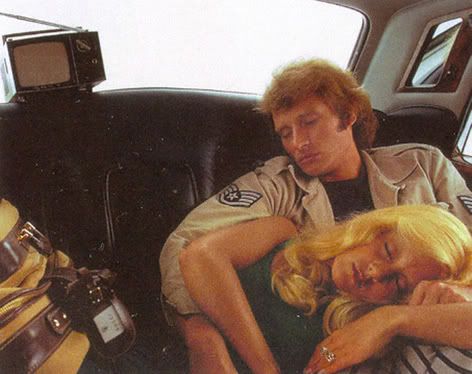 En 2004, Sylvie Vartan, remariée à l'Américain Tony Scotti, sortait son autobiographie intitulée "Entre l'ombre et la lumière". Au-delà de ses qualités artistiques, Sylvie Vartan se démarque aussi particulièrement par sa chaleur humaine, sa gentillesse et sa droiture.
Keep calm John, think of Cynthia !!!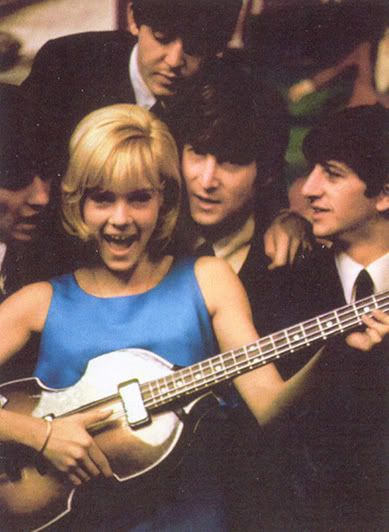 Don't worry Paul, she won't damage your bass... Avec Paul Anka à la TV américaine (1964) Cette lettre-là (1965) 2'35 de Bonheur (1967) Un beau mois d'été (1967) Comme un garçon (1968 show) Star en Italie - Festa negli occhi (1969) Avec Jane Birkin et Serge Gainsbourg (1972) .... Qu'est-ce qui fait pleurer les blondes ? (1976)
Member Since:
June 24, 2006
Influences:
Avec son amie Chantal Goya dans un show en 1973. La plus belle pour aller danser (1964) Sylvie + Petula + Françoise - medley (1964) Et pourtant je reste là (1965) Quand tu es là (1965) .. Sylvie : Star in Japan (1965) Garde-moi dans ta poche (18 février 1967) Par amour, par pitié (22 février 1967) Deux mains (1967) ...... Sylvie Vartan sings for German TV (1970) Italian TV Show (1975) .... "Sylvie 1980" show
Sounds Like:
Françoise Hardy, France Gall, Chantal Goya, Annie Philippe, Pussy Cat
Record Label:
RCA - Victor
Sylvie Vartan - sixties club has 6597 friends.