No recent updates in this category.
Why not...
Orlando Weekly hasn't earned any badges yet... have you?
General

Anything Central Florida. If its a bar, club, restaurant, movie, play, or local event - I'm there! I love me some O-town. ..

Music

Movies

Television

Books

All the books I'm reading have their own section. Wait for it ... BOOKS. ..

Heroes

Gandhi, Mother Theresa, and Billy Manes. ..
Play

Play Next

Add to queue

Play

Play Next

Add to queue

Play

Play Next

Add to queue

Play

Play Next

Add to queue

Play

Play Next

Add to queue
About me: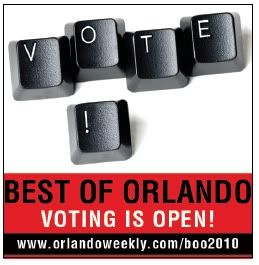 Born and raised in Orlando - you won't find a bigger champion for the City Beautiful. I know that traffic is a bitch and rent is high, but Orlando has a lot to offer too! Take a peek in my pages and you can find a ton of hip clubs, bars, restaurants, and boutiques - spread all over this fine metro. .. And where can you find me?? At over 1300 locations, including Barnes and Noble, Einstein Bagels, Borders, Sam Ash, Regal Cinemas, Blockbuster, and a ton of Downtown locales! So pick me up - you know you want to. Before you comment or email us, please know that the people who handle this My Space page are not the same people who can "review your band" or "write a review on your movie" or "come out to your event". If you want your event listed in Orlando Weekly, please send an email to: our calendar editor at listings@orlandoweekly.com. Please check the website for contacts for other issues before commenting here. Thank you. ALSO...if you comment with a picture or flyer that is too big for the page and forces readers to scroll over, I'm sorry, but it will not be accepted. All you have to do is resize it to be a bit smaller, and we'll be more than happy to put it up here for you! Thanks for understanding!
..
I created my own profile using
nUCLEArcENTURy.COM
and you should too!
Who I'd like to meet:
Any and all cool Orlandoans, the double-jointed, local musicians, and Kathy Griffin. ..
Status:

Single

Here for:

Networking, Friends

Hometown:

Orlando

Body type:

More to love!

Zodiac Sign:

Aries

Drink:

Yes