Play

Play Next

Add to queue
Genre: Funk / Jazz / Showtunes

Location STATEN ISLAND, New York, US

Profile Views: 43517

Last Login: 7/3/2012

Member Since 7/7/2006

Website www.GaltMacDermot.com

Record Label Kilmarnock Records

Type of Label Indie

Bio

.. ...... .. .. ........ .. .. .. .. Galt MacDermot (born December 18, 1928 in Montreal, Quebec) is a Canadian pianist, composer and writer of musical theatre. Educated at Upper Canada College and Bishop's University (Sherbrooke, QC) he was trained in music in South Africa and made a study of African music his specialty, although he is best known as co-author of the groundbreaking 1960s rock musical Hair, which ran for nearly 2000 performances in both London and New York, won a Grammy Award in 1969, and was made into a film in 1979. .. MacDermot is also popular amongst collectors of jazz, funk and film soundtracks, for the scores he created to minor productions such as Woman is Sweeter and Rhinoceros. Working with high-calibre jazz musicians such as Bernard Purdie, Jimmy Lewis and Idris Muhammad, Macdermot created tight, rhythmical soundtrack pieces which effectively prefigured the funk material of James Brown. Consequently, MacDermot's work from this period has been sampled by hip-hop musicians including Busta Rhymes (who borrowed "Space" for "Woo hah! Got you all in check!") and Handsome Boy Modelling School (who sampled "Coffee Cold"). Also, on August 8th, 2006, Oh No released an album made entirely of Galt MacDermot samples on Stones Throw Records entitled Exodus into Unheard Rhythms. .. .. Click here to read more... .. .. ...... .. .. EAR OF THE HEART: the music of Galt MacDermot .. April 25th, 2010 - 6pm - Joe's Public Theatre .. 425 LAFAYETTE STREET, NEW YORK, NY 10003 .. .. For tickets click here>>> .. .. Ear Of The Heart: the music of Galt MacDermot is a feature-length documentary currently in post production about the iconic and prolific composer of the musical Hair, Galt MacDermot. Beloved by Broadway and Hip-Hop fans alike, this film follows Galt's music career and reveals the depth and spirituality of his unforgettable body of work. .. Join Galt MacDermot along with HAIR tribe members and special guests who will perform from his extensive repertoire. Selected scenes from the documentary will be screened. Proceeds from the benefit will be used to finish this film and help to assure that Galt's music will be around for generations to come. .. .. .. .. .. .. .. .. .. .. .. .. .. .. .. .. .. .. .. .. .. .. .. .. .. .. .. .. ..

Members

Influences

.. .. .. ...... .. .. .. To go to the ..Kilmarock MP3 Music.. Store....... ..To order music by Telephone:.. Please Call..1-800-497-1691... .. .. .. Galt MacDermot - Live at the St. George Theater - 2005 .. .. .... .. .. .. Galt MacDermot - Haircuts .. .. .. ...... .. .. .. Galt MacDermot - First Natural Hair Band .. .. .. ...... .. .. .. Galt MacDermot - Up From The Basement .. .. .. ...... .. .. .. .. .. .. .. .. .. .. .. .. .. .. .. .. .. .. .. .. .. .. .. .. .. .. .. .. .. .. ..

Sounds Like
No recent updates in this category.
Why not...
00:43 | 729 plays | Oct 21 2007
Bio: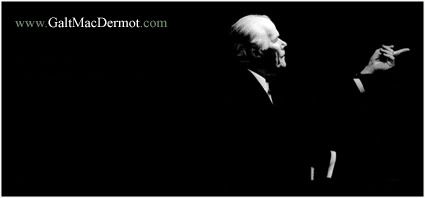 ..
Galt MacDermot (born December 18, 1928 in Montreal, Quebec) is a Canadian pianist, composer and writer of musical theatre. Educated at Upper Canada College and Bishop's University (Sherbrooke, QC) he was trained in music in South Africa and made a study of African music his specialty, although he is best known as co-author of the groundbreaking 1960s rock musical Hair, which ran for nearly 2000 performances in both London and New York, won a Grammy Award in 1969, and was made into a film in 1979.
MacDermot is also popular amongst collectors of jazz, funk and film soundtracks, for the scores he created to minor productions such as Woman is Sweeter and Rhinoceros. Working with high-calibre jazz musicians such as Bernard Purdie, Jimmy Lewis and Idris Muhammad, Macdermot created tight, rhythmical soundtrack pieces which effectively prefigured the funk material of James Brown. Consequently, MacDermot's work from this period has been sampled by hip-hop musicians including Busta Rhymes (who borrowed "Space" for "Woo hah! Got you all in check!") and Handsome Boy Modelling School (who sampled "Coffee Cold"). Also, on August 8th, 2006, Oh No released an album made entirely of Galt MacDermot samples on Stones Throw Records entitled Exodus into Unheard Rhythms.
EAR OF THE HEART: the music of Galt MacDermot
April 25th, 2010 - 6pm - Joe's Public Theatre
425 LAFAYETTE STREET, NEW YORK, NY 10003
Ear Of The Heart: the music of Galt MacDermot is a feature-length documentary currently in post production about the iconic and prolific composer of the musical Hair, Galt MacDermot. Beloved by Broadway and Hip-Hop fans alike, this film follows Galt's music career and reveals the depth and spirituality of his unforgettable body of work.
Join Galt MacDermot along with HAIR tribe members and special guests who will perform from his extensive repertoire. Selected scenes from the documentary will be screened. Proceeds from the benefit will be used to finish this film and help to assure that Galt's music will be around for generations to come.
Member Since:
July 07, 2006
Influences:
To go to the Kilmarock MP3 Music Store.
To order music by Telephone:
Please Call1-800-497-1691.
Galt MacDermot - Live at the St. George Theater - 2005
Galt MacDermot - Haircuts
Galt MacDermot - First Natural Hair Band
Galt MacDermot - Up From The Basement
Record Label:
Kilmarnock Records