No recent updates in this category.
Why not...
Play

Play Next

Add to queue
About me:
.. I appreciate the simple things in life, it may be cliche but the absolute best things in life really are free ! I think its important to take time to have fun,be silly, LAUGH ! and try not to take life too seriously! I value my family and my friends above everything else, having people who I can love, who love me back and accept me just as I am is what matters most in life ! ..
Who I'd like to meet:
HONEST people !.......People who love life and can appreciate what the world has to offer.Positive thinkers and people who take care of themselves, both spiritually and physically.
~~~~~~~~~~~A soulmate is someone who has locks that fit our keys, and keys to fit our locks. When we feel safe enough to open the locks, our truest selves step out and we can be completely and honestly who we are; we can be loved for who we are and not for who we're pretending to be. Each unveils the best part of the other. No matter what else goes wrong around us, with that one person we're safe in our own paradise. Our soulmate is someone who shares our deepest longings, our sense of direction. When we're two balloons, and together our direction is up, chances are we've found the right person. Our soulmate is the one who makes life come to life.
Your Love Element Is Fire
In love, you are a true listener and totally present.
For you, love is all about feeling more alive than you've ever felt.

You attract others with your joy and passion.
Your flirting style is defined by your strong ability to communicate.

Fun and play are the cornerstones of your love life.
And while your flame may burn too brightly, it's part of your appeal.

You connect best with: Wood

Avoid: Water

You and another Fire element: will likely burn out quickly
Your Brain's Pattern
You have a dreamy mind, full of fancy and fantasy.
You have the ability to stay forever entertained with your thoughts.
People may say you're hard to read, but that's because you're so internally focused.
But when you do share what you're thinking, people are impressed with your imagination.
You Are a Dreaming Soul
Your vivid emotions and imagination takes you away from this world
So much so that you tend to live in your head most of the time
You have great dreams and ambitions that could be the envy of all...
But for you, following through with your dreams is a bit difficult

You are charming, endearing, and people tend to love you.
Forgiving and tolerant, you see the world through rose colored glasses.
Underneath it all, you have a ton of passion that you hide from others.
Always hopeful, you tend to expect positive outcomes in your life.

Souls you are most compatible with: Newborn Soul, Prophet Soul, and Traveler Soul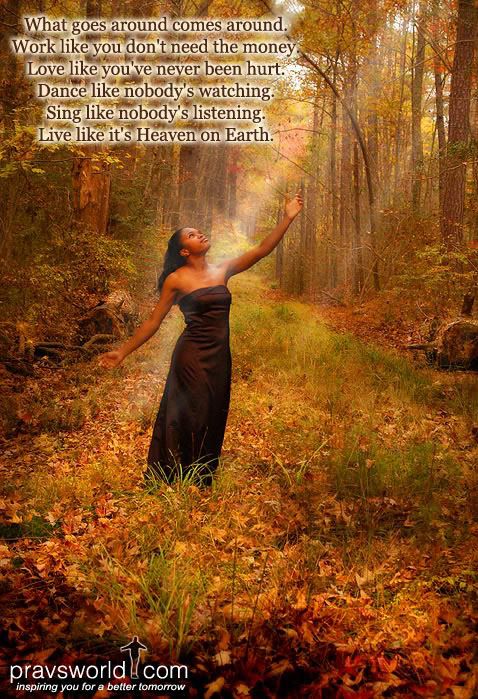 Status:

Single

Here for:

Networking, Friends

Orientation:

Straight

Body type:

5' 5" / Slim / Slender

Ethnicity:

White / Caucasian

Religion:

Catholic

Zodiac Sign:

Capricorn

Children:

Proud parent

Smoke / Drink:

No / No

Education:

Some college

Occupation:

Real Estate Agent
General

I love to rollerblade and do so nearly everyday when weather permits, in the winter I ice skate indoors or out if its cold enough, I like to bike along the area bike trails, I go to the beach in the summertime though not as often as I wish I could.I occasionally like to go out dancing,I enjoy hiking and I'd love to travel someday.

Music

Movies

The Prophecy

,

The Lord of the Rings

,

Harry Potter

,

The Matrix

,

The Matrix Reloaded

,

The Ninth Gate

,

Interview with a Vampire

,

Dracula 2000

, The Lake House....

What Type of Soul Do You Have ?




You're just the happy go-lucky type. You might have your pet peeves,

but other than that

,

you're mainly calm. Blending in with your surroundings

, you're the type of person who everyone likes. Usually it's you who cracks jokes at social gatherings - after all,

laughter is the best medicine. Sometimes you pretend to be stupid

,

but in all actuality

,

you could be the next Einstein.
Take this 0

, 128)" href="http://www.msplinks.com/MDFodHRwOi8vd3d3Lm15c3BhY2UuY29t">quiz!

0, 128);" target="_blank" href="http://www.msplinks.com/MDFodHRwOi8vd3d3Lm15c3BhY2UuY29t">Quizilla | 0, 128);" target="_blank" href="http://www.msplinks.com/MDFodHRwOi8vd3d3Lm15c3BhY2UuY29t">Join | 0, 128);" target="_blank" href="http://www.msplinks.com/MDFodHRwOi8vd3d3Lm15c3BhY2UuY29t">Make A Quiz | More Quizzes | 0, 128);" target="_blank" href="http://www.msplinks.com/MDFodHRwOi8vd3d3Lm15c3BhY2UuY29t">Grab Code

..

Television

Television? Whats that? lol

Times New Roman, Times, serif';color:inherit;"> Your Power Color Is Gold

At Your Highest:

You are engrossed in passions that mentally stimulate you.

At Your Lowest:

You seek thrills and neglect what's important in your life.

In Love:

You see dating as adventure and approach it with an open attitude.

How You're Attractive:

You passion for life makes others passionate about you.

Your Eternal Question:

"Am I Having Fun?"

Books

Anne Rice or Steven King, and Koontz, The Secret and The Master Key System

Heroes

..

The beauty of a woman is not in the clothes she wears, the figure that she carries, or the way she combs her hair. The beauty of a woman must be seen in her eyes, because that is the doorway to her heart, the place where love resides. The beauty of a woman is not in a facial mole, but true beauty in a woman is reflected in her soul." - Audrey Hepburn
Rio Vista High

Rio Vista, CA

Graduated:

1984

Student status:

Alumni

1980 to 1983