No recent updates in this category.
Why not...
Dmitry hasn't earned any badges yet... have you?
Books

Dmitry has decided to write a monthly

blog

on the Atp website

Last Entry: 2006 Davis Cup Final: Doubles (Saturday)

Do you have some burning questions to ask Dmitry?

Type away

Here

. .. ..

Media

Ranking

Ranking Watch:
Week of Jan. 29, 2007: #20(+1)

Current Tournament

Australian Open Singles:

.. Seeded #21

Dmitry is in Nikolay Davydenko(3) and David Nalbandian(8)'s quarter of the draw. With a possible match-up against Tomas Berdych(13) in R3 (1-1

H2H

) and Nikolay Davydenko(3) in R16 (0-3

H2H

)

R128:

Dmitry Tursunov vs. Alexander Waske

H2H:

Dima leads 1-0 in their match-up. Winning in Romania (2006) with a score of 1-6 7-6(4) 6-4 over Waske. 1R match takes place on Tuesday, January 16 on Court 7 at approximately 4:30 pm local time.

Tursunov def. Waske 5-7 6-4 6-3 6-4 R64:

Dmitry plays Max Mirnyi of Blarus.

H2H:

Miryni has a 1-0 record over Dmitry. They lastp layed in St. Petersburg Russia in 2006, Mirnyi winning in 3 sets with a score of 4-6 6-3 6-4.

Dima def. Miryni 6-2 6-3 7-6(4). R32:

Dima faces Tomas Berdych (CZE)(13) next.

H2H:

They are tied 1-1 in their series. Dmitry took the most recent win over Berdych in the Finals of the Mumbai Tournament with a score of 6-3 4-6 7-6(5). They will be playing on Saturday.

Dmitry's run for the Australian open trophy ended on Saturday with a 6-2 6-1 6-1 loss to Tomas Berdych. Schedule of Play

Status

In a Relationship: Dima has new girlfriend Svetlana Humpolotova (RUS). They were last seen at the '07 Australian Open. She was filming Dima while he was petting Koalas. This may have been false or a mix up by the Media
About me:
.. Hello this is a fan Myspace for
Dmitry Tursunov
. This is your site for the newest information and photos of Dima! Check back daily for updated scores, photos, media and interviews. Your welcome to send photos and other unposted information about Dmitry, or maybe a photo of you and the man himself!
NOTE:
This is not the real Dmitry Tursunov
Join the new myspace Group for Dima fans!
---
INJURY:
INJURY:
Dmitry has torn a Tendon in his Left wrist. It is not completely torn but it can lead up to this by excessive play
ARTICLE:
Not clowning around: Tursunov has torn tendon
By Matthew Cronin,
www.tennisreporters.net
FROM THE AUSTRALIAN OPEN – Dmitry Tursunov may come off as goofy and easy going, but he doesn't treat his body that way. The infamous ATP blogger and 21st seed has a torn tendon in his left wrist and may not be able to last in his third-round match against No. 13 Tomas Berdych on Saturday. In fact, a doctor has told him that he might only be good for three to four matches during the tournament before he risks excessive damage. Why he's even competing when the whole year is in front of him is a very good question.
"I was thinking of pulling out of this one and I'm not really hoping for anything," Tursunov told
TennisReporters.net
. "I feel the pain in my backhand. The doctor says I can't rip it, but it's getting damaged slowly. But if I feel too much pain, I'll stop. If I reach the quarters, then I'll start worrying. I'm going to go out and do my best but there is little I can do."
Amongst the Top 25, Tursunov and Nikolay Davydenko played the two heaviest schedules of any player last year, competing in 32 tournaments and contesting Davis Cup ties, including the final, which was held at the beginning of December. Guess what Tursunov did after that.
"I got a little bit greedy," he said.
Greedy meant playing a Europe vs. Argentina exhibition in South America. So much for an off-season. "They wanted Davydenko, but he pulled out and they couldn't get Safin because he's in higher money range, so I went."
ONLY TWO WEEKS OFF
The 24-year-olds' off-season consisted of two weeks off, lying around on Mauritius Island (near Madagascar). He didn't want to go back to Russia again and wanted to get acclimatized to Australian/Asian weather before heading Down Under. He was hoping to bring his trainer to the island, but he ended up not being able to go. The trip was somewhat relaxing, but not exactly mentally refreshing.
"The season was coming so even though you are resting you really can't, because the tournament is creeping in mentally. But there was nothing on Mauritius, mostly old couples, and I did literally nothing but lay under a palm tree and ate coconuts. Somehow I managed to relax a little, but not the best way, because the amount of time off wasn't much. This season is just a continuation of 2006."
The good-natured and hilarious man usually knows how to have fun, but missed out on traditional celebrations in December.
"I spent my birthday [December 12] in a transit hotel in Johannesburg and Christmas I spent on a plane [going to the Hopman Cup]."
Tursunov is promising not to grind so much in 2007 and his bum wrist may not allow him to. It's very hard to hit a two-handed backhand properly when your wrist aches, so he said that he will be cautious in Melbourne because he doesn't want to ruin his whole season.
"This year I'll try to play a little less because for me it's not the quantity but quality of matches. I'd rather do well at a few tournaments than just do okay at all of them. It makes sense for me ranking wise. If I'm not 100 percent mentally then that's not going to happen. I need to take some breaks. I have to concentrate on Grand Slams and Masters Series."
©
TennisReporters.net
2007
---
This Week in Photos:
2007 Australian Open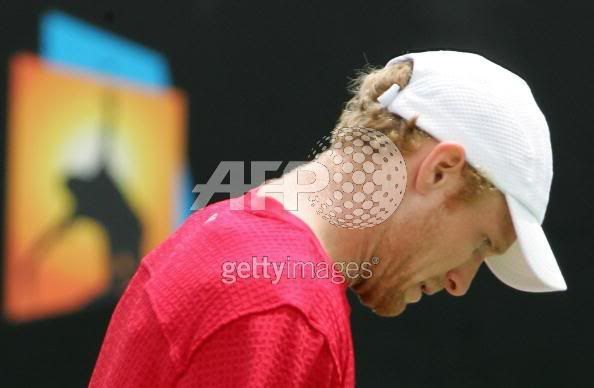 Above:
On the left of Dima is his new Girlfriend, Svetlana Humpolotova of Russia.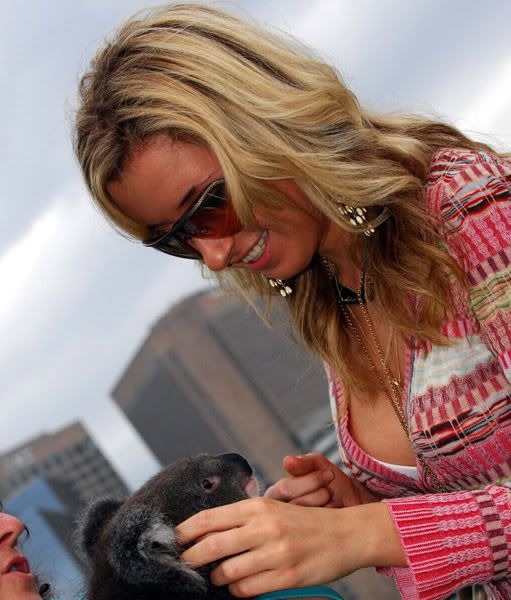 Above:
Svetlana Humpolotova, Dmitry's new girlfriend.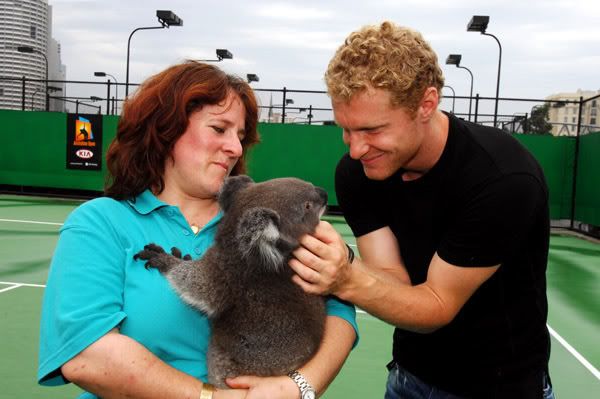 ......
Status:

In a Relationship

Here for:

Friends

Hometown:

Moscow, Russia

Orientation:

Straight

Body type:

6' 1" / Athletic

Ethnicity:

Other

Zodiac Sign:

Sagittarius