Play

Play Next

Add to queue
Genre: Electronica / Experimental / Soul

Location intergalactic, US

Profile Views: 115921

Last Login: 11/22/2010

Member Since 8/1/2006

Website www.Shocklee.com

Record Label Shocklee Innertainment

Type of Label Major

Bio

........You have been marked on my profile map! Click to zoom-in....... .. .. .. .. .. .. .... .. .. .. ......3/19.. from ..SHOCKLEE.. on ..Vimeo... .. .. .. .. .. THURS MARCH 19 .. BOMB SQUAD .. LIVE IN SESSION .. @ WEBSTER HALL .... .. .. .. .. .. .. .. .. .. ......BOMB SQUAD.. from ..SHOCKLEE.. on ..Vimeo... .. .. .. .. ...... .. .. .. .. .. .. ......BSQ MIX 001.. from ..SHOCKLEE.. on ..Vimeo... .. .. ...... .. .. .. .. .. .. ......BSQ MIX 002.. from ..SHOCKLEE.. on ..Vimeo... .. .. .. .... .. .. .. .. .. .. ......BSQ MIX 003.. from ..SHOCKLEE.. on ..Vimeo... .. .. .. .. .. .. .. .. .. .. .. .. .. .. .. .. .. .. .. .. .. .. .. .. .... .. .. .. .. ......FRI DEC 12 .. BOMB SQUAD .. @ KNITTING FACTORY, NYC.... .. .. .. .. .. ......EXCLUSIVE BOMB SQUAD MIX .. & HANK SHOCKLEE INTERVIEW .. @ DAZED DIGITAL ...... .. .. .. .. .. ...... BOMB SQUAD FEATURED ON .. RED BULL MUSIC ACADEMY RADIO .. ...... .. .. .. ......BOMB SQUAD .. @ PITCHFORK MUSIC FESTIVAL .. FRIDAY JULY 18.... .... .... .. .. .. .. ......MONDAY JULY 14 .. .... .. .. .. .. ......REMIX HOTEL NYC ....3 Days of Audio Technology.. ....JUNE 27-29.... ........ .. .. .. .. ......BOMB SQUAD @ LOW END THEORY.. ..On Saturday June 7th, Low End Theory commences for the fourth time in New York City. We are very proud to present a very special engagement starring NYC's very own Bomb Squad, featuring legendary producers Hank Shocklee and Keith Shocklee. Opening sets by L.A. laptop legend Nosaj Thing and brand new East-West superduo What's The Science? (featuring Carlos Nino and Lil Sci). Plus residents Gaslamp Killer, Nocando and Eliot Lipp. Low End Theory NYC is co-presented by Konkrete Jungle and the Knitting Factory. Do not miss this essential showcase:............BOMB SQUAD......[Shocklee Innertainment]....The Bomb Squad is one of classic hip-hop's most influential production teams, noted for their dense, distinct, innovative production style, often utilizing dozens of samples on just one track. They are also known for their ability to incorporate harsh, unmelodic sounds and samples into their songs, generally enhancing them. They produced classic albums for Public Enemy, Ice Cube, 3rd Bass, Leaders of the New School, RUN-DMC and many more. Now, for the second time in history, they'll be performing a live set in their home town of NYC.......http://www.myspace.com/originalbombsquad........Low End Theory goes down every 1st Saturday..@ Knitting Factory, 74 Leonard Street, New York, NY 10013..All Ages | $10 Presale, $12 Door | 11:30PM-3:30AM....The illest resident DJ lineup to hit NYC in years, rocking one of the most classic venues in the Big Apple. Over 30,000 watts of amplification flowing through Meyer Sound cabinets that will take your breath away. Come hear the music as it was meant to be heard.........http://www.myspace.com/lowendtheorynyc..............Want to repost our meticulously-crafted bulletin?..Our bulletin code can be easily grabbed from our website:......www.lowendtheoryclub.com/nyc.html.... .. .. .. .. .. .... .. .. .. .. ......DMZ Presents........BOMB SQUAD ..........SATURDAY MAY 24 ........@ 3rd Bass (Mass Complex) Brixton .. .. .. .. .. .. .. .. .. .. .. .. .. ......BOMB SQUAD ........[Frequency Terrorists]......Debut Performance.. Alongside the International Futuresound Soldiers.... @ Winter Music Conference .. ....Saturday March 29 .... Miami, Florida...... .. ...... .. .. ....DESTRUCTION.... .. Sat. March 29th .. 12pm - 6pm .. .. Special debut concert performance ..first time in their legendary 20+ year career! .. ....BOMB SQUAD.. .. [Hank Shocklee & Keith Shocklee; Frequency Terrorists] .. .. Alongside the bass scene's meanest bad men... .. ..MALA.. .. [Digital Mystikz, DMZ, Deep MeDi; UK] .. .. ..SKREAM.. .. [Tempa, Rinse FM; UK] .. .. ..JOE NICE.. .. [Dub War NYC, Gourmet Beats; B-More] .. .. ..SECKLE.. .. [Dubstep Forum, NYC] .. .. ..MOLDY.. .. [Heavy Pressure, 'Earwax, Deep MeDi Musik; Maine] .. .. ..THE PROFESSIONALS.. .. [Pure Filth Soundsystem; LA] .. .. ..SGT POKES.. .. [DMZ; UK] .. .. ..+Surprise Guests.. .. .. @ Sunburn Sessions -Poolside .. The Miami Beach Resort & Spa .. 4833 Collins Ave, Miami Beach, 33140 .. 12:00PM - 6:00PM .. FREE .. .. with Support From: .. ..shocklee.com.... ..www.myspace.com/originalbombsquad.... ..www.myspace.com/hankshocklee.... ..www.myspace.com/keithshockleemusic.... ..www.myspace.com/malamystikz.... ..www.myspace.com/skreamuk.... ..www.myspace.com/joenice.... ..www.myspace.com/deepmedi.... ..www.myspace.com/purefilthdubstep.... ..www.myspace.com/sgtpokes.... ..www.ashes57.com.... ..www.dubstepforum.com.... ..www.heavypressure.com.... ..www.Dubwarnyc.com.... ..www.Beyond.fm.... ..www.xlr8r.com.... ..www.subswara.com.... ..www.propellerheads-us.com.... ..www.subfm.com.... ..www.deadlydragonsound.com.... .. .. .. ........BRACE YOURSELF FOR THE RETURN OF NOISE.. ..............S H O C K T R O N I C A........ ........ .. ........The Audio Visual Experience ........From the brilliantly twisted minds that brought you the Apocalypse in 91 .. A completely new dimension in terror .. Prepare to go deep into the abyss of evil that has destroyed .. Our culture, our souls, and our god .. Prepare for .. .. ......SUBSONIC FREQUENCIES OF THE 4TH DIMENSION .......... ....Frequencies by........SHOCKTRONICA....... ....Executive Produced by Legendary Sound Sculptor......HANK SHOCKLEE....... ....Inspired by ......SHOCKFUTURE....... ....Conceptualized by ......HUMANKIND....... ......The Futuristic Science Fiction Fantasy Prequel.... ......SOON COMING. .... .... .. .. .. .. .. .... .. .. .. .... .. ................Get Your News_Music_Films_Media_Tech info @ .. SHOCKLEE.COM .. .. .. .. ................ SHOCKLEE.COM on MYSPACE! .. .. ........ .. .. .. .. ..

Members

Influences

Sounds Like
No recent updates in this category.
Why not...
Bio:
.. ..
3/19
from
SHOCKLEE
on
Vimeo
.
THURS MARCH 19
BOMB SQUAD
LIVE IN SESSION
@ WEBSTER HALL
..
BOMB SQUAD
from
SHOCKLEE
on
Vimeo
.
BSQ MIX 001
from
SHOCKLEE
on
Vimeo
.
BSQ MIX 002
from
SHOCKLEE
on
Vimeo
.
BSQ MIX 003
from
SHOCKLEE
on
Vimeo
.
FRI DEC 12
BOMB SQUAD
@ KNITTING FACTORY, NYC
..
EXCLUSIVE BOMB SQUAD MIX
& HANK SHOCKLEE INTERVIEW
@ DAZED DIGITAL

BOMB SQUAD @ LOW END THEORY
On Saturday June 7th, Low End Theory commences for the fourth time in New York City. We are very proud to present a very special engagement starring NYC's very own Bomb Squad, featuring legendary producers Hank Shocklee and Keith Shocklee. Opening sets by L.A. laptop legend Nosaj Thing and brand new East-West superduo What's The Science? (featuring Carlos Nino and Lil Sci). Plus residents Gaslamp Killer, Nocando and Eliot Lipp. Low End Theory NYC is co-presented by Konkrete Jungle and the Knitting Factory. Do not miss this essential showcase:
BOMB SQUAD
[Shocklee Innertainment]
The Bomb Squad is one of classic hip-hop's most influential production teams, noted for their dense, distinct, innovative production style, often utilizing dozens of samples on just one track. They are also known for their ability to incorporate harsh, unmelodic sounds and samples into their songs, generally enhancing them. They produced classic albums for Public Enemy, Ice Cube, 3rd Bass, Leaders of the New School, RUN-DMC and many more. Now, for the second time in history, they'll be performing a live set in their home town of NYC.
http://www.myspace.com/originalbombsquad
Low End Theory goes down every 1st Saturday
@ Knitting Factory, 74 Leonard Street, New York, NY 10013
All Ages | $10 Presale, $12 Door | 11:30PM-3:30AM
The illest resident DJ lineup to hit NYC in years, rocking one of the most classic venues in the Big Apple. Over 30,000 watts of amplification flowing through Meyer Sound cabinets that will take your breath away. Come hear the music as it was meant to be heard...
http://www.myspace.com/lowendtheorynyc


Want to repost our meticulously-crafted bulletin?
Our bulletin code can be easily grabbed from our website:
www.lowendtheoryclub.com/nyc.html
DMZ Presents


BOMB SQUAD


SATURDAY MAY 24


@ 3rd Bass (Mass Complex) Brixton

BOMB SQUAD


[Frequency Terrorists]


Debut Performance
Alongside the International Futuresound Soldiers
@ Winter Music Conference
Saturday March 29
Miami, Florida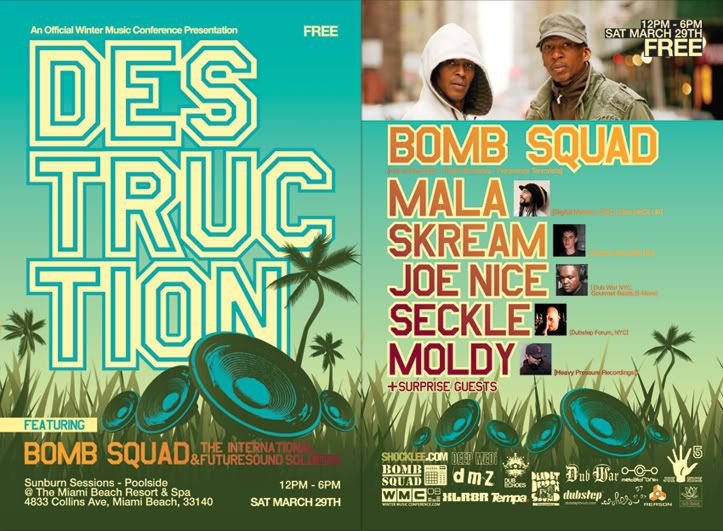 DESTRUCTION
Sat. March 29th
12pm - 6pm
Special debut concert performance
first time in their legendary 20+ year career!
BOMB SQUAD
[Hank Shocklee & Keith Shocklee; Frequency Terrorists]
Alongside the bass scene's meanest bad men...
MALA
[Digital Mystikz, DMZ, Deep MeDi; UK]
SKREAM
[Tempa, Rinse FM; UK]
JOE NICE
[Dub War NYC, Gourmet Beats; B-More]
SECKLE
[Dubstep Forum, NYC]
MOLDY
[Heavy Pressure, 'Earwax, Deep MeDi Musik; Maine]
THE PROFESSIONALS
[Pure Filth Soundsystem; LA]
SGT POKES
[DMZ; UK]
+Surprise Guests
@ Sunburn Sessions -Poolside
The Miami Beach Resort & Spa
4833 Collins Ave, Miami Beach, 33140
12:00PM - 6:00PM
FREE
with Support From:
shocklee.com
www.myspace.com/originalbombsquad
www.myspace.com/hankshocklee
www.myspace.com/keithshockleemusic
www.myspace.com/malamystikz
www.myspace.com/skreamuk
www.myspace.com/joenice
www.myspace.com/deepmedi
www.myspace.com/purefilthdubstep
www.myspace.com/sgtpokes
www.ashes57.com
www.dubstepforum.com
www.heavypressure.com
www.Dubwarnyc.com
www.Beyond.fm
www.xlr8r.com
www.subswara.com
www.propellerheads-us.com
www.subfm.com
www.deadlydragonsound.com
BRACE YOURSELF FOR THE RETURN OF NOISE
The Audio Visual Experience


From the brilliantly twisted minds that brought you the Apocalypse in 91
A completely new dimension in terror
Prepare to go deep into the abyss of evil that has destroyed
Our culture, our souls, and our god
Prepare for



SUBSONIC FREQUENCIES OF THE 4TH DIMENSION

..


Frequencies by
SHOCKTRONICA.




Executive Produced by Legendary Sound Sculptor
HANK SHOCKLEE.





Conceptualized by

HUMANKIND.




The Futuristic Science Fiction Fantasy Prequel

Member Since:
August 01, 2006
Record Label:
Shocklee Innertainment