No recent updates in this category.
Why not...
Space Pirate hasn't earned any badges yet... have you?
General

I love roller coasters, love um can't get enough! HEHEHE AND NO NOT in regards to relationships, those kinds arn't any fun at all ;) Camping, reading, movies, volunteering, hangin out with everybody, playing cards, having a laugh, surfing the channels, dreaming up ways to improve or at least odden things around me. OK so I'm thinking of moving to canada not soon but say in the next 5-10 years so post a comment let me know what you think about canada.....in case your not sure what they have to offer besides the arrogant worms here's a little vid to show a few of their best qualities...well here was a very brillant vid to about the scenery of canada and well it's sadly been deleted....so many vids going away.....LUCKILY THERE IS YOU TUBE :D .. width="425" height="350">......>

Music

Check out Omnia

, saw them whilst I traveld the Dutch wilds over easter break one year during peace corps. They had a great song whcih had us all chanting "whom do you serve? Saruman!" Another Great Band if you are up for comedy is the inceredible Arrogant Worms! A canadian Band that knows where it is they can't be beat with such classics as Jesus' brother bob and Malcom Solves his problems with a chain saw. :D :D And one of my favorites the gun song ;) Bob dylan always always the music to listen to, good for feeling good or just laying back and letting the sadness flow out. anothwre bomb shell is Julie London,

sweet sounding classic style. Not to be forgotten are Voltaire

,

Johhny Cash

,

Evenesence

,

The Rasmus

, and naturally musicals yes I admit I like um :) musicals good for any mood are Cabaret and Chicago.

Get this video and more at

MySpace.com

Movies

Man I love movies

, good movies bad movies movies that think they are bad and are good and vise versa latest favorie has got to be V for Vendetta. Now that was a great movie for so very many reasons. To add a couple more favorites Kevin Smith Smart and Crude can't be beated, Mel brooks the same :) a bit diffrent on the delivery but more alitke than diffrent I would say. Star Wars and Lord of the Rings,

many have criticisms

, and I'm not shy amoung them but over all for the spirit and joy of a movie they are amoung my favorites. Lets not forget some of the greats when acting singing and dancing were all required,

a favorite being Danny Kane

, sigh. and naturally Bing Crosby :) Wooo Hooo its October time for some classic movie monster fests,

Lon Chaney

,

Bela Lagosi and Boris Karloff :). as V said

, Happy endings like only celluloid can deliver :D. *** Above all it's all about the dialog ;) ..

Television

:D movie and Half TV it's the robot chicken Star Wars Special ..

*** Favorite channels are Sci Fi,

TLC

,

Food Network

,

halmark (they play MASH)

,

USA

, the discovery channel (go mythbusters) and the comedy chanel current favorite TV show is Dr. Who (SG-1 is off the air for now) and of course NUMB3RS When I can cat it but hey there's always a new one just around the corner :) and on top of it all one of my favorite writter/directors has got to joss Whedon of firefly,

buffy

, x-men :D though sadly no longer wonder woman

Get this video and more at

MySpace.com

Books

Anything and everything though admitedly I don't have too much patience for mysteries but I do like the Agatha Christies and the Amelia Peabody series. Anita Blake Novels, the dark Tower and Dune. Anything by Orson Scott card or Neil Gaimen. PLus the classics by Jane Austen and Alxander Dumas. Heck it's a tough choice between a movie or a good book with me. some steven king, Douglas Addams, Tolkien of course, Asminov and the great Terry Prattchet :) and it never hurts to break up the mix with a bit of Nora Roberts. Currently I'm working though the Saint Germain Chronichles...thank you Chelsea Quinn Yarbro :)

Heroes

Lots and none at all. after all what a wise man once said if you meet buddah on the road kill him. I have many heroes ones I admire for one thing or another, many virtues and even a few vices of various people I admire and probably try to emulate if not by my person then by my characheters which roam cyber space...but to name names naww..... (but generally speaking the under dog :>) **sesame street**

Get this video and more at

MySpace.com

**what can I say I love blue

Get this video and more at

MySpace.com

more farscape***

Get this video and more at

MySpace.com

**** my favorite bouncing blue boy .. width="425" height="350">......> ***

Which D&D Class Are You?created with QuizFarm.com

***
Play

Play Next

Add to queue
About me:
..
V for Vendetta Speech
Add to My Profile
|
More Videos
(one of the best parts in the film, not involving a explosion) ***b**** ..
Belladonna's
Hover Effects
*** ..
**** Just a little note if you're loking for the good vids the best two are the second one on the right, and the first on the left. Arrogant worms and Zelgadis respectivly. oh and maybe the 3rd fourth and fifth on the left. and the next. and of course sg1's 200th...ah heck I know some arn't the best but I love um all for one reason or another :) lets face it I'm a video junkie :D enjoy! ..
***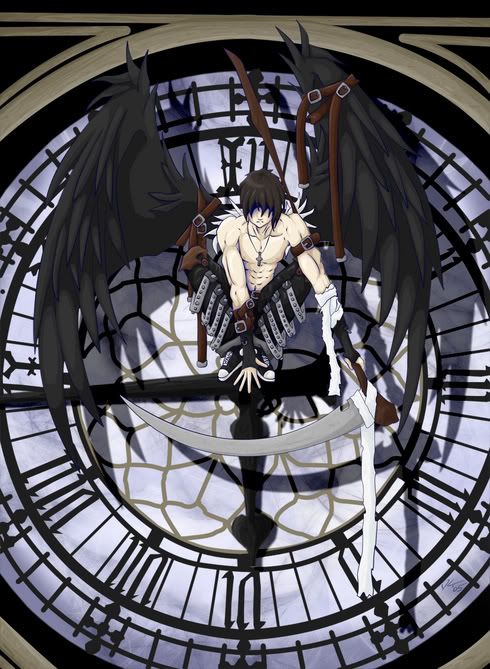 ** .. I edited my profile with
Thomas' Myspace Editor V4.4
** Greetings and salutations, My name is Margaret I don't promise to be interesting, historically accurate or even spell well. But I am me and me is here and that's all I've got. It's been awhile since I submerged myself into an internet forum and I'm not real sure I can even do it again. For any wanderes from my former life I'd like to say hi to all Poniers of the dark age before the fall of Imaldris, Treebeard's Daughter still has a tavern in her heart and all the Star Wars Junkies Who remember's Morwen and Jedi Kerr may the ewok roasts continue long ago and far away. ***

so this is destiny a rather stubborn looking gliph ain't it? looks rather like a very stubborn person with their arms crossed, I wonder if that's because it assumes it will get it's way or becasue when you are pursuing your own you need to get your own way? perhaps neither, probably both. ...................Ah Zelgadis...............
ZELGADIS - THE SLAYERS By LINKIN PARK - Faint
Add to My Profile
|
More Videos
********It's been a bit so here's a little Armitage*****
Get this video and more at
MySpace.com
..
Who I'd like to meet:
Any one and Everyone, Particularly anyone form my personaly sorid past or that I know out in the real world as they say. I've been many places and have met many faces and it would be a warmness to my heart to meet them all once more. Including some old friends from East, some more recent freinds from the web and anyone from my travels abroad. I'm sorry if the name doesn't ring a bell or the picture as well but hey many years have past and we've all changed haven't we? ***
****
What type of Fae are you?
za ****
*****
<?center> *** OK so this one I stole from a friends page (thanks Joel, it was too good to not spread it)
Status:

Single

Here for:

Dating, Serious Relationships, Friends

Orientation:

Straight

Body type:

5' 11" / More to love!

Religion:

Other

Zodiac Sign:

Virgo

Children:

Undecided

Education:

College graduate

Occupation:

wanderer and wayfarer
Metropolitan State College Of Denver

Denver, CO

Graduated:

N/A

Degree:

Bachelor's Degree

Major:

Art

Minor:

Ceramics

2002 to 2004

Metropolitan State College Of Denver

Denver, CO

Graduated:

N/A

Degree:

Bachelor's Degree

Major:

Anthropology

Minor:

Art

1995 to 2000

East High School

Denver, CO

Graduated:

N/A

Student status:

Alumni

Degree:

High School Diploma

Major:

Survival of High School

1991 to 1996
current, yeah me

June 2002-June2004

Metropolitan State College of Denver

1997-2002