No recent updates in this category.
Why not...
MIKEY B. hasn't earned any badges yet... have you?
General

Music. Design. Fashion. Horror. Drums. Blue things. Keyboards. Marb Lights. Repeat.

Music

Nine Inch Nails. Semi-precious Weapons. Darkel. Air. Justice. Carpark North. Skinny Puppy. Strawberry Switchblade. ABC. Gold Chains. Patrick Wolf. The Cars. Electric Light Orchestra. Naked Ape. Ministry. Fluffy Starr. Rome To Paris. Afrika Bambaataa. Vanity Beach. Morrissey. Billy Corgan. The Knife. Clear Static. Joy Electric. Kill Hannah. Mindless Self Indulgence. Pleistoscene. Gravy Train. Madonna. Dimmu Borgir. Outkast. New Order. The Birthday Massacre. Depeche Mode. Smashing Pumpkins. The Strokes. Beck. Jupiter Blue. Ego Static. The Faint. The Sounds. Atari Teenage Riot. Miss Kittin. Cradle Of Filth. The Prodigy. Dirty Sanchez. Peaches. Static-X. The Left Rights. Deadsy. The Start. Julien-K. Orgy. Andrew WK. Avenue D. Duran Duran. New Order. The Anix. Toilet Boys. Chemical Brothers. Placebo. Prick. Zeromancer. Robin Black. The Donnas. Jermaine Stewart. Joan Jett. Atom And His Package. Marilyn Manson. Ladytron. Universal Love Attack. Importante El Seriouso. Goldfrapp. Dangerous Muse. 3OH!3. etc...

Movies

Alice In Wonderland. Shortbus. Hannibal. Se7en. Grindhouse. Freaks. Running With Scissors. Little Miss Sunshine. Transamerica. Party Monster. 54. Welcome To The Dollhouse. Hedwig. Hellraiser. Goonies. Jurassic Park 1&2. 16 Candles. Don't Tell Mom The Babysitter's Dead. Heathers. Nightmare Before X-Mas. Run Lola Run. Amelie. Drop Dead Fred. Mack And Me. AI. Tart. Breakfast Club. 28 Days Later. Pretty In Pink. Jawbreaker. Alien. Clueless. Best In Show. Legend Of Billie Gene. Lost Boys. American Psycho. Sister Act. Matilda. The Never Ending Story. Dawn Of The Dead. Hackers. But I'm A Cheerleader. Friday The 13th. Nightmare On Elm St. Home Alone. T2. Texas Chainsaw Massacre. Cool World. Dark City. Requiem For A Dream. Resident Evil. Rocky Horror Picture Show. Willy Wonka. SAW. SAW II. SAW III. mean girls. charlie and the chocolate factory. bed knobs and broomsticks. candle shoe. mary poppins. corpse bride. flight plan. wayne's world 1&2. signs. the village. 300. etc...
MIKEY B. has 65020 friends.
Play

Play Next

Add to queue

Play

Play Next

Add to queue

Play

Play Next

Add to queue

Play

Play Next

Add to queue

Play

Play Next

Add to queue
About me:
A Heart That Hurts Is A Heart That Works.
It's Not My My Fault
Some People Wish I Was Dead.
It's Not My Fault
My Precious Little Hands Are Red.
It's Not My Fault
They Pushed So Hard They Made Me.
I've Been Magnetic
Since I Was A Baby.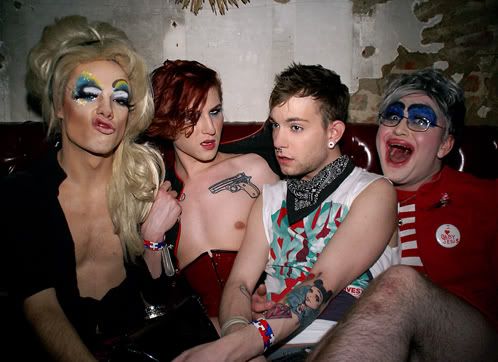 ..
Who I'd like to meet:
Status:

Single

Here for:

Networking, Dating, Serious Relationships, Friends

Hometown:

Albany

Orientation:

Gay

Body type:

Slim / Slender

Ethnicity:

White / Caucasian

Zodiac Sign:

Virgo

Children:

Someday

Smoke / Drink:

Yes / Yes

Occupation:

Graphic Designe/rMusician/Photo Editor
Equal Vision Records

Albany, NY US

Merch/Graphic Design

July 2008- Present