No recent updates in this category.
Why not...
Artists Against Hunger & Poverty hasn't earned any badges yet... have you?
Movies

Join these great musicians in supporting Artists Against Hunger & Poverty! Hamish Dodds, CEO of the Hard Rock with Joss Stone Here are some of the artists who have worked with WhyHunger to combat hunger and poverty:
Aerosmith, Alejandro Escoveda, Allen Toussaint,
Andrew W.K., Arno Carstens, Avril Lavigne,
Bob Dylan, Brandi Carlile, Brett Dennen,
Bruce Springsteen, Carlos Santana, Chicago,
Citizen Cope, Coheed and Cambria, Crosby, Stills & Nash,
Darryl "DMC" McDaniels, Dido, Earth, Wind & Fire,
Elvis Costello, Eric Hutchinson, Ghosts,
Good Charlotte, Jackson Browne, Jen Chapin,
Jennie Walker, Joe D'Urso and Stone Caravan, John Lennon,
Joss Stone, KT Tunstall, Lenny Kravitz,
Lisa Bouchelle, Lupe Fiasco, Marc Broussard,
Mat Kearney, Michael McDonald, Micki Free,
Modest Mouse, moe., My Morning Jacket,
Natasha Bedingfield, Neil Berg's 100 Years of Broadway, O.A.R.,
Ocean Colour Scene, Papa Roach, Ray LaMontagne,
Robert Randolph & The Family Band, Ryan Shaw, Sarah McLachlan,
Say When, Serena Ryder, Shane Hines & The Trance,
Starsailor, Street Sweeper Social Club – Tom Morello & Boots Riley,
The Chapin Sisters, The Charlatans, The Clarks,
The Hold Steady, The Low Anthem, The Raveonettes,
The Strokes, Toby Lightman, Tom Chapin,
Uncle Kracker, Velvet Revolver, Wyclef Jean,
Yes, Yoko Ono Lennon


To learn how you can participate in the Artists Against Hunger & Poverty program, email artists@whyhunger.org.
Play

Play Next

Add to queue
About me:
..
In the US alone, 49 Million Americans are living in poverty and struggle to feed their families. Nearly 1.02 billion people in the world are hungry. But with the help of WhyHunger (WHY), you can do something simple and effective to help. Artists Against Hunger and Poverty (AAHP), a division of WhyHunger (WHY), works with artists, the music community and the music industry to raise awareness and funds for the most innovative and effective community-based organizations working to combat hunger and poverty all over the world. Through music we can all make a difference in the world. Please join our amazing group of musical supporters in helping to wipe out hunger and poverty.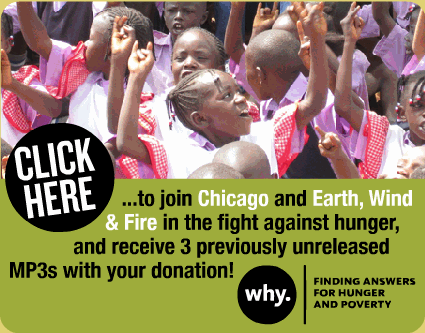 Post this on your page!



Who I'd like to meet:
Status:

Single

Zodiac Sign:

Aquarius
WhyHunger

New York, NY US

Ending Global Hunger and Poverty