Play

Play Next

Add to queue
Play

Play Next

Add to queue

47 plays

Play

Play Next

Add to queue

33 plays

Play

Play Next

Add to queue

13 plays

Play

Play Next

Add to queue

342 plays

Play

Play Next

Add to queue

1,680 plays
Genre: Hardcore / Metal / Progressive

Location East Bay, California, Un

Profile Views: 45021

Last Login: 12/14/2012

Member Since 9/25/2004

Record Label self supporting

Type of Label Unsigned

Bio

Absent Society is a five-piece metal band out of Oakland, California. Since it's inception the band has been making waves in the Bay Area music scene, with a unique sound and approach to metal that has spawned a continously growing fan base. Their high-energy shows have won over crowds throughout California, as well as a successful tour of the western United States. With the recent addition of Chris Lee on keyboards, the band is currently working on new material for a full-length album. Stay tuned! .. .......... ...... .... .. ................ .. .. Add this banner to your page! Just copy and paste the code below into your profile: .. .... .. .. <strong><font size="2"> <FONT><strong><BR><a href="http://www.myspace.com/absentsociety"><img src=http://i111.photobucket.com/albums/n134/mudbmxer/ASsticker.jpg border=1><a>.. .. ...... .. .. .. .. .. ........ .. .. .. .. .. ........ .. .. .. .. .. ...... ...... .. .. .. .. .. .......... ..Merch now available! Click to buy or come see us at one of our shows!.......................................... .... ...... .. .. .. .. .. .. ...... .. .. ..

Members

....

Influences

Pantera, Sikth, Lamb Of God, Dillinger Escape Plan, Tool, Between The Buried And Me, Opeth, Mastodon, The Faceless, Meshuggah, Soilwork, Necrophagist, The Ocean, Dark Tranquility, Death, Periphery, Decapitated, Every Time I Die, Mudvayne, Alice In Chains, Cynic, Rage Against The Machine, Primus, Slayer, etc.

Sounds Like

animals killing other animals
No recent updates in this category.
Why not...
03:43 | 55 plays | Jul 1 2009
Bio:
Absent Society is a five-piece metal band out of Oakland, California. Since it's inception the band has been making waves in the Bay Area music scene, with a unique sound and approach to metal that has spawned a continously growing fan base. Their high-energy shows have won over crowds throughout California, as well as a successful tour of the western United States. With the recent addition of Chris Lee on keyboards, the band is currently working on new material for a full-length album. Stay tuned!


Add this banner to your page! Just copy and paste the code below into your profile:
Merch now available! Click to buy or come see us at one of our shows!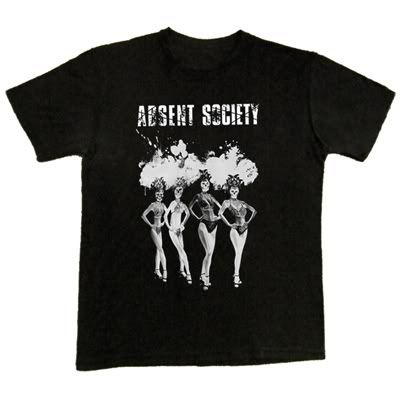 .... ..
Member Since:
September 25, 2004
Members:

Influences:
Pantera, Sikth, Lamb Of God, Dillinger Escape Plan, Tool, Between The Buried And Me, Opeth, Mastodon, The Faceless, Meshuggah, Soilwork, Necrophagist, The Ocean, Dark Tranquility, Death, Periphery, Decapitated, Every Time I Die, Mudvayne, Alice In Chains, Cynic, Rage Against The Machine, Primus, Slayer, etc.
Sounds Like:
animals killing other animals
Record Label:
self supporting