Genre:

Alternative / Comedic Writers / Gay/Lesbian

TV Shows

There was that one reality show where a baboon applied then ate whip cream off my anus. But the network didn't pick us up for a third season. Screw you, Fox.

Films

There was that one feel-good movie in the 80's where I co-starred with Chewbacca in a zany crew of misfits on a Navy battleship. I was nominated for an academy award but Chewbacca wasn't. I'd give anything to reclaim that friendship fame took away from us. I miss you, Chewie. You know my number.

Albums

There was that one Gospel album that Henry Winklker and I cut back in 85. He was hoping to get into music after Happy Days. It would have worked well if he wasn't such a show-boat. I don't sing back-up for anybody. Not even you, Henry.

Bio

I consider comedy the playground for my inner child. The long awaited outlet for me to vent about the neighbor who used to touch me but never called, long lines at the Republican National Convention men's bathroom stall, and hating hating hypocritic haters. More to come.
About me:
Adam Guerino is a long-time comedic writer with work on screen-plays, playrighting and novels. His stand-up can be heard across Chicago from the biggest comedy clubs to the most off-beat comedy nights. Currently his multimedia comedy group The Sarcastic Squad have an open run every Saturday night at ten pm at The Playground Theater. And, on occasion, he enjoys speaking in the third person.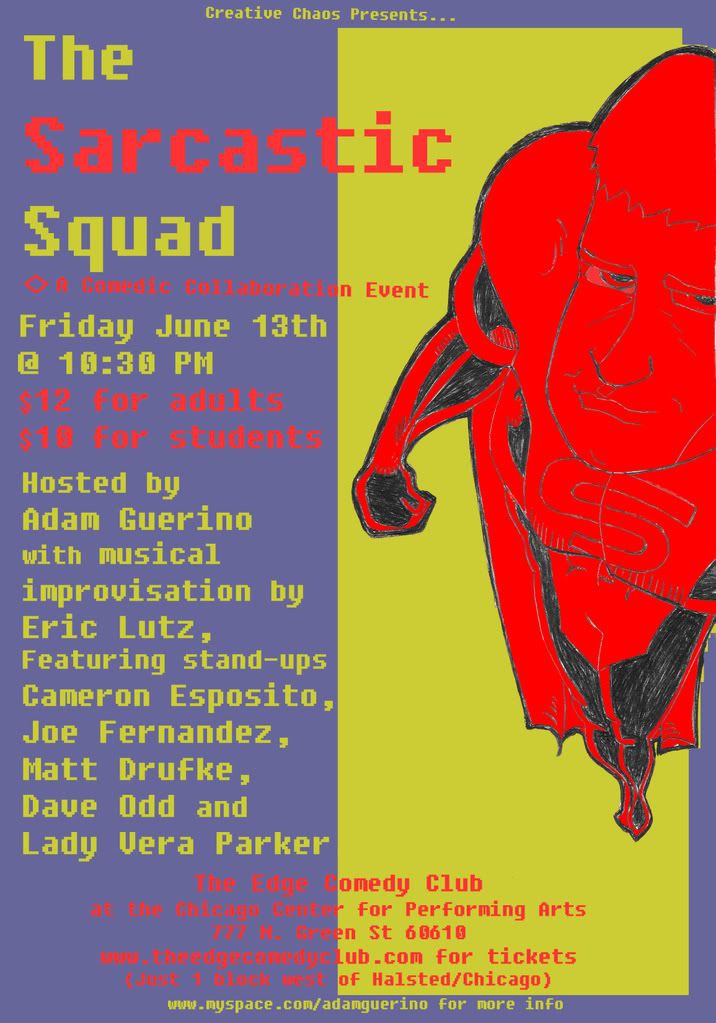 ..
Who I'd like to meet:
Diabetoid. ..
Status:

Single

Zodiac Sign:

Gemini
General

Heroes

In no particular order, Aaron Sorkin, Alan Moore, Ellen, She-Hulk, John Stewart, the red head's best friend from My So-Called Life and Tina Fey.