Play

Play Next

Add to queue
Play

Play Next

Add to queue

81 plays

Play

Play Next

Add to queue

384 plays

Play

Play Next

Add to queue

106 plays

Play

Play Next

Add to queue

245 plays

Play

Play Next

Add to queue

765 plays
Genre: Hip Hop / R&B / Rap

Location SAN FRANCISCO, California, Un

Profile Views: 180394

Last Login: 2/25/2013

Member Since 7/24/2004

Website www.aftermidnightproductions.biz

Record Label After Midnight Productions

Type of Label Indie

Bio

Click on this backcover to be directed to the Album on Itunes "After Midnight Productions Presents The Works" .. ALL MUSIC PRODUCTION ON THIS PAGE IS PRODUCED BY AFTER MIDNIGHT PRODUCTIONS & THEIR AFFILIATES.. HERE IS THE GROUP OF PRODUCERS AFTER MIDNIGHT PRODUCTIONS IS COLLABORATING WITH ON CURRENT AND FUTURE PROJECTS, AND WHERE THEY RESIDE: G CODE-LAS VEGAS, NEVADA; E FRESH-SAN FRANCISCO, CA; DJ ABBICO-NORTH HOLLYWOOD/SAN JOSE, CA; ROCKO RECORDS-GERMANY; TRIGGA -MCCOMB, MISSISSIPPI.. ..........Est. 2003 - Here's our story... It all began like it has for many other producers, and that is... a mixer and two turntables. In the mid 80's, Sean Fields, the founder of After Midnight Productions (AMP), began his quest in music from learning to play the piano by ear, to taking lessons, to hone his skills, to D'Jing, to singing and performing Live. From this, the group After Midnight was formed. Years later due to life and circumstances, the group broke up, but the name still had value to Sean. So, he and a close friend, Damon Humphrey, who saw his vision and had dreams of his own, formed a production company in 2003 therefore keeping the name alive... After Midnight Productions. The 2000's meant interesting and exciting times for them!! From working with many independent artists*, to being mentored by and working an artist development deal with Kirk Crumpler and Cornell Carter, their production work and credits go a mile long. From Bobby Brown, The Whispers, The Dazz Band, E-40, Riche Rich, Tupac, Santana and many, many more. AMP also included Sean's brother-in-law, Patrick T. (AKA... PZY) who furthered the company's interest in production and promotions as well. AMP's promotion credits include many independent artists as well as some mainstream artists from Spice 1, AK9, to Jerry Rice's daughter Qui. In 2006, Sean Fields handed over the reigns to Damon Humphrey, and what a smart move that was! Damon H. has proven himself to be a very savy and dedicated CEO who looks out for the interest of any artist he works with. * After Midnight Productions has 2 Executive Produced albums under their belt, Crucial "Down 4 Whatever" ('03) and "After Midnight Productions presents Things II Come" (Vol 1.) ('06). After Midnight Production's music has been featured on : KPOO in San Francisco, CA, GMSRadio In Cleveland OH, UMFM 101.5 FM (The Joint's Show) in Winnipeg, Manitoba Canada, as well as KZSC 88.1 FM in Santa Cruz, CA , JAMMIN.COM.AU in Victoria, Australia on 106.7 FM (with DJC), and a recently St. Louis & New York, so as you can see our music has hit many air waves and more to come. WE ALSO HAVE A PUBLISHING COMPANY: 1 AFTER MIDNIGHT PUBLISHING CLICK ON TRACKLISTING TO BE DIRECTED TO THIS ALBUM: CLICK THIS ALBUM COVER AND BUY THE ALBUM FOR $5.99 AFTER MIDNIGHT PRODUCTIONS PRESENTS THE WORKS AVAILABLE BELOW: AFTER MIDNIGHT PRODUCTIONS PRESENTS THINGS TO COME VOL. 1 AVAILABLE ON CDBABY.COM:

Members

Influences

..MY "WALL OF FAME".. .. .. ..Me and Paul Wall in Berkeley CA.. ...... .. ..Me and Qui (The Daughter of Jerry Rice) at her video shoot for "Rev it up" f. David Banner ...... .. .. ..HERE IT IS!! QUI'S LONG AWAITED DEBUT VIDEO, REV IT UP!...... .. .. .. .. .. .. .. .. ..Me and Jerry Rice at Qui's Video shoot.. ...... .. .. .. ..CD IS AVAILABLE ONLINE AND IN THE STORES NOTED:.. .. .. (DJ Section) SKATESONHAIGHT.COM, CDBABY.COM, AMOEBA RECORDS (San Francisco Store & Berkeley Store), .. .. (847)-662-7529 PLAY BY PLAY RECORD SHOP 1902 Grand Ave Waukegan, IL 60085 .. .. ..AFTER MIDNIGHT PRODUCTIONS PRESENTS THINGS II COME VOL. 1 ON SALE AT CDBABY.COM.. .. .. .......... .. ..

Sounds Like

ORIGINAL
Bio:
Click on this backcover to be directed to the Album on Itunes "After Midnight Productions Presents The Works"


ALL MUSIC PRODUCTION ON THIS PAGE IS PRODUCED BY AFTER MIDNIGHT PRODUCTIONS & THEIR AFFILIATES



HERE IS THE GROUP OF PRODUCERS AFTER MIDNIGHT PRODUCTIONS IS COLLABORATING WITH ON CURRENT AND FUTURE PROJECTS, AND WHERE THEY RESIDE:

G CODE-LAS VEGAS, NEVADA; E FRESH-SAN FRANCISCO, CA; DJ ABBICO-NORTH HOLLYWOOD/SAN JOSE, CA; ROCKO RECORDS-GERMANY; TRIGGA -MCCOMB, MISSISSIPPI



GMSRadio.com In Cleveland OH, UMFM 101.5 FM (The Joint's Show) in Winnipeg, Manitoba Canada, as well as KZSC 88.1 FM in Santa Cruz, CA & last but not least on JAMMIN.COM.AU in Victoria, Australia on 106.7 FM (with DJC) so as you can see our music has hit many air waves.

WE ALSO HAVE A PUBLISHING COMPANY: 1 AFTER MIDNIGHT PUBLISHING



..



CLICK ON TRACKLISTING TO BE DIRECTED TO THIS ALBUM:


CLICK THIS ALBUM COVER AND BUY THE ALBUM FOR $5.99






AFTER MIDNIGHT PRODUCTIONS PRESENTS THE WORKS AVAILABLE BELOW:


AFTER MIDNIGHT PRODUCTIONS PRESENTS THINGS TO COME VOL. 1 AVAILABLE ON CDBABY.COM: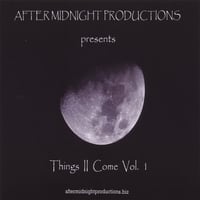 .. .. .. ..
Member Since:
July 24, 2004
Members:
CHECK OUT MY DAD ON THE DR OZ SHOW


AMEERAH THE SONGSTRESS, PERORMING LIVE AT YOSHI'S SAN FRANCISCO


YOU'VE HEARD THE RECORD, YOU KNOW WHO THE ARTISTS ARE, NOW CHECK OUT THE DANCE

GET FAMILIAR (PEEZZAY F. ENOCH) BAY AREA COLLABORATION


Live TV : Ustream
Influences:
MY "WALL OF FAME"

Me and Paul Wall in Berkeley CA
Me and Qui (The Daughter of Jerry Rice) at her video shoot for "Rev it up" f. David Banner
HERE IT IS!! QUI'S LONG AWAITED DEBUT VIDEO, REV IT UP!
Me and Jerry Rice at Qui's Video shoot
CD IS AVAILABLE ONLINE AND IN THE STORES NOTED:

(DJ Section) SKATESONHAIGHT.COM, CDBABY.COM, AMOEBA RECORDS (San Francisco Store & Berkeley Store),

(847)-662-7529 PLAY BY PLAY RECORD SHOP 1902 Grand Ave Waukegan, IL 60085

AFTER MIDNIGHT PRODUCTIONS PRESENTS THINGS II COME VOL. 1 ON SALE AT CDBABY.COM



Sounds Like:
ORIGINAL


Record Label:
After Midnight Productions
Label Type:
Indie
13:58 | 12 plays | Nov 25 2010