No recent updates in this category.
Why not...
Mo Chica Mo Mo hasn't earned any badges yet... have you?
General

I love goin on the lake and the whole wakeboard scene. I live on e farm so I LOVE 4wheelers and dove hunting. I am the biggest goof off ever. I LOVE my friends as much as I LOVE music. I have a big heart but am very blunt. I like movies, music and food. My jeep kicks ass and my Monkey is my life.

Music

Movies

Television

Books

The Talisman by Stephen King has got to be one of my favorites ever. Wicked was great. I read every day and a new book is just a new way to look at/explore the world.

Heroes

God. My mom and my dad. Not together, but both for their own things. And the biggest hero in my life ... My Monkey. He is the greatest thing that has ever/will ever happen to me. He has the ability to be super strong and laugh at everything. He is perfection wrapped in awesomeness.
Play

Play Next

Add to queue
About me:
Hola, My name is Morgan, and I'm a
NERD
.... but I'm awesome.. actually, I'm probably one of the most unique people you will ever meet. I have more interests and hobbies than a whole room full of people combined. I am the mother of a beautiful, and also unique, boy. I am always on the go, so I don't have time to waste. I'm silly, random, and completely common. I'm an easy listener, and LOVE music. I adore my family and my friends. I am devistatingly devoted, and fiercely loyal. Regardless of the situation, I feel everyone was put in my life for a reason and they deserve the best of me whether or not they decide to give the same to me. My friends, my family, and my God will ALWAYS come first. I am extremely independant and very hardworking. I'm not easily shaken or impressioned by other people. I smile often and laugh loud. I am logical, opinionated, and open. Some people call it bitchy. I call it honest. I don't tolerate slackers, liars, or douchebags. I am not here to be your girlfriend, sex buddy, or your online thrill. So do what you do: Impress me if you can.
Oh yeah, and one more thing...

I'M COOLER THAN YOU!
..
"When the times are a crucible, when the air is full of crisis, those who are the most themselves are the victims."
..
..
..
..
..
..
..

Who I'd like to meet:
Anybody and everybody... I love people.. I love music, too so ANYbody that plays.. even if it's the crazy naked guy on the streetcorner downtown :)
Seriously, though.. I've gotten to meet a bunch of people already, but Bernadette Peters, the whole Slightly Stoopid group, Jack Johnson, Tom Hanks, Kathy Bates, hmmm... I know there's MANY more, but I'm drawin a blank.....
Some of Mo's Ho's gettin
GETTIN STOOPID!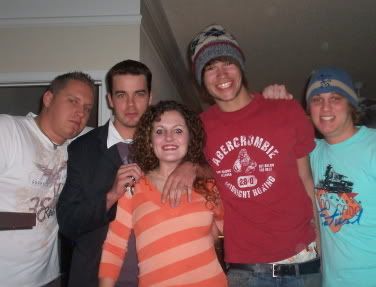 Status:

Single

Here for:

Networking, Friends

Hometown:

Mt. Juliet

Orientation:

Straight

Body type:

5' 2" / Athletic

Ethnicity:

White / Caucasian

Religion:

Christian - other

Zodiac Sign:

Aries

Children:

Proud parent

Smoke / Drink:

No / Yes

Education:

College graduate

Occupation:

Super Woman and Master of All

Income:

$45,000 to $60,000
University Of Phoenix-Nashville Campus

Nashville, TN

Graduated:

N/A

Degree:

In Progress

Major:

Business Management

2007 to Present

National College Of Business And Tech-Nashville

Nashville,Tennessee

Graduated:

2006

Student status:

Alumni

Degree:

Bachelor's Degree

Major:

Business Administration/Accounting

Minor:

Computer Office Applications

Clubs:

Dean's List, Ms. National College 2005

2003 to 2006

Austin Peay State University

Clarksville,Tennessee

Graduated:

N/A

Student status:

Alumni

Degree:

None

Major:

Theatre

Minor:

Spanish

2002 to 2004

Mount Juliet High School

Mt Juliet,Tennessee

Graduated:

2002

Student status:

Alumni

Degree:

High School Diploma

1998 to 2002
USPS

Antioch, TN US

RCA..... I delivered mail.. haha

June 2004 - August 2006

Hermitage House Smorgasbord

Donelson, TN US

Senior Waitress

January 1999 - August 2006

HSBC

Nashville, WORLDWIDE US

Master of All

May 2006 - January 2009

Sitel

Nashville, INTERNATIONAL, homies! US

HR IS Administrator - Corporate

February 9, 2009 - Present