Friend AIcf College Fund hasn't earned any badges yet... have you?
About me:
.. ..
Who I'd like to meet:
History of the Fund
In the wake of the civil rights and American Indian self-determination movements of the 1960s, tribal leaders realized they would have to take control of the direction of education in order to reverse centuries of misguided and failed federal education policies.

In 1968, the Navajo Nation created a first-of-its-kind educational institution - a college controlled by the tribe, located on the reservation and established specifically to provide higher education to tribal members. With that monumental event, the tribal college movement was born. Since then, the number of tribal colleges and universities has grown to 32, located in 11 states and serving more than 250 American Indian Nations from every geographic region in the United States.

Tribal college presidents recognized the need to establish an organization to raise private-sector funds for the colleges and to compliment the efforts of its sister organization, the American Indian Higher Education Consortium. As a result, the American Indian College Fund was established in 1989. Originally located in New York City, the Fund consolidated its headquarters to one Denver, Colorado office in 2002.
About the American Indian College Fund:
The American Indian College Fund's mission is to raise scholarship funds for American Indian students at qualified tribal colleges and universities and to generate broad awareness of those institutions and the Fund itself.
TCUs (tribal colleges and universities) serve large proportions of older students, women, those with dependent family members, first-generation college students, and many others who previously had little access to post-secondary education in their communities.
For more information about The Fund visit:
www.collegefund.org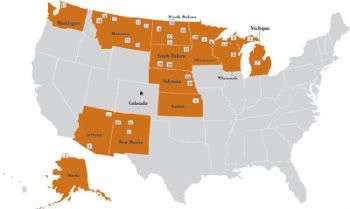 Tribal colleges receive little or no local or state tax support, so private donations are crucial. As the success of the tribal colleges grows, so does the need for private-sector support.
..
Support the American Indian College Fund:
DONATE ONLINE
American Indian College Fund
8333 Greenwood Blvd.
Denver, CO 80221
e-mail us:
info@collegefund.org
1-800-776-3863
Think Indian

..

The American Indian College Fund's "Think Indian" public service advertisement campaign has sparked a conversation about the value of tribal colleges amongst people in the education field. We'd like to hear your thoughts. Please see the original conversation at CLICK HERE, and share your comments here on this forum.


Join Us June 4 in Denver for Our Colorado Community Celebration

..

Please join the American Indian College Fund June 4, 2009 at the Colorado History Museum for a special evening of entertainment, education, and fellowship. You will enjoy live performances by Native dancers and drum groups, a fine arts auction, and a children's crafts corner. »More
Scholarships Available
Scholarship Application Deadline May 31, 2011 Need money for college? Beginning Jan. 1, 2011, the American Indian College Fundwill be accepting applications for special scholarships to American Indian students attending tribal colleges and universities, mainstream universities and graduate programs for the 2011-2012academic year. Deadline to apply is May 31, 2011. Scholarship recipients will be notified in August. Applications are available online at

To learn more about the Fund's scholarships CLICK HERE. For Questions Relating to Scholarships feel free to contact Debra Reed or Gerald Montour at 1-800-776-3863 (toll-free)
American Indian College Fund Proud to Announce Dan Wieden, Co-Founder & Chief Executive Officer of Ad Partner Wieden+Kennedy Presented with CLIO Lifetime Achievement Award
May 18, 2009 – The CLIO Awards, one of the world's most recognized international advertising and design competitions honoring creative excellence and innovation in the industry, presented Dan Wieden, Co-Founder and Chief Executive Officer of Wieden+Kennedy (W+K), with the Lifetime Achievement Award on May 13 during the 50th Anniversary CLIO Awards in Las Vegas. The CLIO Lifetime Achievement Award is one of the highest, most prestigious honors in the advertising industry and recognizes the outstanding and ongoing contribution of an individual who leads the industry forward.
»More
Status: Married
Here for: Networking
Hometown: Denver
Orientation: Straight
Ethnicity: Native American
Zodiac Sign: Aries
American Indian College Fund

Denver, Colorado US
Non-Profit Organization