Play

Play Next

Add to queue
Play

Play Next

Add to queue

9,097 plays

Play

Play Next

Add to queue

7,302 plays

Play

Play Next

Add to queue

8,020 plays

Play

Play Next

Add to queue

5,073 plays
Genre: Acoustic / Down-tempo / Electro

Location Miami Beach, Florida, US

Profile Views: 63618

Last Login: 7/14/2011

Member Since 6/6/2005

Website www.adamweinbergmusic.com

Record Label I'll let you know when they sign me

Bio

!BUY MUSIC FROM ADAM WEINBERG! .. ........ .. ....album.... ....price.... .......... .. .. ......ADAM WEINBERG..: On the Seventh Year.... ....$12.97.... .... .. ..0.. ..1.. ..2.. ..3.. ..4.. ..5.. ..6.. ..7.. ..8.. ..9.. .. .... .. .. ......THE ILLTET..: the illtet.... ....$9.99.... .... .. ..0.. ..1.. ..2.. ..3.. ..4.. ..5.. ..6.. ..7.. ..8.. ..9.. .. .... .. .. ......SHED..: Speeds Up Slightly.... ....$9.99.... .... .. ..0.. ..1.. ..2.. ..3.. ..4.. ..5.. ..6.. ..7.. ..8.. ..9.. .. .... .. .. ....Choose how many, and click ...... .. .. ....Orders sent by ....CD Baby.... - the fastest, safest, and easiest place to buy CDs online. You can also call 1-800-BUY-MY-CD to order by phone..... .. ........ .. .. ........................ADAM WEINBERG: On the Seventh Year......"If Leo Kottke spent more time with John Zorn, and let Tortoise produce his CD, you'd be close to the sound Adam has created. A beautiful sense of harmony, finger-sytle, and a touch of electronic swells and swoops to tickle your subconscious.".......................... .. SIGN UP FOR ADAM'S NEWSLETTER...INFO, FREE MUSIC, AND MORE .. .. ..Register for Adam Weinberg Music email updates.. .. .. .. .. .. .. .. Adam Weinberg is a guitarist. He also likes to produce/promote shows. Sometimes, when band members can't make it due to blizzards, he plays in the shows he sets up. For four years Adam fronted 'the illtet' with David Pinzur, Dave Saxon, and Pat Vaillancourt. The group was a well-known staple in St. Louis and Boulder, CO. They played an unmatched form of instrumental rock, cased in electronic sweeps and beeps. The illtet recorded one self titled album, check 'Op De Hoek' in the player. After the illtet went separate ways, Adam teamed up with Philv and Jay Lewis to form Shed. The band played for just over a year, but managed to produce 'Speeds Up Slightly.' Check 'Nevele' in the player. For the past two years Adam has been writing a slew of solo guitar music. Some of it has been performed with multi-instrumentalist Jeff Lash, in a little power duo called Debaser. Adam's solo music draws heavily on the finger stylee of Leo Kottke, Tim Sparks, and Bill Lenihan, and as always adds a touch of electronic swells and swoops to tickle your subconscious. Recording for Adam's upcoming solo CD, tentatively titled "...and on the Seventh Year" was finished in late July, and plans to release the album this winter are well underway. Check out 'Book of Ruth' and 'She Shall She Praised', two tracks which will be appearing on the upcoming CD. For more info on Adam's other musical adventures, including show promotion and his 2-year stint in psychological/music research, go to www.adamweinbergdoes.com tell your friends... ...... ADAM & MATISYAHU @ SUNDANCE 2007 .. PREVIEW THE ENTIRE NEW ALBUM & DOWNLOAD FOR LESS THAN itunes! .. .. .. .. .. .. .. .. ..

Members

Adam Weinberg ......

Influences

.. .. MATISYAHU feat: ADAM WEINBERG exclusive track now at WWW.MYSPACE.COM/MATISYAHU .. ........................ADAM WEINBERG: On the Seventh Year......download from itunes......"On the Seventh Year is full of gorgeous melodies and finger-style playing that ebbs and flows. With this album, Weinberg beautifully incorporates subtle electronic and experimental influences from his past projects into songs that are centered around the acoustic guitar. Weinberg weaves soft samples, volume swells, and effects into his compositions for a truly mesmerizing product. Think Leo Kottke and Kaki King with Middle-Eastern influences. This album will make your neurons kick back and fall into a state of deep peace." - Phil Valko.......................... .. The Slip, Tim Sparks, Tortoise, Leo Kottke, Ralph Towner, Marc Ribot, Izzy Vibes, Mouse on Mars, Aphex Twin, Trey Anastasio, John Scofield, Bob Marley, Jimmy Cliff, Thelonious Monk, the illtet, Andy Statman, The Bad Plus, Chick Corea, Beatie Boys, Roberto Juan Rodriguez, Matisyahu, Cyro Baptista, Greg Cohen, Bebo Valdez, John Zorn, Fish, John Coltrane, Keith Jarrett, Masada, Joe Pass, JBB, Jeff Parker, Bill Evans, Marc Copland, Cake, Drums & Tuba, Scientist, Soul Coughing, Drew Gress, Roland Dyens, Snoop, Bill Frisell, Cat Stevens, Van Morrison, Club d'Elf, Talking Heads, Gary Peacock, Jackson 5, Bill Lenihan, Chris Wood, Jonah David, Mike Gordon, Bill Carbone, Jared Sims, Ben Hesse, Tzvi Glukin, Rav Shmuel, Michelle Kohn, ish, etc .. .. .. .. .. .. .. .. .. .. .. 3 of the best musicians ever.... ...... .. Adam w/ Cyro Baptista & Anthropa Fagia (People who likes to eat peoples) .... .. MATISYAHU & ADAM - SPECIAL ACOUSTIC PERFORMANCE "Close My Eyes" .. .. .. .. .. MATISYAHU & ADAM - SPECIAL ACOUSTIC PERFORMANCE "King w/o a Crown" .. .. .. .. ..

Sounds Like

some amalgam of those 'influences' above
No recent updates in this category.
Why not...
Bio:
!BUY MUSIC FROM ADAM WEINBERG! ..
album

price

..

ADAM WEINBERG: On the Seventh Year

$12.97

THE ILLTET: the illtet

$9.99

SHED: Speeds Up Slightly

$9.99

Choose how many, and click ..

Orders sent by CD Baby - the fastest, safest, and easiest place to buy CDs online. You can also call 1-800-BUY-MY-CD to order by phone.
..
ADAM WEINBERG: On the Seventh Year

"If Leo Kottke spent more time with John Zorn, and let Tortoise produce his CD, you'd be close to the sound Adam has created. A beautiful sense of harmony, finger-sytle, and a touch of electronic swells and swoops to tickle your subconscious."


SIGN UP FOR ADAM'S NEWSLETTER...INFO, FREE MUSIC, AND MORE .. Register for Adam Weinberg Music email updates
.. .. .. ..
Adam Weinberg is a guitarist. He also likes to produce/promote shows. Sometimes, when band members can't make it due to blizzards, he plays in the shows he sets up. For four years Adam fronted 'the illtet' with David Pinzur, Dave Saxon, and Pat Vaillancourt. The group was a well-known staple in St. Louis and Boulder, CO. They played an unmatched form of instrumental rock, cased in electronic sweeps and beeps. The illtet recorded one self titled album, check 'Op De Hoek' in the player. After the illtet went separate ways, Adam teamed up with Philv and Jay Lewis to form Shed. The band played for just over a year, but managed to produce 'Speeds Up Slightly.' Check 'Nevele' in the player. For the past two years Adam has been writing a slew of solo guitar music. Some of it has been performed with multi-instrumentalist Jeff Lash, in a little power duo called Debaser. Adam's solo music draws heavily on the finger stylee of Leo Kottke, Tim Sparks, and Bill Lenihan, and as always adds a touch of electronic swells and swoops to tickle your subconscious. Recording for Adam's upcoming solo CD, tentatively titled "...and on the Seventh Year" was finished in late July, and plans to release the album this winter are well underway. Check out 'Book of Ruth' and 'She Shall She Praised', two tracks which will be appearing on the upcoming CD. For more info on Adam's other musical adventures, including show promotion and his 2-year stint in psychological/music research, go to www.adamweinbergdoes.com tell your friends.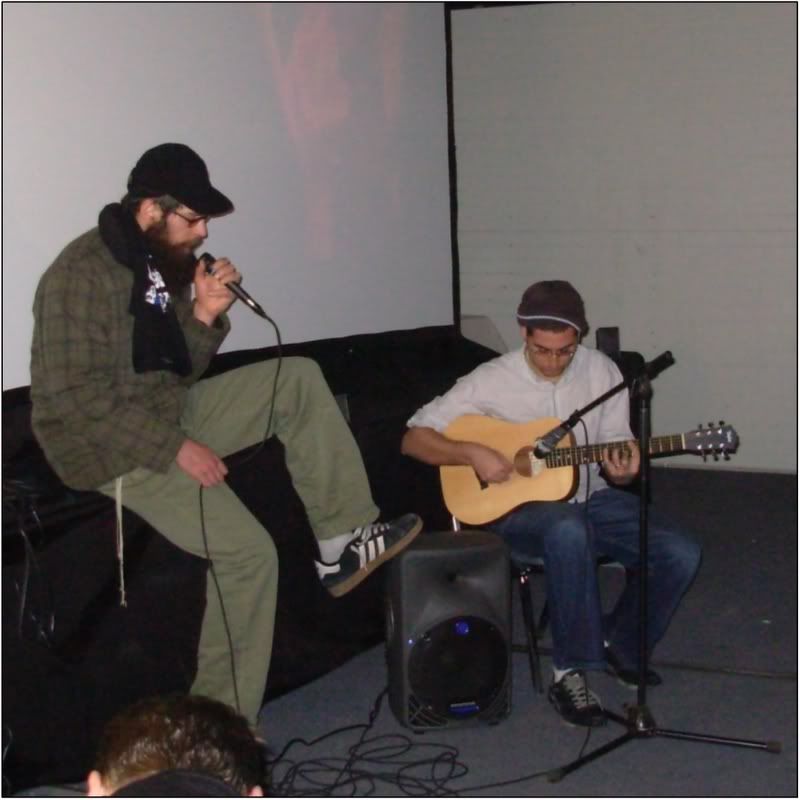 ADAM & MATISYAHU @ SUNDANCE 2007
PREVIEW THE ENTIRE NEW ALBUM & DOWNLOAD FOR LESS THAN itunes!
Member Since:
June 06, 2005
Members:
Adam Weinberg ..


Influences:
MATISYAHU feat: ADAM WEINBERG exclusive track now at WWW.MYSPACE.COM/MATISYAHU
ADAM WEINBERG: On the Seventh Year

download from itunes

"On the Seventh Year is full of gorgeous melodies and finger-style playing that ebbs and flows. With this album, Weinberg beautifully incorporates subtle electronic and experimental influences from his past projects into songs that are centered around the acoustic guitar. Weinberg weaves soft samples, volume swells, and effects into his compositions for a truly mesmerizing product. Think Leo Kottke and Kaki King with Middle-Eastern influences. This album will make your neurons kick back and fall into a state of deep peace." - Phil Valko


The Slip, Tim Sparks, Tortoise, Leo Kottke, Ralph Towner, Marc Ribot, Izzy Vibes, Mouse on Mars, Aphex Twin, Trey Anastasio, John Scofield, Bob Marley, Jimmy Cliff, Thelonious Monk, the illtet, Andy Statman, The Bad Plus, Chick Corea, Beatie Boys, Roberto Juan Rodriguez, Matisyahu, Cyro Baptista, Greg Cohen, Bebo Valdez, John Zorn, Fish, John Coltrane, Keith Jarrett, Masada, Joe Pass, JBB, Jeff Parker, Bill Evans, Marc Copland, Cake, Drums & Tuba, Scientist, Soul Coughing, Drew Gress, Roland Dyens, Snoop, Bill Frisell, Cat Stevens, Van Morrison, Club d'Elf, Talking Heads, Gary Peacock, Jackson 5, Bill Lenihan, Chris Wood, Jonah David, Mike Gordon, Bill Carbone, Jared Sims, Ben Hesse, Tzvi Glukin, Rav Shmuel, Michelle Kohn, ish, etc
3 of the best musicians ever....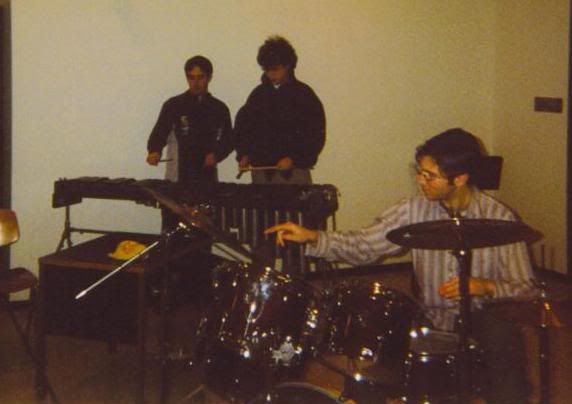 Adam w/ Cyro Baptista & Anthropa Fagia (People who likes to eat peoples)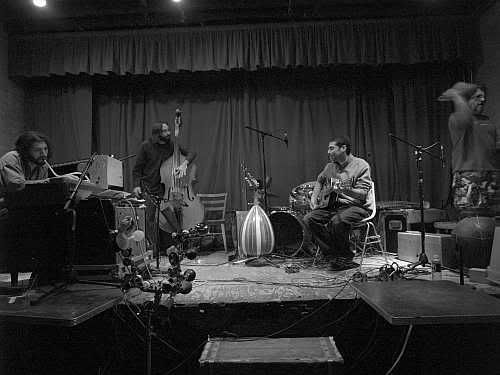 ..
MATISYAHU & ADAM - SPECIAL ACOUSTIC PERFORMANCE "Close My Eyes" MATISYAHU & ADAM - SPECIAL ACOUSTIC PERFORMANCE "King w/o a Crown"
Sounds Like:
some amalgam of those 'influences' above
Record Label:
I'll let you know when they sign me